Five Layer Birthday Cake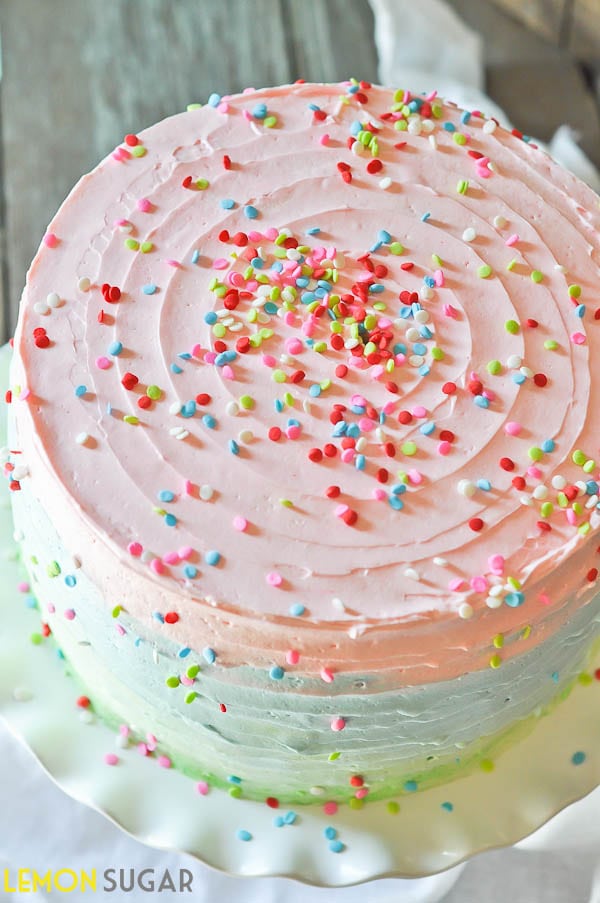 Serves:
1 8-inch, 5-layer cake
3 cups sugar
3 and ½ cups all-purpose flour
1 and ½ cups dark cocoa powder, unsweetened
3 teaspoons baking powder
3 teaspoons baking soda
2 teaspoons salt
4 eggs at room temperature
2 cups buttermilk
1 cup vegetable oil
1 Tablespoon vanilla extract
1 cup hot brewed coffee
1 cup boiling water
1 and ½ cups (3 sticks) unsalted butter, at room temperture
6 cups powdered/confectioners' sugar
2 teaspoons vanilla extract
⅓ cup heavy cream
6 egg whites, from large or extra large eggs
1 and ½ cups white sugar
2 cups (4 sticks) unsalted butter, at cool room temperature, cut into 2-TBS pieces
1 teaspoon almond extract or almond emulsion
1 teaspoon vanilla extract
Food coloring, as desired.
Preheat oven to 350 degrees (F).
Prepare three 8-inch cake pans with parchment paper and cooking spray. Set aside.
In a large bowl, whisk together sugar, flour, cocoa, baking powder, baking soda and salt.
Add buttermilk, eggs and oil, and beat until just combined.
Add hot water and hot coffee, and beat until just combined. Batter will be thin.
Evenly divide batter between three pans. I use a kitchen scale to be precise.
Bake for 28-32 minutes, or until a cake tester comes out clean.
Cool in pans on a wire rack for 10 minutes, then remove from pans and cool completely before frosting.
Once the cakes are cool, use a large serrated knife to cut each layer in half. You will have one extra half layer (Make cake balls!)
In the bowl of a stand mixer with your paddle attachment, beat butter until smooth and creamy.
Add powdered sugar, almond, vanilla and cream, and beat on low until moistened.
Increase speed to medium high and beat until light and fluffy.
In a double boiler, whisk together egg whites and sugar over medium-high heat until mixture reaches 160 degrees and all of the sugar is dissolved.
Transfer to the bowl of a stand mixer, and using the whisk attachment, beat until stiff peaks have formed and the mixture has cooled to room temperature. This takes several minutes, and bowl should be just barely warm to the touch.
Reduce the speed of the mixer to medium, and add butter pieces, 2 tablespoons at a time, until all of the butter has been incorporated.
Continue to mix until the frosting is smooth again, another 3 or 5 minutes. Your mixture may become soupy or curdled, but continue to beat through it until it comes together again.
Once smooth, add almond and vanilla, and beat to combine.
Place one (1/2) layer on a turntable or cake stand.
Spoon about ½ cup of vanilla buttercream on the layer. Use an offset spatula to smooth to edges of the cake.
Add another layer, and repeat the process until you add the 5th layer.
Use the remaining vanilla buttercream to apply a crumb coat to the entire cake (a thin layer meant to hold the crumbs in place when final coat is applied.
Place cake in refrigerator or freezer for 10-15 minutes or until buttercream is slightly hardened.
Meanwhile, divide swiss meringue buttercream into three small bowls.
Add food coloring as desired to each bowl, and stir to combine. I recommend that you use gel colorings for the best/most vibrant color.
Apply each color to the cake in a thick (about 2-3 inch) layer/band around the cake. Start with the bottom of the cake and work your way to the top. This layer should not be "pretty," you are just applying the base coat.
Use an offeset spatula to smooth the frosting and remove excess.
Garnish and decorate as desired.
Enjoy!