Creamy Skillet Mac & Cheese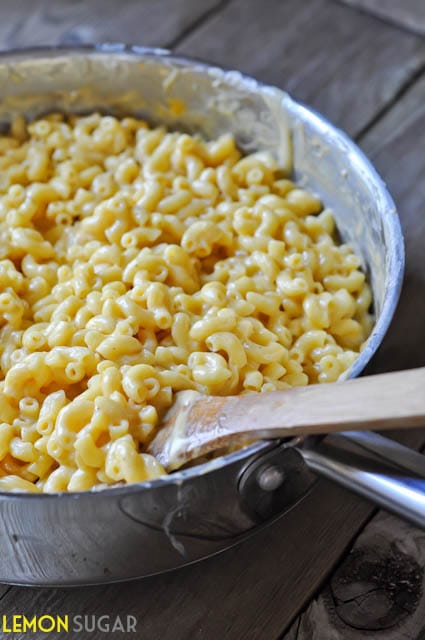 3 and ½ cups water, plus extra if needed
1 (12-ounce) can evaporated milk
16 ounces (1lb) elbow macaroni
½ cup milk or half and half
½ teaspoon salt
1 teaspoon cornstarch
½ teaspoon mustard (regular or dry)
¼ teaspoon hot sauce
6 ounces cheddar cheese, shredded (1 and ½ cups)
6 ounces Monterey Jack cheese, shredded (1 and ½ cups)
2 tablespoons unsalted butter, cut into small chunks
Black pepper to taste
In a large, 12-inch skillet, combine water, evaporated milk, salt and macaroni.
Heat over medium-high heat until simmering.
Simmer for 9-12 minutes, or until pasta is tender. Stir frequently to prevent sticking.
Meanwhile, shred cheese and set aside.
In a measuring cup, whisk together milk, cornstarch, mustard and hot sauce. Set aside.
Once noodles are tender, add milk mixture. Stir and simmer until sauce thickens slightly, about 2 minutes.
Remove from heat, and add cheese, one handful at a time. Stir to combine after each addition.
If you need additional liquid at this point, you can add a bit of water or milk/half and half to reach desired consistency. I did add a couple of splashes of milk to mine.
Add butter and stir.
Season to taste with additional salt and black pepper.
Enjoy warm.
Recipe by
Lemon Sugar
at http://lemon-sugar.com/2013/09/creamy-skillet-mac-cheese.html/