Pumpkin Kisses Muffins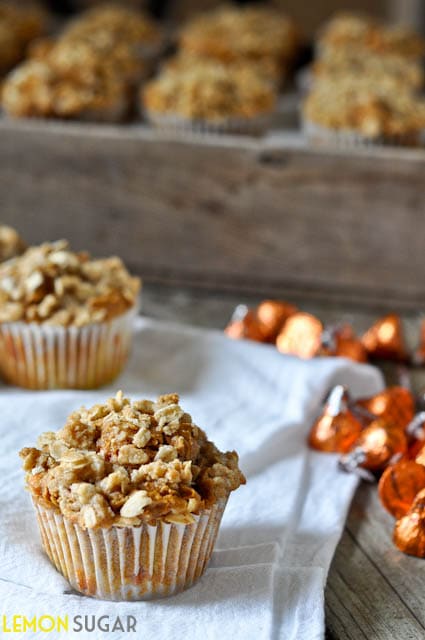 1 box spice cake mix
1 (15oz) can pumpkin puree (not pumpkin pie filling)
16-18 Hershey's Pumpkin Spice Kisses, chopped
½ cup chopped walnuts
½ cup oats
2 Tablespoons all-purpose flour
4 Tablespoons unsalted butter, cut into small cubes
3 Tablespoons brown sugar
Preheat oven to 350 degrees (F).
Chop Pumpkin Kisses candies, and set aside.
Roughly chop walnut pieces, and set aside.
Prepare muffin tin with cupcake papers, and set aside.
In a small bowl, combine butter, flour, oats and brown sugar.
Using a fork (or your fingers) combine the mixture until it starts to pull together and become less crumbly. Set aside.
In a large bowl, beat together cake mix and pumpkin puree until well combined.
Add pumpkin candies and walnut pieces. Fold into batter until evenly distributed.
Fill cupcake papers ⅔ full with batter. You will get 16-18 muffins.
Carefully spoon about a half-Tablespoon of oat mixture on top of each muffin.
Bake 20-22 minutes, or until a tester comes out clean.
Allow to cool completely on a wire rack.
Enjoy!