Peach Pie with Buttermilk Crust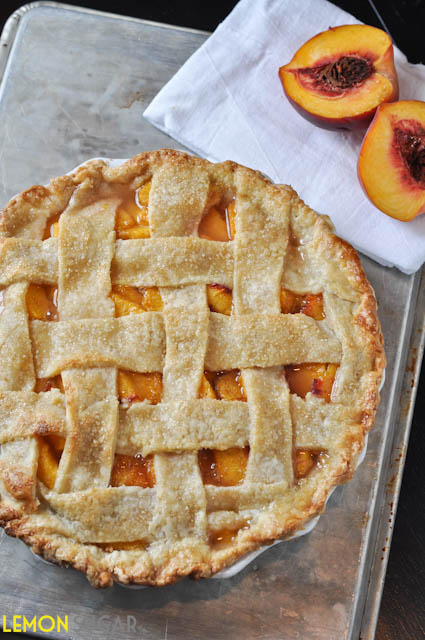 Serves:
1 9-inch pie, approx 8 servings
2 and ½ cups all-purpose flour
1 Tablespoon sugar
1 teaspoon salt
1 cup (2 sticks) unsalted butter, cold and cubed
½ cup cold buttermilk
2 Tablespoons cold water (if needed)
1 egg, beaten with 1 Tablespoon water, for egg wash
Turbinado sugar, for garnish
8 cups sliced peaches, skin removed (About 6-8 large peaches)
½ cup sugar
½ teaspoon ground cinnamon
¼ teaspoon ground nutmeg
1 pinch of salt
¼ cup cornstarch
½ teaspoon vanilla extract
In a medium bowl, combine flour, sugar and salt.
Cut butter into ½ inch cubes, and add to flour mixture. Toss the butter in the flour to coat.
Clear a large work area, and dump flour and butter into a pile on your counter top.
Use a rolling pin to roll/flatten butter into flour. This will incorporate the butter in sheets, which makes the crust flaky.
Use a bench scraper or flat turner-spatula to pull flour mixture back into a pile, and roll again. Use the scraper to clean off your rolling pin, too.
Repeat rolling and piling process until the flour is completely incorporated, and you have a shaggy, flaky dough.
Place dough back into your bowl, and place in freezer for 15 minutes to allow butter to cool again.
After 15 minutes, remove dough from freezer. Add cold buttermilk to dough.
Use your hands and/or a fork to gently stir the dough until it comes together in a ball.
Pour dough onto a lightly floured counter top, and divide into two equal pieces.
Use your hands to form each piece of dough into a flattened disk, and wrap in plastic wrap.
Refrigerate for at least one hour, and up to 3 days.
Peel and slice 8 cups of peaches, and place in a large bowl.
Add cornstarch, cinnamon, nutmeg, sugar, vanilla and pinch of salt to bowl.
Use a large spatula to gently combine all ingredients.
Preheat oven to 400 degrees (F).
Spray a 9-inch pie plate with cooking spray, and set aside.
Remove one disc of dough from refrigerator, and on a lightly floured surface, use a rolling pin to roll out into a 13-inch round.
Fold dough gently in half, and then in quarters. Move dough to pie plate, and unfold. Use your fingertips to gently push the dough into place.
Pour peach filling into bottom crust, and set aside.
Roll out second disc of dough to another 13-inch round, and use a sharp knife to cut the dough into 1-inch strips.
Weave the dough strips into a lattice pattern (over/under), and use your fingers to pinch the dough at the edge of the pan to seal it together.
Use a knife to cut off excess dough, then pinch the dough into a decorative pattern, all around the pie plate.
Beat together egg and water, and lightly brush the egg-wash over the top of the crust.
Sprinkle with Turbinado sugar, and place entire pie on to a large baking sheet.
Bake 45 minutes, or until filling begins to bubble.
Cover lightly with aluminum foil if crust gets too dark.
Allow to cool completely on a wire rack before serving.
Enjoy!
Recipe by
Lemon Sugar
at http://lemon-sugar.com/2013/08/peach-pie-buttermilk-crust.html/