Restaurant Style Salsa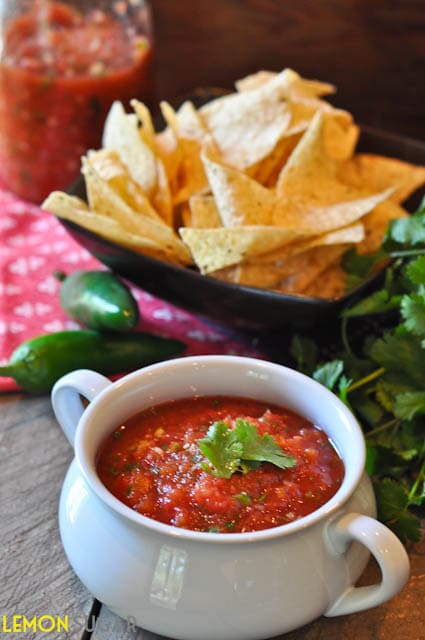 1 (28-ounce) can whole tomatoes
2 (10-ounce) cans rotel tomatoes
1 medium onion, coarsely chopped
1 clove garlic, chopped
1 jalapeno, quartered and sliced thin, leave ribs and seeds for more heat
½ cup cilantro
Juice from 1 fresh lime
½ teaspoon kosher salt
¼ teaspoon granulated sugar
½ teaspoon ground cumin
Coarsely chop onion, jalapeno and garlic.
Add all ingredients to a large food processor. (At least an 11-cup processor, or work in batches)
Pulse until desired consistency is met (for me it was about 7-8 times).
Refrigerate for 1 hour before serving.
Enjoy!
*note: you could also use a blender, but cut your veggies into smaller pieces first.
*note: increase heat by adding another jalapeno, decrease heat by removing seeds and membrane from pepper first.