Mini Chocolate Chip Pancake Muffins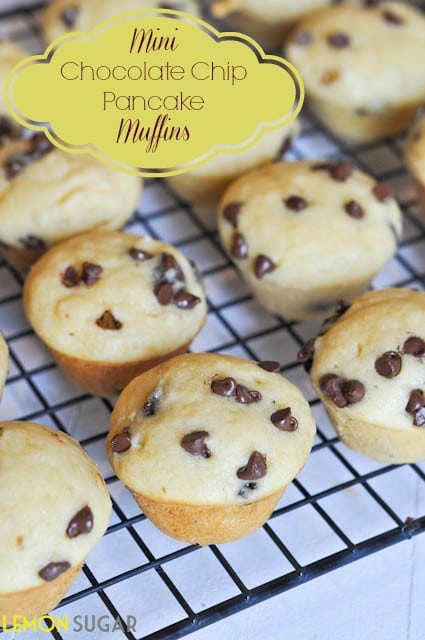 Serves:
36-48 mini muffins
2 cups flour
2 teaspoons baking powder
1 teaspoon baking soda
½ teaspoon salt
¼ cup sugar
1 and ⅓ cups buttermilk
2 eggs
¼ cup pure maple syrup
¼ cup melted butter
1 cup mini chocolate chips
Preheat oven to 350 degrees (F).
Spray a mini muffin pan liberally with cooking spray. Set aside.
In a medium bowl, combine flour, baking powder, baking soda, salt and sugar in a medium bowl, and whisk together to combine.
In a large measuring cup, stir buttermilk, egg, maple syrup and melted butter until just combined.
Add wet ingredients to dry ingredients and whisk until just combined.
Fold in chocolate chips. Reserve a few chips to sprinkle on the tops.
Fill muffin tins ⅔ full, and sprinkle reserved chips on top.
Bake for 8-9 minutes or until golden brown.
For second batch, be sure to re-spray the muffin tin.
Cool on a wire rack, then store in an airtight container for up to 3 days.
Enjoy warm with butter or maple syrup.
Recipe by
Lemon Sugar
at http://lemon-sugar.com/2013/08/mini-chocolate-chip-pancake-muffins.html/