Old Fashioned Chocolate Sheet Cake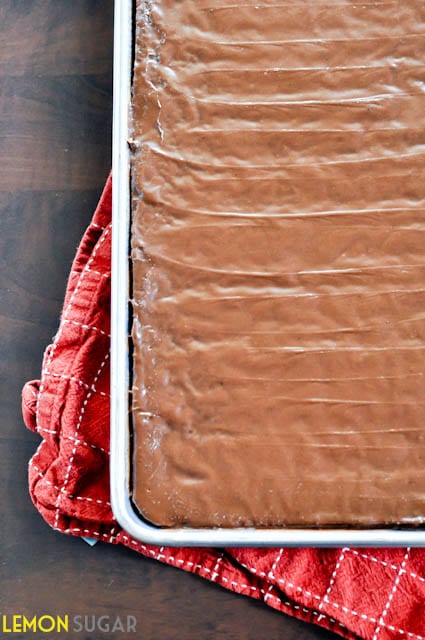 2 cups all-purpose flour
2 cups sugar
1 stick (1/2 cup) unsalted butter
1 cup water
½ cup shortening
4 Tablespoons cocoa powder
½ cup buttermilk (no buttermilk? Fill measuring cup almost to the ½ cup line, the fill the rest of the way with vinegar to make "sweet milk" - it works like a charm!)
1 teaspoon baking soda
¼ teaspoon salt
2 eggs
2 teaspoons vanilla extract
1 stick (1/2 cup) unsalted butter
4 Tablespoons cocoa powder
¼ cup plus 2 Tablespoons milk
1 pound powdered/confectioners sugar
Preheat oven to 400 degrees (F).
Grease a half sheet pan (approx 18x13) and set aside.
In a medium, heavy-bottomed saucepan over medium heat, melt butter and shortening together.
Once mostly melted, add water and cocoa powder. Use a wire whisk to stir until smooth. Remove from heat.
In a large bowl, combine flour and sugar.
Pour warm chocolate mixture over the flour mixture, and beat on low speed until just combined.
Add buttermilk, eggs, vanilla and baking soda, and beat until completely combined and smooth.
Pour into greased sheet pan, and bake for 18-20 minutes.
While the cake is baking, using the same heavy-bottomed pan as before, melt butter over medium heat.
Add cocoa powder and milk, and whisk until smooth.
Add powdered sugar (sifted, if possible) and whisk vigorously until all of the lumps are gone and icing is completely smooth. Allow to sit on stovetop until cake is done baking.
When cake comes out of the oven, whisk icing again to smooth it out, and then pour over the warm cake.
Use an offset spatula to spread the icing evenly.
Cake is best after it sits for 4-6 hours, and is delicious the 2nd day. Store in an airtight container.
Enjoy!
Recipe by
Lemon Sugar
at http://lemon-sugar.com/2013/08/old-fashioned-chocolate-sheet-cake.html/