Tomato & Basil Bruschetta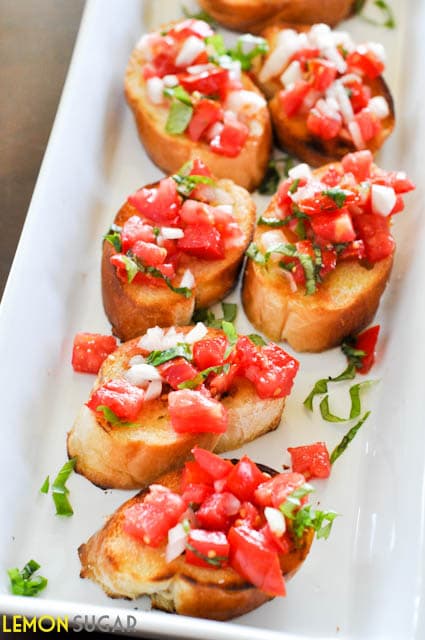 Serves:
10-12 slices of bruschetta
2 large, very ripe, garden-fresh Beefsteak tomatoes
6 large leaves fresh basil
½ large onion
½ teaspoon garlic powder with parsley
pinch of salt (to taste)
½ large baguette, sliced into thick slices
olive or canola oil, for toasting
Cut tomatoes into ½ inch cubes, and place in a medium sized bowl.
Dice onion into small pieces, and add to tomatoes.
Stack basil leaves on top of one another, then roll into a small log. Cut the log into small slivers, then put basil into bowl.
Add garlic powder, and a pinch of salt.
Stir together, and allow to sit while you toast the bread.
Slice bread into thick slices, and drizzle one side with olive oil.
Preheat stovetop griddle or non-stick saute pan.
Put the olive oil side down, then drizzle the other side with additional oil.
Once the bread is lightly toasted, flip and toast other side.
Place hot bread on to a large platter.
Taste tomato mixture, and add additional seasoning if desired.
Spoon mixture onto bread slices, and enjoy while bread is still warm.
Enjoy!
Recipe by
Lemon Sugar
at http://lemon-sugar.com/2013/08/tomato-basil-bruschetta.html/