Lemon Meringue Cupcakes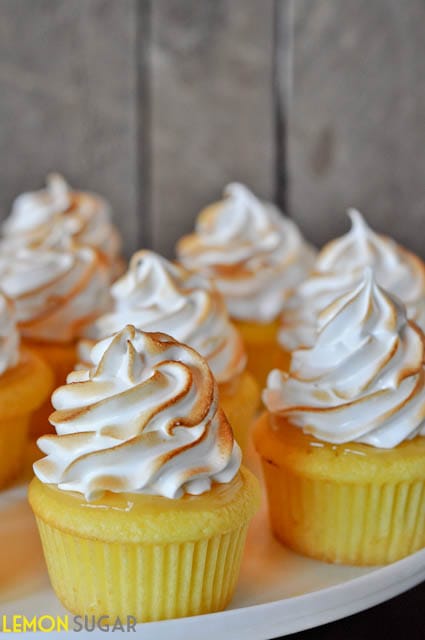 1 box lemon cake mix
1 small box (3.4oz) instant lemon pudding mix
1 cup sour cream
¾ cup water
¾ cup vegetable oil
4 eggs
8 large egg yolks (save the whites for the frosting)
Zest of 2 lemons
½ cup plus 2 Tablespoons lemon juice
1 cup sugar
1 stick (1/2 cup) salted butter, cold, cut into pieces
8 egg whites
2 cups plus 2 Tablespoons sugar
3 Tablespoons light corn syrup
¾ cup water
Candy thermometer
Instant-Read thermometer
Culinary torch
Preheat oven to 350 degrees (F).
Line 2 cupcake tins with paper liners. Set aside.
Add all ingredients to a large bowl. (Cake mix, pudding mix, sour cream, water, eggs, and oil.)
Beat with an electric mixer for 2 minutes.
Fill cupcake liners ⅔ full.
Bake for 20-22 minutes or until a cake tester comes out clean. Don't overbake!
Allow to cool completely on a wire rack before frosting.
Combine yolks, lemon zest, lemon juice, and sugar in a heavy-bottom saucepan and whisk to combine.
Cook over medium-high heat, stirring constantly with a wooden spoon (be sure to scrape the sides of the pan), until the mixture is thick enough to coat the back of the spoon. about 8 to 10 minutes, and registers 160 degrees on an instant-read thermometer.
Remove saucepan from heat. Add salt and butter, one piece at a time, stirring until smooth.
Cover with plastic wrap, pressing it directly onto the surface of the curd to prevent a skin from forming.
Refrigerate until chilled and set, at least 1 hour or up to 1 day. (Mine only took 30 minutes)
In a medium sized, heavy bottomed saucepan fit with a candy thermometer, combine water, corn syrup and 2 cups of sugar. Stir to combine.
Heat sugar mixture over medium heat, stirring occasionally until it reaches precisely 230 degrees.
Meanwhile, in the bowl of a stand mixer fitted with the whisk attachment, beat egg whites until soft peaks form.
Add 2 Tablespoons of sugar and beat for 20 seconds to combine.
Once sugar mixture reaches 230 degrees, CAREFULLY stream it down the side of the egg white bowl, while beating at medium speed.
Continue beating until firm peaks form, and frosting holds it's shape, about 7-10 minutes.
With an offset spatula, spread about 1 Tablespoon of Lemon Curd over the top of each cupcake.
Pipe a large, swirled mound of frosting over the meringue.
Use a culinary torch to brown the outside of the frosting.
Serve and eat within 24 hours.
Enjoy!