Castello Moments: Potato Gratin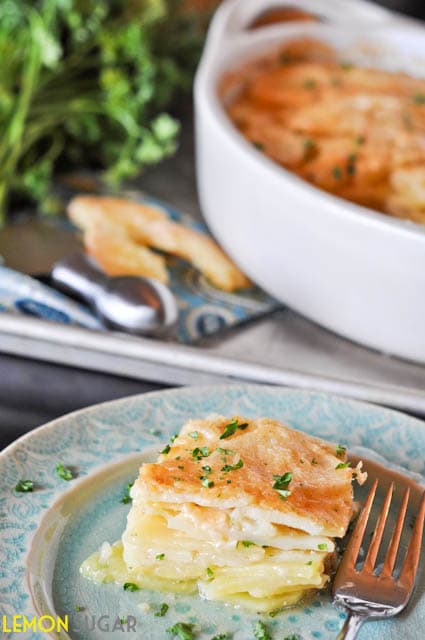 1 clove garlic, halved
1 and ¼ cups (300 mL) grated, hard cheese (such as Castello Hirten)
¾ tsp (4 mL) salt
¼ tsp (1 mL) ground nutmeg
¼ tsp (1 mL) white pepper
7 medium/large Yukon Gold potatoes, peeled
¼ cup (60 mL) butter
1 and ½ cups (375 mL) vegetable stock
Preheat oven to 350 degrees (F).
Rub the sides and bottom of 9 x 9-inch baking dish with cut side of garlic; discard garlic.
Spray dish with cooking spray and set aside.
In small bowl, combine cheese, salt, nutmeg and pepper.
Using mandolin or slicer attachment on food processor, very thinly slice potatoes.
Arrange one-third in overlapping layers in dish.
Dot with one-third of the butter; sprinkle with one-third of the cheese mixture.
Repeat layers once.
Arrange remaining potatoes over top, pressing lightly.
In microwaveable liquid measure, microwave stock at high for 2 minutes or until hot; pour evenly over potatoes.
Dot with remaining butter; sprinkle with remaining cheese mixture.
Cover with foil; bake for 1 hour.
Uncover and continue to bake until tender and knife inserted in bottom pierces potatoes easily, about 45 minutes.
Allow to cool slightly before serving, and enjoy!
Recipe by
Lemon Sugar
at http://lemon-sugar.com/2013/07/castello-moments-potato-gratin.html/