Beer & Pretzel Cupcakes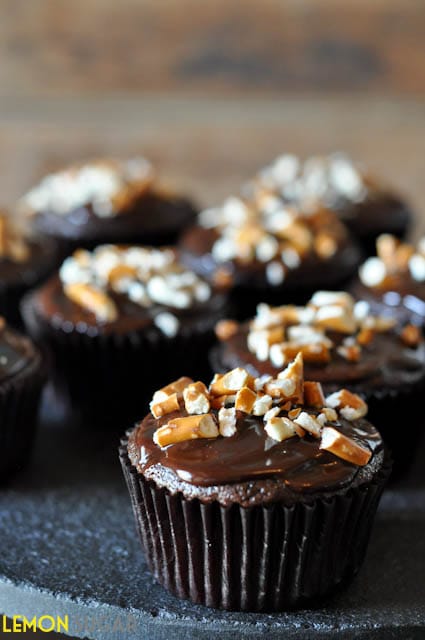 1 (12-ounce) bottle of dark beer, preferably stout (reserve 2T for Ganache)
½ cup milk
½ cup vegetable oil
1 Tablespoon pure vanilla extract
2 teaspoons instant espresso granules dissolved in two teaspoons warm water
3 large eggs
¾ cup sour cream
¾ cup unsweetened dark cocoa powder
2 cups granulated sugar
2 and ½ cups all-purpose flour
1 and ½ teaspoons baking soda
½ teaspoon salt
12 ounces good quality semisweet chocolate; chopped
2 Tablespoons Stout Beer
1 cup heavy cream
1 teaspoon pure vanilla extract
Chopped salted pretzels, for garnish
Preheat oven to 350 degrees (F).
Prepare 3 cupcake pans (36 wells) with liners, and set aside.
In a large bowl, sift together cocoa powder, sugar, flour, salt, and baking soda. Set aside.
In another large bowl, combine beer, milk, espresso, oil and vanilla with a large whisk.
One at a time, add eggs and whisk to just to combine after each addition.
Add dry mixture to wet mixture in three batches, stirring until just moistened every time.
Fill cupcake papers ⅔ full.
Bake for 18-20 minutes or until a cake tester comes out clean.
Allow to cool completely on a wire rack before frosting.
Chop chocolate, and set aside.
In a microwave-safe glass bowl, heat cream, beer and vanilla until steaming hot but not boiling.
Add chopped chocolate to steaming cream, and allow to sit for 30 seconds.
Using a clean wire whisk, slowly stir until chocolate is completely melted and smooth.
Allow to cool and thicken for about 15 minutes.
Using an offset spatula, carefully spread frosting over the top of each cupcake.
Garnish with chopped pretzel sticks,
Enjoy!