Vanilla Coconut Banana Cream Pie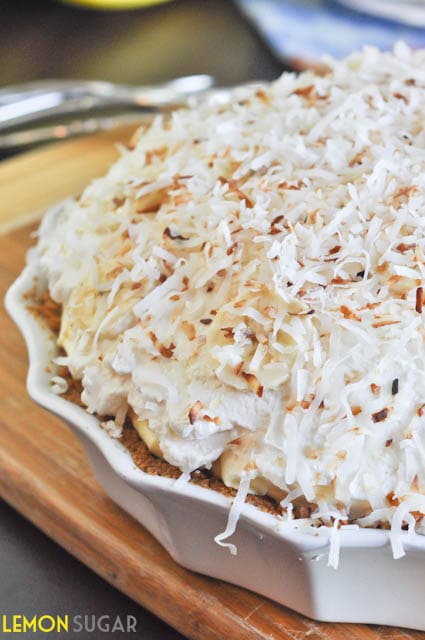 Serves:
1 9-inch pie, approx 8 servings
12 ounces graham crackers
⅓ cup sugar
8 Tablespoons melted butter
½ teaspoon salt
1-2 Tablespoons water (if necessary)
3 cups heavy whipping cream
¼ cup sugar
1 Tablespoon vanilla extract
8 ounces cream cheese, softened
1 (14 ounce) can sweetened condensed milk
1 cup milk
1 box (3.4 ounce) instant vanilla pudding
½ cup sweetened flaked coconut
3 ripe bananas
Preheat oven to 375 degrees (F).
Spray a 9-inch pie plate with cooking spray, set aside.
In a food processor, pulse graham crackers to a coarse crumb.
Add sugar, salt and butter, and pulse until crumbs are moistened. Crumbs should stick together when pinched. If they don't stick, add water a teaspoon at a time until proper consistency is met.
Pour mixture into greased pie plate, and press down to evenly cover bottom and sides of pan.
Bake for 8 minutes. Allow to cool completely before filling.
In a large, clean bowl (or the bowl of a stand mixer) beat whipping cream until it begins to thicken (about 2 minutes but can be up to 5 minutes.)
Add sugar and vanilla, and beat until thick and creamy. Set aside, or empty into another bowl if using stand mixer.)
In a measuring cup, whisk together instant pudding and 1 cup of milk. Set aside.
In another bowl (or now-empty stand mixer bowl), beat cream cheese until light and fluffy.
Add vanilla pudding mixture and sweetened condensed milk, and beat until smooth and slightly thickened.
Fold in half of the whipped cream mixture. Reserve the remaining whipped cream for topping.
Pour a small amount (about a cup or so) of filling into cooled crust. Spread evenly over bottom.
Slice bananas, and line bottom and sides of crust with sliced bananas.
Pour remaining filling over banana slices.
Top filling with remaining whipped cream.
Refrigerate for at least one hour. Cover with plastic wrap if necessary.
Before serving, toast coconut flakes over medium heat in a non-stick skillet until golden brown.
Garnish pie with additional sliced bananas and toasted coconut.
Enjoy!
Recipe by
Lemon Sugar
at http://lemon-sugar.com/2013/07/vanilla-coconut-banana-cream-pie.html/