Chocolate Cupcake with Peanut Butter Cookie Frosting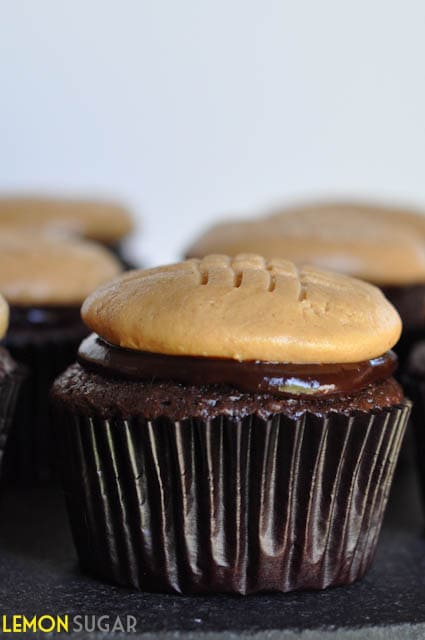 Serves:
Approximately 24 cupcakes
1 and ½ cups hot brewed coffee
¾ cup unsweetened cocoa powder
2 and ¼ cups all-purpose flour
1 and ½ teaspoons baking soda
¾ teaspoon baking powder
½ teaspoon salt
12 Tablespoons (1 and ½ sticks) unsalted butter, at room temperature
1 and ½ cups packed brown sugar
¾ cup granulated sugar
3 large eggs at room temperature
1 Tablespoon vanilla extract
6 ounces semi-sweet chocolate, finely chopped
½ cup heavy cream
9 Tablespoons (1 stick plus 1 Tablespoon) unsalted butter, at room temperature
1 and ½ cups creamy peanut butter
3 cups confectioners' sugar
Preheat oven to 350 degrees (F). Line cupcake pans with paper liners.
Whisk the brewed coffee and cocoa powder together in a large measuring cup until well combined. Set aside.
In a medium bowl, whisk the flour, baking soda, baking powder and salt together. Set aside.
In the bowl of a stand mixer fitted with the paddle attachment, beat the butter and both sugars on medium speed until light and fluffy, about 3-4 minutes.
Add the eggs one at a time, beating to incorporate each before adding the next.
Stir in the vanilla.
With the mixer on low, add ⅓ of the dry (flour) mixture and beat until just combined.
Add ½ of the coffee mixture, and again beat until just combined.
Add ½ of the remaining dry mixture, beat until combined.
Add the rest of the coffee mixture, beat until combined.
Add the rest of the flour mixture, and beat until just combined. Take care not to over beat in these steps.
Divide the batter among the liners, filling each about ⅔ full. Bake the cupcakes for 17-20 minutes, or until they spring back when lightly pressed and a toothpick inserted in the center comes out clean.
Transfer the pans to wire racks and let the cupcakes cool for a few minutes before removing them to the racks to cool completely.
In a medium sized glass bowl, heat the cream in the microwave until it's steaming hot but not boiling (about 1 minute.)
Add the chopped chocolate to the hot cream and allow it to sit for about a minute.
Using a clean wire whisk, slowly stir the chocolate until it's completely melted and smooth. Set aside to thicken slightly while you make the cookie frosting.
In a large bowl, beat together butter and peanut butter until smooth and creamy.
Add confectioners' sugar and beat until completely combined and crumbly.
A Tablespoon at a time, roll the peanut butter mixture into balls, then flatten slightly to create a cookie shape.
Place the "cookie" on a piece of parchment paper, then use the tines of a fork to create the grid pattern on top.
Repeat, and make 24 cookies.
Spread a layer of ganache on top of each cupcake.
Place a "cookie" on top of the ganache. Chill briefly to set up ganache and prevent cookie from sliding around.
Enjoy!
Recipe by
Lemon Sugar
at http://lemon-sugar.com/2013/06/chocolate-cupcake-with-peanut-butter-cookie-frosting.html/