Chocolate Swiss Buttercream Cake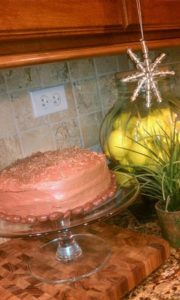 1 ¾ cups all-purpose flour
1 cup cocoa powder
1 ½ tsp. baking soda
¼ tsp. salt
¾ cup unsalted butter, at room temperature
⅔ cup granulated sugar
⅔ cup packed light brown sugar
2 extra-large eggs, at room temperature
2 tsp. vanilla extract
1 cup room-temperature buttermilk
½ cup room-temperature sour cream
1 tsp. espresso powder
10 oz. bittersweet chocolate
8 oz. semisweet chocolate
½ cup egg whites (3 extra-large eggs), at room temperature
1 cup granulated sugar
pinch of cream of tartar
½ tsp. salt
2 tsp. vanilla extract
2 tsp. espresso powder, dissolved in 1 tsp. water
1 lb. unsalted butter, at room temperature
Preheat the oven to 350°.
Butter two 8-inch round cake pans. Line the bottoms with parchment paper, butter the paper, and dust the pans with flour, knocking out any excess.
In a medium bowl, sift together the flour, cocoa, baking soda and salt.
In the bowl of an electric mixer fitted with the paddle attachment, cream the butter and sugars on high speed until light, approximately 5 minutes.
Add the eggs and vanilla and mix well.
Combine the buttermilk, sour cream, and coffee.
On low speed, add the flour mixture and the buttermilk mixture alternately in thirds, beginning with the buttermilk mixture and ending with the flour mixture.
Mix the batter only until blended.
Divide the batter between the two pans and smooth the tops with a spatula.
Bake on the middle rack of the oven for 25-30 minutes or until a toothpick comes out clean. Cool for 10 minutes on a rack, remove from the pans, and allow to finish cooling.
To make the frosting, chop the chocolates and melt in a bowl over simmering water until smooth. Allow to cool.
Mix the egg whites, sugar, cream of tartar and salt in the bowl of an electric mixer fitted with a whisk.
Heat the egg whites in the bowl over simmering water until they are warm to the touch, about 5 minutes.
Whisk on high speed for 5 minutes or until the meringue is cool and holds a stiff peak.
Add the butter, 1 tbsp. at a time, while beating on medium speed.
Scrape down the bowl, add the chocolate, vanilla, and espresso and mix for 1 minute or until the chocolate is completely blended in.
If the buttercream seems very soft, allow it to cool and beat it again.
To frost the cake, place one cake layer on a serving plate, flat side up.
Frost the top of that layer with buttercream.
Place the second layer on top, also flat side up and frost the top and sides.
Recipe by
Lemon Sugar
at http://lemon-sugar.com/2011/01/chocolate-buttercream-cake.html/