No-fail Homemade Hamburger Buns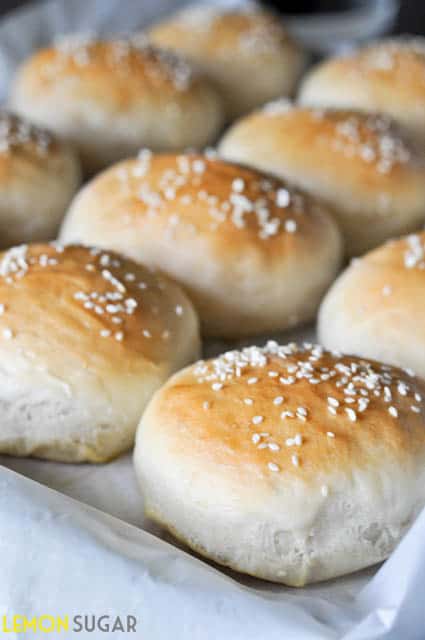 1 and ¾ cups warm water
1 Tablespoon plus ½ teaspoon active dry yeast
2 Tablespoons plus ½ teaspoon sugar
1 and ½ teaspoons salt
3 Tablespoons unsalted butter, melted
4 and ½ to 5 cups organic all-purpose flour
1 large egg beaten with 2 teaspoons water, for glazing
Sesame seeds for garnish, if desired
In a large bowl or the bowl of a stand mixer, pour in ½ cup of the warm water. Sprinkle the yeast and ½ teaspoon sugar over the water.
Stir to dissolve and let stand at room temperature until foamy, about 10 minutes.
Add the remaining 1 and ¼ cups water, remaining sugar, salt, and butter.
Add 2 cups of the flour.
Beat until creamy, about 1 minute. Add the remaining flour, ½ cup at a time, until a soft, shaggy dough that just clears the sides of the bowl is formed. Switch to a wooden spoon when necessary if mixing by hand.
Turn the dough out onto a lightly floured work surface and knead for about 4 minutes, dusting with flour only 1 tablespoon at a time as needed to make a smooth and soft dough.
If kneading by machine, switch from the paddle to the dough hook and knead for 3 to 4 minutes, or until the dough is smooth and springy and springs back when pressed. If desired, transfer the dough to a floured surface and knead briefly by hand,
Place the dough in a greased deep container. Turn once to coat the top and cover with plastic wrap. Let rise at room temperature until doubled in bulk, 1 to 1½ hours.
Gently deflate the dough. Turn the dough out onto a lightly floured work surface. Grease or parchment-line a baking sheet. Divide the dough into 12 equal portions. Shape each into a tight round ball and place each ball seam side down and at least 2 inches apart on the baking sheet. Use a second baking sheet rather than crowd the rolls. Flatten each ball with your palm. Cover loosely with plastic wrap and let rise until puffy, about 20 minutes.
Preheat the oven to 350˚F. Brush each roll with the egg glaze and sprinkle the tops with sesame seeds. Place the baking sheet on the rack in the center of the oven and bake 20 to 25 minutes, or until lightly brown and firm to the touch. Transfer the rolls immediately to a cooling rack.
Recipe by
Lemon Sugar
at http://lemon-sugar.com/2013/06/no-fail-homemade-hamburger-buns.html/