Strawberry Cupcakes with Ice Cream Buttercream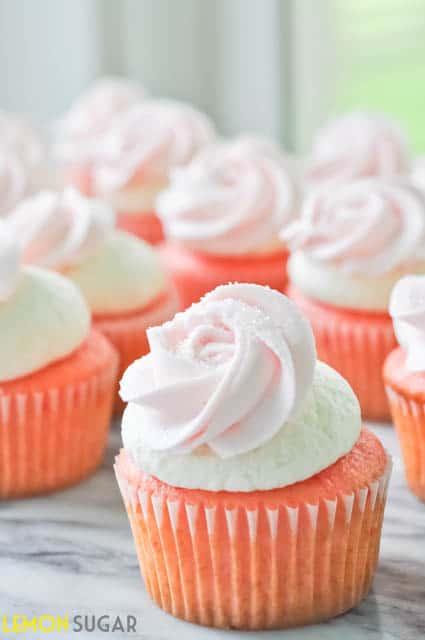 2 and ¾ cups all-purpose flour
½ cup cake flour, (not self-rising)
1 tablespoon baking powder
1 teaspoon salt
8 ounces (2 sticks) unsalted butter, softened
2 and ¼ cups sugar
3 large eggs
1 large egg white
1 cup whole milk
1 and ½ teaspoons pure vanilla extract
2 cups finely chopped strawberries
1-2 drops red/pink gel food coloring, if desired
Strawberry Buttercream
1-2 drops light pink gel food coloring, if desired
1 and ½ cups (3 sticks) butter at room temperature
5 cups powdered/confectioners sugar
2 Tablespoons vanilla extract
¼ cup half and half (more to desired consistency)
Preheat oven to 350 degrees.
Line two cupcake pans with cupcake liners; set aside.
Place strawberries in a small food processor; process until pureed, set aside.
In a medium bowl, whisk together flours, baking powder, and salt; set aside.
In a small bowl, mix together milk, vanilla, and strawberry puree; set aside.
In the bowl of an electric mixer fitted with the paddle attachment, cream butter on medium-high speed, until light and fluffy.
Gradually add sugar and continue to beat until well combined and fluffy.
Reduce the mixer speed to medium and slowly add egg and egg white until just blended.
With the mixer on low, slowly add half the flour mixture; mix until just blended.
Add the milk mixture; mix until just blended.
Slowly add remaining flour mixture, scraping down sides of the bowl with a spatula, as necessary, until just blended. Add food coloring if desired, and blend completely.
Divide batter evenly among prepared muffin cups.
Transfer muffin tin to oven and bake until tops are just dry to the touch, 22 to 25 minutes. (Mine only took 20 minutes, so keep an eye on them!)
Transfer muffin tin to a wire rack and let cupcakes cool completely in tin before frosting.
In the bowl of a stand mixer, beat butter until light and fluffy.
Add confectioners sugar, vanilla extract and half and half, and beat on low speed to combine.
Once combined, beat on medium-high speed for 4-5 minutes.
If frosting is too thin, add more confectioners sugar ¼ cup at a time, if it's too thick, add additional half and half a Tablespoon at a time until desired consistency is met.
Frost cooled cupcakes as desired. I used a piping bag with a round tip for the white dollop, and then used a small star (1M) tip for the pink-tinted mini rosette.
Enjoy!
Recipe by
Lemon Sugar
at http://lemon-sugar.com/2013/06/strawberry-cupcakes-with-ice-cream-buttercream.html/