Banana Bread Bars with Brown Butter Frosting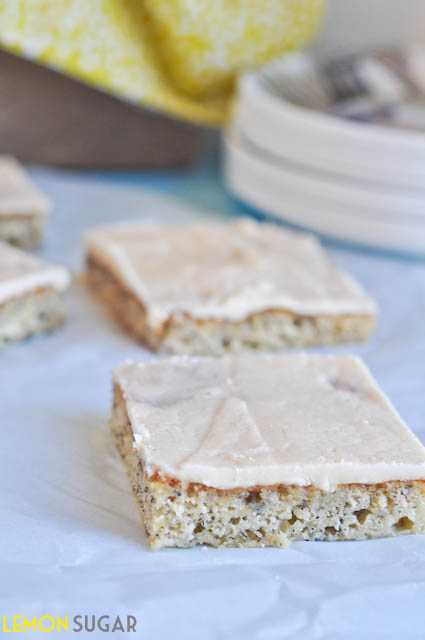 Serves:
Approximately 24 bars
1 and ½ cups sugar
1 cup sour cream
½ cup unsalted butter, softened
2 eggs
4 ripe bananas, mashed
2 teaspoons vanilla extract
2 cups all purpose flour
1 teaspoon baking soda
¾ teaspoon salt
½ cup (1 stick) unsalted butter
4 cups powdered sugar
2 teaspoons. vanilla extract
¼ cup milk
Preheat oven to 375 degrees (F).
Grease a 15x10-inch jelly roll pan with cooking spray.
Mash bananas and set aside.
In a large bowl, beat together sugar, sour cream, butter, and eggs until creamy.
Mix in bananas and vanilla extract.
Add flour, baking soda, salt, and mix for 1 minute.
Spread batter evenly into pan.
Bake 20 to 25 minutes or until golden brown. (Mine only took 18 minutes, so watch it!)
Meanwhile, for frosting, heat butter in a large saucepan over medium heat until boiling. Let the butter turn a delicate brown and remove from heat immediately. Don't let it turn burn, take it off immediately when it turns light brown.
Add powdered sugar, vanilla extract and milk. Whisk together until smooth (it should be thicker than a glaze but thinner than frosting. Add more milk a Tablespoon at a time, if necessary to reach desired, spreadable consistency).
Using a spatula, spread the brown butter frosting over the warm bars (the frosting will be easier to spread while the bars are still warm).
Store refrigerated in an airtight container for up to 3 days.
Enjoy!
Recipe by
Lemon Sugar
at http://lemon-sugar.com/2013/04/banana-bread-bars-with-brown-butter-frosting.html/