Slow Cooker Apple-Cinnamon Steel-Cut Oatmeal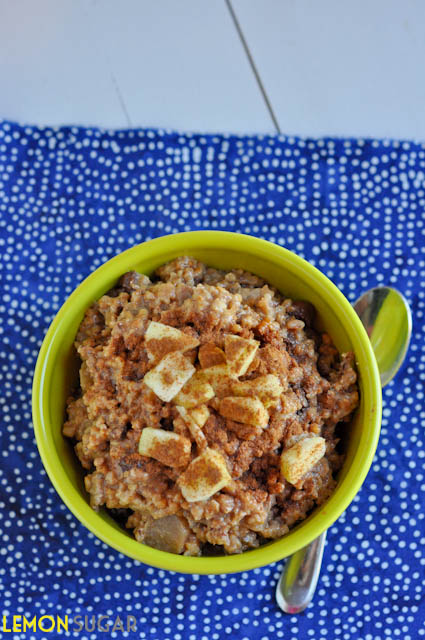 2 large apples, peeled, cored and cut into ½-inch pieces
2 and ½ cups fat-free milk (we used almond milk)
1 and ½ cups water
1 cup uncooked steel-cut oats
3-4 tablespoons brown sugar
3 Tablespoons butter, cut into 5-6 pieces (optional)
½ teaspoon cinnamon
1 Tablespoon ground flax seed
¼ teaspoon salt
Generously spray the inside of a 3.5 quart (or larger) slow cooker with cooking spray.
Combine all ingredients in slow cooker.
Stir and cover.
Set cooker for 7 hours. Remember, cooker times can vary widely.
Top with garnish of your choice - raisins, sugar, milk, butter, nuts, etc.
Store leftovers in an airtight container in the refrigerator. Enjoy!
Recipe by
Lemon Sugar
at http://lemon-sugar.com/2013/04/slow-cooker-apple-cinnamon-steel-cut-oatmeal.html/