Easy Marinara Sauce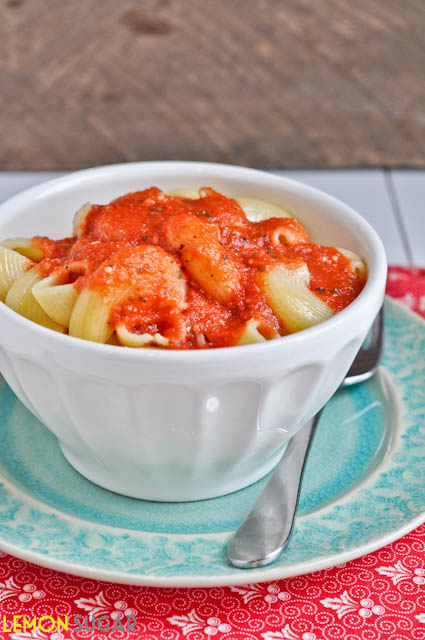 1 quart canned, whole tomatoes (approx 32 ounces)
3 Tablespoons sugar
1 teaspoon dried basil
1 teaspoon dried oregano
½ teaspoon dried garlic with parsley flakes
¼ teaspoon red pepper flakes
½ teaspoon fresh ground black pepper
½ teaspoon salt
3-4 Tablespoons unsalted butter
3 Tablespoons heavy cream
1 Tablespoon Parmesan cheese
1 pound pasta, cooked according to package directions
4 Tablespoons melted butter (for pasta)
Boil pasta according to package ingredients.
While pasta is cooking, pour tomatoes into a blender, and puree until smooth.
Pour pureed tomatoes into a medium/large, heavy-bottomed saucepan, and bring to a simmer over medium heat.
To tomatoes, add salt, pepper, garlic, basil, oregano, sugar and red-pepper flakes. Stir to combine.
Add cream, butter and Parmesan cheese, stir to combine and to melt butter.
Once butter is melted, turn off heat.
Drain pasta.
Pour melted butter over drained pasta.
Serve pasta with marinara sauce and a sprinkle of Parmesan cheese.
Enjoy!