Snickers Cupcakes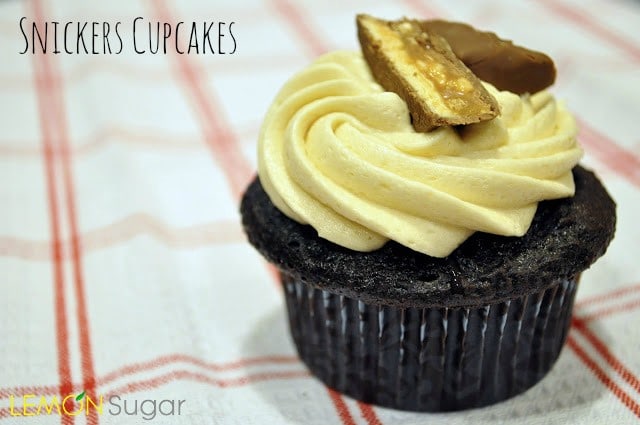 ½ cup Dutch-process cocoa powder
½ cup hot water
2 cups all-purpose flour
¾ tsp. baking soda
¾ tsp. baking powder
¾ tsp. coarse salt
16 tbsp. unsalted butter, room temperature
1½ cups sugar
2 large eggs plus 1 egg yolk, room temperature
1¾ tsp. vanilla extract
⅔ cup sour cream, at room temperature
8 fun-size Snickers bars, chopped
8 tbsp. unsalted butter, cut into pieces
1 cup sugar
1 cup heavy cream
¼ tsp. vanilla extract
Pinch of salt
For the filling:
24 fun-size Snickers bars, chopped (I buy two bags of fun-size bars for this recipe)
½ to ⅓ cup Caramel Sauce
16 tbsp. unsalted butter, (2 sticks) at room temperature
3½ cups powdered/confectioners sugar
1½ tsp. vanilla extract
⅓ cup caramel sauce
Pinch of coarse salt
2 tbsp. heavy/whipping cream
Preheat oven to 350˚ F.
Prepare cupcake pans with with paper liners.
In a small bowl, whisk together the cocoa powder and hot water until smooth.
In a medium bowl, whisk together the flour, baking soda, baking powder and salt. Set aside.
In a medium saucepan, combine the butter and the sugar over medium heat.
Heat, stirring occasionally to combine until the butter is melted.
Remove the mixture from the heat and transfer to the bowl of an electric mixer fitted with a paddle attachment.
Beat on medium-low speed, 4-5 minutes, until the mixture is cooled.
Mix in the eggs and egg yolk, one at a time, scraping down the sides of the bowl as needed and beating well after each addition.
Mix in the vanilla and then the cocoa mixture and beat until incorporated.
With the mixer on low speed add in the dry ingredients in two batches, alternating with the sour cream, beating just until combined.
Divide the batter between the prepared cupcake liners, filling them about ¾ of the way full.
Bake 18-20 minutes or until a toothpick inserted in the center comes out clean, rotating the pans halfway through baking.
Allow the cupcakes to cool in the pan 5-10 minutes, then transfer to a wire rack to cool completely.
After they are completely cooled, prepare them for filling using the cone method
You can replace the tops or not, up to you.
Melt the butter in a heavy-bottomed saucepan over medium heat.
Add the sugar and cook, stirring occasionally, until the sugar begins to foam a bit.
It will look and smell like it's on the verge of burning.
Remove from the heat and add the heavy cream.
Stir until the sauce is smooth, returning to heat if necessary to smooth it out, then mix in the vanilla and salt.
Let cool. (This can be stored in the refrigerator for up to 2 weeks.)
In a small bowl, combine ½ cup of caramel sauce with chopped Snickers bars.
Stir to coat.
Fill cupcakes with a large spoonful of filling mixture.
Top filling with additional caramel if desired. (I desired. Yum.)
Add the butter to the bowl of an electric stand mixer.
Beat on medium-high speed 1 minute until smooth.
Beat in the confectioners' sugar until smooth, 1-2 minutes.
Mix in the vanilla, caramel sauce and salt until incorporated.
Make sure the caramel sauce isn't too hot to avoid melting the butter in the frosting.
Add the heavy cream and whip on high speed until light and fluffy, about 3-4 minutes.
Frost cupcakes as desired and top with a drizzle of remaining caramel and chopped snickers.
Enjoy!