Easy (Like, Really Easy) Cheese Danish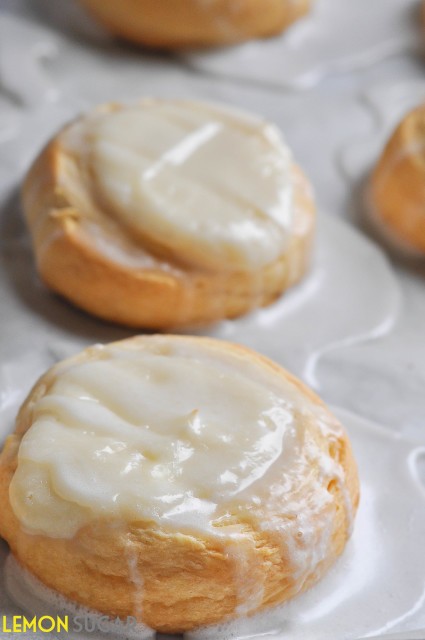 1 can refrigerated crescent rolls
4 ounces cream cheese, softened
¼ cup sugar
1 Tablespoon sour cream
½ teaspoon vanilla extract
2 teaspoons lemon juice
½ cup confectioners' sugar
4 Tablespoons milk
½ teaspoon vanilla extract
Preheat oven to 350 degrees F.
Prepare a large cookie sheet with parchment paper or a Silpat mat.
Carefully remove the packaging from the crescent rolls. You do NOT want to unroll the "log" of dough.
Slice the log into ½ inch slices. Use your fingers to press an indention into the dough. This will hols the filling.
To make filling, combine cream cheese, sugar, vanilla, lemon juice and sour cream with a hand mixer until smooth and cream.
Spoon 1-2 teaspoons of filling into each crescent roll.
Bake for 12-15 minutes or until golden brown.
While the crescents are cooling, whisk together the confectioners sugar, milk and vanilla. (Add more sugar or more milk to reach desired consistency, it should be runny but still thick) and pour over the tops of each danish.
Store in an airtight container for up to 3 days.
Enjoy!
Recipe by
Lemon Sugar
at http://lemon-sugar.com/2013/04/easy-like-really-easy-cheese-danish.html/