Easter Candy Cookies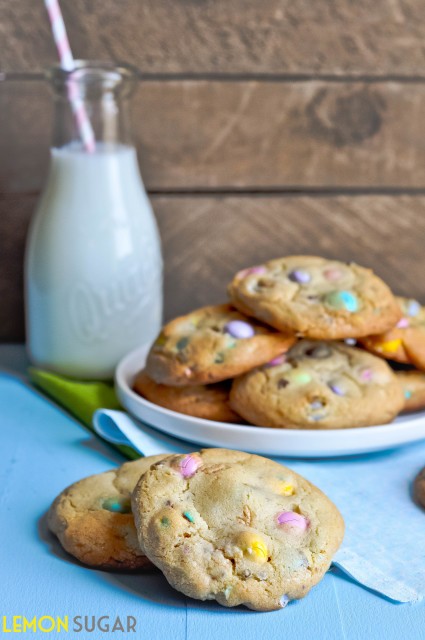 Serves:
Approximately 18 cookies
2 sticks (16 Tablespoons) unsalted butter, cold
¾ cup granulated sugar
¾ cup packed brown sugar
2 large eggs
1 teaspoon vanilla
3 cups all-purpose flour
¾ teaspoon salt
1 teaspoon baking powder
½ teaspoon baking soda
2 cups candy pieces or chocolate chips
Preheat oven to 350 degrees F.
Prepare a large cookie sheet with parchment paper, and set aside.
Beat butter and sugars (both brown and white) together until just creamy.
Add the eggs and vanilla, beat on medium speed until just incorporated.
Add flour, baking soda, baking powder and salt. Beat until just incorporated, do not overbeat at this step.
Stir in candy pieces.
Form dough into six 2-inch balls. Put the rest of the batter into the refrigerator.
Place dough on prepared cookie sheet, and flatten just slightly.
Bake for 15-17 minutes or until just golden brown.
Immediately place on a wire cooling rack, and repeat process until all dough is used.
Store in an air-tight container, and enjoy!