Chocolate Raspberry Cupcakes & A Bridal Shower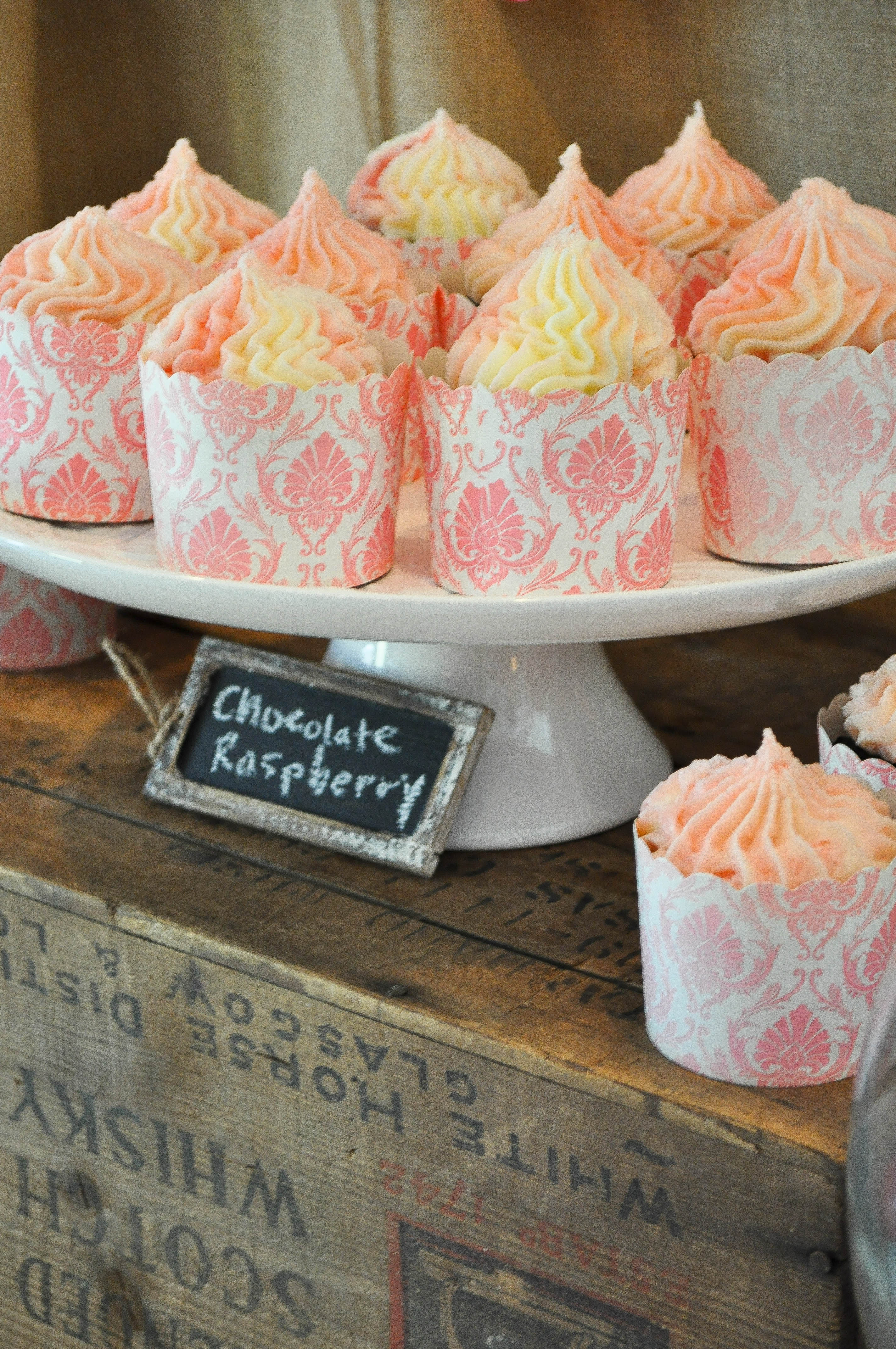 Cupcakes:
6 ounces bittersweet chocolate, chopped fine
⅔ cup (2 oz) Dutch-processed cocoa
1 and ½ cups hot coffee
1 and ½ cups (8.25 ounces) bread flour
1 and ½ cups (10.5 ounces) granulated sugar
1 teaspoon salt
1 teaspoon baking soda
¾ cup vegetable oil
4 large eggs
4 teaspoons white vinegar
2 teaspoons vanilla extract
Raspberry filling:
1 and ½ to 2 cups frozen raspberries
1 Tablespoon plus 1 teaspoon cornstarch
2 Tablespoons lemon juice (fresh or bottled)
¼ cup sugar
Raspberry Swirl Butter Cream:
2 cups (4 sticks) unsalted butter, at room temperature
2 pounds (about 7.5 cups) confectioner's sugar
½ teaspoon salt
1 teaspoon clear vanilla extract
½ cup heavy cream
½ cup leftover raspberry filling (recipe above)
For cupcakes:
Preheat oven to 350 degrees F.
Line standard-size muffin pan with paper liners.
Place chocolate and cocoa in medium bowl, and pour hot coffee over mixture and whisk until smooth.
Set in refrigerator to cool completely, about 20 minutes.
Whisk flour, sugar, salt, and baking soda together in medium bowl; set aside.
Whisk oil, eggs, vinegar, and vanilla into cooled chocolate-cocoa mixture until smooth.
Add flour mixture and whisk until smooth.
Divide batter evenly among muffin pan cups.
Bake until cupcakes are set and just firm to touch, 17 to 19 minutes.
Cool cupcakes in muffin pan on wire rack until cool enough to handle, about 10 minutes.
Carefully lift each cupcake from muffin pan and set on wire rack.
Cool to room temperature before frosting, about 1 hour.
Combine all ingredients over medium-low heat and stir until thickened and beginning to boil.
Set aside to cool completely before using.
Hold back ½ cup of filling for frosting, then place the rest in a small piping bag with a small round tip.
Carefully inject piping tip into each cupcake, and squeeze a small amount of filling into each one. Do not overfill.
In the bowl of a stand mixer, beat butter until light, fluffy and smooth.
Add confectioners sugar, cream and vanilla. Beat until mixture comes together, then beat 5 minutes more until light and fluffy. If too thin, add additional confectioner's sugar, if too thick, add additional heavy cream until desired consistency is achieved.
Remove mixing bowl from stand, and spoon raspberry filling into butter cream. Swirl together slightly with a spoon, taking care not to over mix.
Place frosting in piping bag, and frost cupcakes as desired.
Enjoy!
Recipe by
Lemon Sugar
at http://lemon-sugar.com/2013/02/chocolate-raspberry-cupcakes-a-bridal-shower.html/