Be My Valentine Cupcakes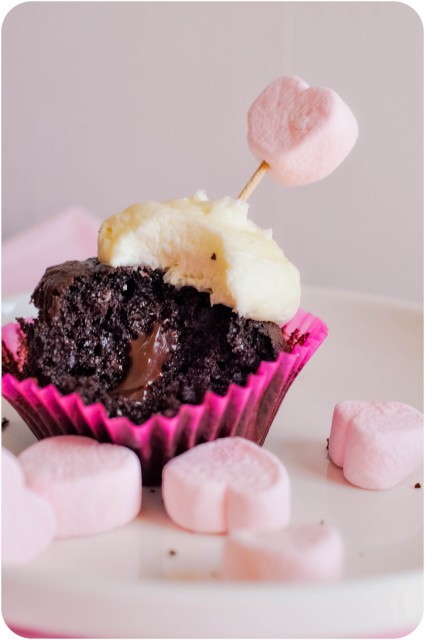 Serves:
approx 24 cupcakes
¾ cup cocoa powder
1 and ½ cups all-purpose flour
1 and ½ cups sugar
1 and ½ teaspoons baking soda
¾ teaspoon baking powder
¾ teaspoon salt
2 large eggs at room temperature if possible
¾ cup warm water
¾ cup buttermilk (or use regular milk with 2 Tablespoons of vinegar added, wait 5 minutes to curdle)
3 tablespoons vegetable or canola oil
1 teaspoon vanilla extract
1 and ½ cups (3 sticks) unsalted butter at cool room temperature
6 cups confectioners sugar
1 Tablespoon clear vanilla extract
⅓ cup heavy cream
¼ cup half and half
½ cup heavy cream
10 ounces chopped chocolate
Preheat oven to 350 degrees.
Prepare cupcake pans with cupcake papers, and set aside.
In a large bowl, sift together cocoa powder, flour, sugar, baking soda, baking powder, and salt.
Add eggs, warm water, buttermilk, oil, and vanilla, and mix (with a hand mixer) until smooth, about 3 minutes.
Scrape down the sides and bottom of bowl to assure batter is well mixed.
Fill each cupcake paper approximately ⅔ full.
Bake for 20 minutes or until tops spring back when touched lightly. Do not overbake.
Transfer to a wire rack, carefully remove from tins and let cool completely.
In the bowl of a stand mixer, beat butter until smooth and creamy.
Add powdered sugar, cream and vanilla extract, and beat on low until just moistened and combined.
Add half and half, and beat to combine.
Turn speed up to medium-high, and beat for 5 minutes or until fluffy and whipped.
Frost as desired.
In a small bowl, heat cream in microwave until steaming hot but not boiling.
Pour chocolate chips into hot cream, allow to sit for 2 minutes.
Stir chocolate until smooth. This will take a couple of minutes, while the heat of the cream melts all of the chocolate.
Place chocolate in a small piping bag with a small star tip,, and inject tip into tops of cupcakes. Squeeze gently to push chocolate filling into cake. Repeat for all cupcakes.
Enjoy!