Chocolate Cake & Vanilla Butter Cream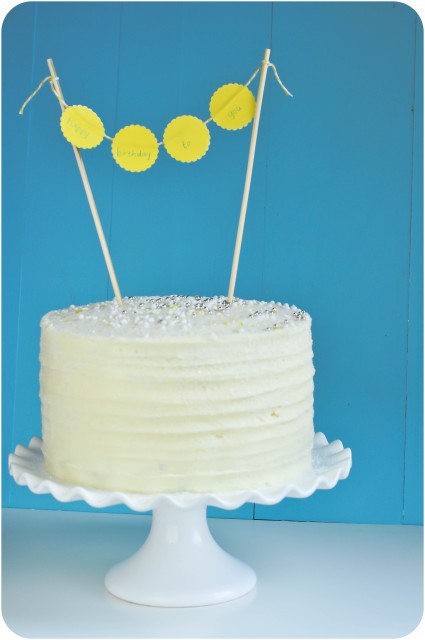 Serves:
Approximately 16 servings
2 and ⅔ cups all-purpose flour
3 cups sugar
2 and ¼ teaspoons baking powder
2 and ¼ teaspoons banking soda
1 and ½ teaspoons salt
1 and ⅛ cups cocoa powder
¾ cup vegetable oil
1 and ½ cups boiling water
3 eggs
3 teaspoons vanilla
1 and ½ cups milk
3 cups (6 sticks) unsalted butter at cool room temperature
3 pounds confectioners sugar
2 Tablespoons clear vanilla extract
⅓ cup heavy cream
⅓ cup half and half
Preheat oven to 350 degrees F.
Prepare three 8-inch cake pans with cooking spray and parchment paper. Set aside.
In a large bowl, whisk together dry ingredients: flour, sugar, cocoa powder, salt, baking soda and baking powder.
Add wet ingredients: oil, eggs, vanilla and milk.
Beat on medium speed (a hand mixer is fine) until well combined.
Carefully add boiling water, and stir to combine. Batter will be thin.
Evenly divide batter between three cake pans.
Bake for 30-35 minutes or until a cake-tester comes out mostly clean. Do not overbake.
Cool on a wire rack for 10 minutes, then remove from pans and cool completely.
In the bowl of a stand mixer, beat butter until soft and fluffy.
Add powdered sugar, vanilla and heavy cream.
Slowly beat until the sugar is completely moistened.
Add half and half, and beat at medium speed until frosting is light and fluffy. If too thick, add additional half and half one Tablespoon at a time or until desired consistency is met. If too thin, add additional powdered sugar ¼ cup at a time.
Place bottom layer of cake on a cake board and spinning platform.
Spoon approximately ¾ cup of frosting on to cake. Using an offset spatula, spread to ½ inch thickness.
Add middle layer, and repeat process of spreading ¾ cup of frosting to ½ inch thickness.
Add top layer of cake. Spoon approximately 2 cups of frosting on top layer, and slowly work frosting over top and down the sides of the cake to form a crumb coat.
Smooth frosting to desired thickness, completely covering the cake. Don't worry if you can see chocolate crumbs in this layer of frosting, we'll cover them in the next step.
Allow frosting to harden in refrigerator for 15 minutes.
Using remaining frosting, evenly spread frosting over the entire crumb cake.
Garnish as desired, and enjoy!
Recipe by
Lemon Sugar
at http://lemon-sugar.com/2013/02/chocolate-cake-with-vanilla-butter-cream-the-glitter-cake.html/