Peanut Butter & Oreo Stuffed Brownie Cupcakes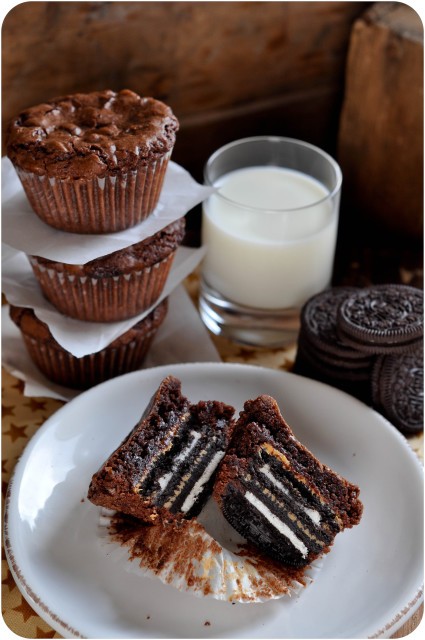 24 chocolate sandwich cookies (1 package)
~1 cup peanut butter
1 batch chocolate brownie mix, no chips (use 8x8 boxed size or make your own
Preheat oven to 350 degrees.
Line a cupcake pan with cupcake papers. Spray liners with cooking spray to prevent sticking.
Spread about a teaspoon of peanut butter on the top of each cookie.
Stack the cookies so that you have 12 stacks. The stacks should have peanut butter between the cookies and peanut butter on top of the stack, so it should go cookie, peanut butter, cookie, peanut butter.
Place a cookie stack into each cupcake liner, and center it as much as possible to allow brownie batter to completely cover each cookie.
Assemble brownie batter according to directions.
Pour about 2 Tablespoons of brownie batter over the top of each cookie stack, taking care to completely cover each stack of cookies.
Bake for 20 minutes or until brownies are done.
Cool for 5 minutes in the pan, then remove to a wire rack to cool completely.
Enjoy!
Recipe by
Lemon Sugar
at http://lemon-sugar.com/2013/02/peanut-butter-oreo-stuffed-brownie-cupcakes.html/