The Greatest Waffle Recipe Ever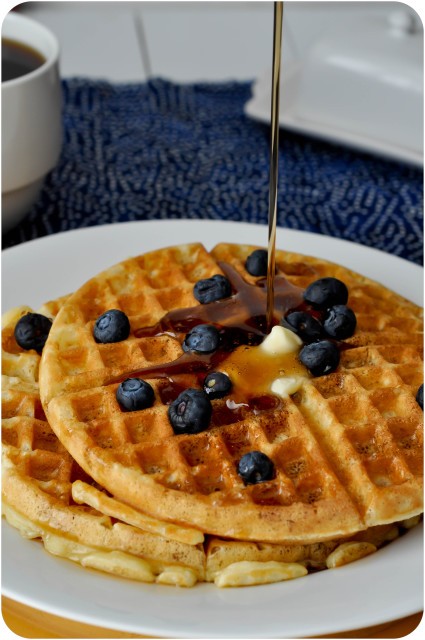 Serves:
8 medium sized waffles
1 and ¾ cups all-purpose flour
1 teaspoon baking powder
¼ teaspoon salt
2 egg yolks
1¾ cups milk
½ cup canola oil
1 teaspoon vanilla
2 egg whites
In a medium sized bowl, combine dry ingredients: flour, baking powder and salt. Whisk together and set aside.
In a large measuring cup or small bowl, combine wet ingredients: egg YOLKS, milk, canola oil and vanilla. Save egg whites for next step. Whisk to combine and set aside.
In a mixing bowl, beat egg whites until stiff peaks form.
Heat your waffle iron to desired temperature. We use a medium-high setting.
Pour wet ingredient mixture into the dry ingredient mixture and stir/whisk to combine. Mixture will be slightly lumpy.
Carefully fold the egg white mixture into the batter. Take care not to deflate the egg whites, but fold them together until the batter is light and fluffy.
Spoon batter on to waffle iron.
Serve and enjoy!
Recipe by
Lemon Sugar
at http://lemon-sugar.com/2013/02/the-greatest-waffle-recipe-ever.html/