Lentil & Vegetable Stew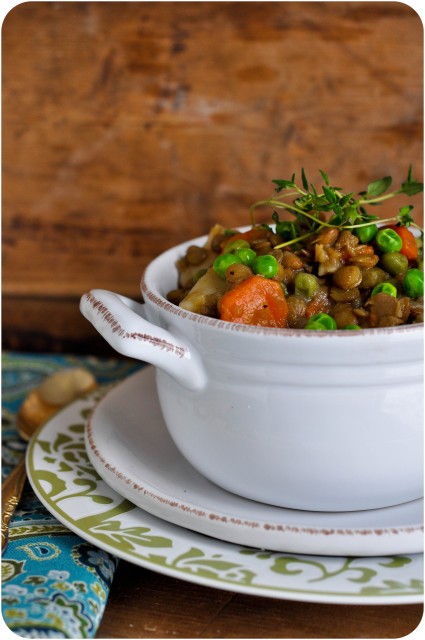 2 cups dry lentils, washed
2 large carrots, chopped
1 large russet potato, chopped
2 yellow onions, chopped
2 ribs celery, chopped
1 cup frozen peas
8 cups vegetable (or beef or chicken) stock, low sodium
3 Tablespoons olive oil
3 Tablespoons unsalted butter
½ teaspoon garlic powder
¼ teaspoon paprika
1 teaspoon kosher salt
1 teaspoon black pepper
Chop carrots, onion, celery and potato into ½ inch pieces. All vegetables should be cut into similar sized pieces so they cook evenly.
Wash and drain lentils.
In a large dutch oven, heat olive oil and butter until butter melts.
Saute onions, celery, carrots and potatoes until onions are soft and translucent, about 5 minutes.
Add lentils, vegetable stock, salt, pepper, garlic powder and paprika.
Simmer for 30-45 minutes or until lentils are tender. Add additional stock or water if needed.
Once lentils are tender, add frozen peas and simmer 5 minutes more.
Serve with crusty, buttered bread.
Enjoy!