Spicy Black Bean Veggie Burgers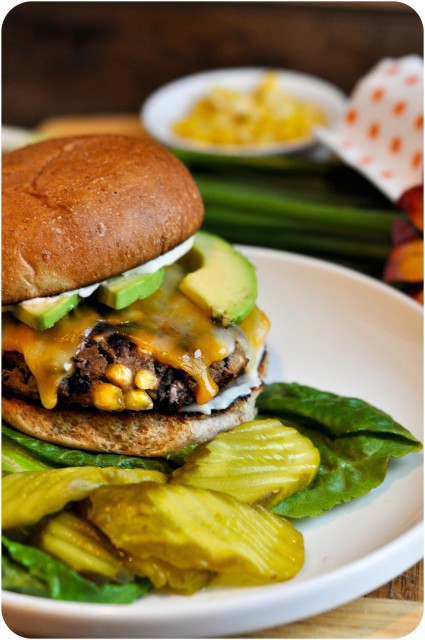 2 (15 ounce) cans black beans, rinsed and drained
1 jalapeno, seeds removed
2 eggs
2-3 Tablespoons tomato paste
½ cup bread crumbs
½ cup corn kernels (defrosted and drained if using canned or frozen)
1 teaspoon dried, minced onions
2 green onion stalks, chopped
½ teaspoon ground cumin
½ teaspoon garlic powder
1 teaspoon kosher salt
½ teaspoon black pepper
several dashes of hot sauce, to taste
½ cup mayonnaise
2 teaspoons creamy horseradish
2 dashes hot sauce (to taste)
6 hamburger buns
6 slices cheddar cheese
Sliced avocado
In a large bowl, pour rinsed and drained black beans and mash with a potato masher until ¾ of the beans are smashed.
Add chopped jalapenos, tomato paste minced onion, cumin, salt, pepper, hot sauce, green onions and corn kernels. Mix well.
Add egg and bread crumbs. Stir until mixture comes together.
Form into six patties.
Heat a non-stick skillet to medium heat. If desired, drizzle some olive oil on to the hot pan.
Cook patties three at a time, for 3-4 minutes on each side.
After flipping, add sliced cheddar cheese to top of burgers. Tent a piece of aluminum foil over the pan to encourage melting.
Cook remaining three burgers. Store burgers in a warm oven or under foil until ready to eat so they remain warm.
Stir together creamy horseradish, hot sauce and mayo until smooth. Taste, and add additional horseradish or hot sauce if desired.
Butter each side of hamburger buns. Grill the buns on the heated skillet until just toasted.
Spread horseradish mayo on each side of the bun.
Top with burger. Top with lettuce, tomato, avocado, red onion or other ingredients as desired.
Enjoy!
Recipe by
Lemon Sugar
at http://lemon-sugar.com/2013/01/spicy-black-bean-veggie-burgers.html/