Cherry Almond Sour Cream Cake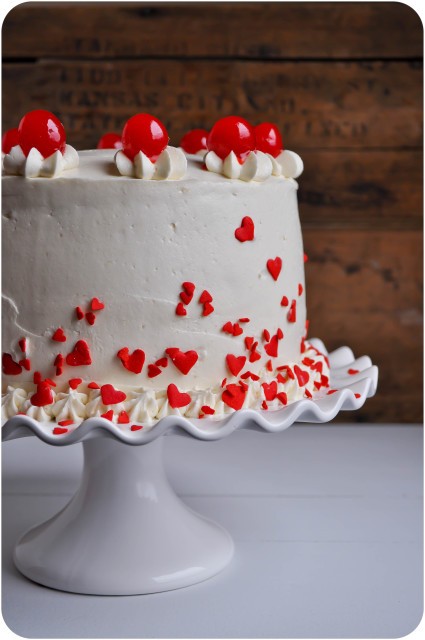 1 box white cake mix (I used Duncan Hines White)
1 cup flour
1 cup sugar
1 cup water
3 eggs at room temperature
1 Tablespoon almond extract
1 cup sour cream
2 pinches salt
¾ cup maraschino cherries, chopped
3 Tablespoons cherry syrup (from maraschino cherries)
2 cups prepared frosting (see below for recipe)
½ cup chopped maraschino cherries
10 Tablespoons all-purpose flour
¾ cup milk
¼ cup half and half or heavy cream (may substitute milk instead)
2 teaspoons vanilla extract
4 sticks (2 cups) unsalted butter slightly softened
2 cups white sugar
Preheat oven to 325 degrees (F).
Prepare three 8-inch cake pans with cooking spray and parchment rounds
Chop cherries, and set aside.
In a large bowl (or the bowl of a stand mixer), combine cake mix, flour and sugar. Whisk to combine.
Add wet ingredients: eggs, sour cream, water, almond extract, and cherry syrup.
Beat on low speed for 30 seconds to combine, then on medium speed for 90 seconds. Scrape sides of bowl as needed.
Add chopped cherries, and stir until just combined.
Evenly divide batter between three cake pans (I use a kitchen scale to be precise).
Bake for 28-32 minutes or until a cake tester comes out clean.
Allow to cool in pans for 10 minutes, then remove from pans and cool on a wire rack until completely cooled.
Meanwhile, prepare frosting,
In a medium sized, heavy-bottomed sauce pan, combine milk and cream/half and half and flour - whisk together until combined.
Heat milk and flour over medium low heat, stirring constantly until mixture thickens. This will take between 5 and 10 minutes - do not stop stirring and take care not to scorch the flour. The mixture should resemble cake batter thickness.
Remove from heat and allow to cool completely. Do not try to add warm flour to the frosting, it will not work!
While the flour mixture is cooling, cream together butter and white sugar in the bowl of a stand mixer. Beat until completely combined, and pale and fluffy.
Once the flour mixture is cooled, add the vanilla and whisk to combine.
Then, pour the flour mixture into the butter mixture.
Beat at medium speed until the frosting takes on a whipped-cream consistency, about 5 minutes.
Remove about 2 cups of frosting from the bowl, and stir in chopped cherries. This will be your cake filling.
Place bottom layer on an 8-inch cake board (or on your serving platter, if desired.) Place cake board on a folded, damp paper towel, then on a rotating cake plate to prevent sliding.
Using an offset spatula, spread half of the cherry frosting on to the bottom layer, and spread to edges in an even thickness.
Place the middle cake layer on top of the frosting and center it.
Spread the other half of the cherry frosting on top of this layer. Again, spread to edges in an even layer.
Place the top cake layer on top, and center it.
Spread ⅔ of the plain frosting on the top layer of the cake.
Using a large offset spatula, slowly spread the frosting out to the edges of the cake, working it down the sides of the cake, creating a thick crumb coat.
Once cake is completely covered, set it in the refrigerator for 15 minutes to set slightly.
Remove from refrigerator, then spread the remaining ⅓ of frosting over the cake to completely cover any bare spots. If you like, you can save some frosting for decorations using a pastry bag.
Dip offset spatula in warm water, then go over the cake to smooth it out and finish as desired.
Garnish and decorate as desired.
Enjoy!
Total time includes 20 minute cake prep, 20 minute frosting prep, 30 minutes bake time and 20 minutes frosting/assembly time.
Recipe by
Lemon Sugar
at http://lemon-sugar.com/2013/01/cherry-almond-sour-cream-cake.html/