Nutella Crescent Cookies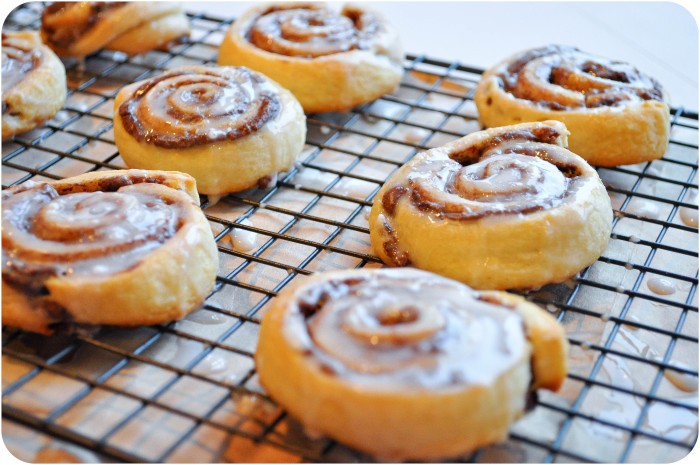 1 can refrigerated crescent rolls
~3/4 to 1 cup Nutella spread
1 cup confectioner's sugar
2 Tablespoons heavy cream, half and half or milk
1 teaspoon vanilla extract
Unroll sheet of crescent roll dough onto a smooth surface.
Spread an even layer of Nutella over the entire sheet of crescent roll dough, taking care not to tear it. If you do tear it, simply pinch it back together.
Re-roll the dough back into a log. Pinch together to seal.
Roll the dough in plastic wrap, and refrigerate for 30-60 minutes or until chilled.
Meanwhile, preheat oven to 350 degrees (F).
Prepare a cookie sheet with parchment paper or a silpat mat.
Slice the log into 12 equal pieces.
Place cookies 2 inches apart on cookie sheet.
Bake on middle rack for 10-12 minutes or until golden brown.
Stir together sugar, milk and vanilla until smooth.
Drizzle over warm cookies.
Enjoy!