Cream Cheese Banana Nut Bread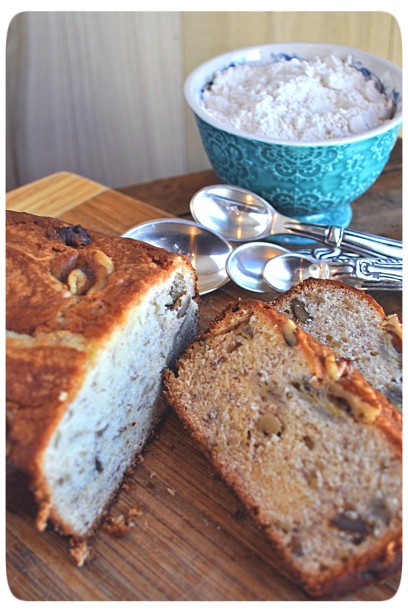 ¾ cup (1 and ½ sticks) unsalted butter, softened
8 ounces cream cheese, softened
2 cups sugar
2 large eggs at room temperature
3 cups all-purpose flour
½ teaspoon baking powder
½ teaspoon baking soda
½ teaspoon salt
1½ cups mashed bananas (about 4 medium bananas)
1 cup roughly chopped pecans or walnuts, toasted
1 teaspoon vanilla extract
Preheat oven to 350 degrees (F).
Prepare two 8x4 loaf pans with cooking spray, and set aside.
In a small bowl, combine flour, baking powder, baking soda and salt.
In a large bowl, (or stand mixer), beat together butter and cream cheese until well combined and light and fluffy.
Add sugar and vanilla, and beat until just combined.
Add eggs one at a time, beating to combine after each addition.
Add flour addition, and beat until just combined. Don't over beat.
Add bananas and nuts. Stir to combine.
Divide batter into two loaf pans.
Bake on a middle rack for 55-75 minutes or until a cake tester comes out mostly clean. You might have to cover the tops with foil at the 45 minute mark to prevent over-browning.
Cool on a wire rack in the pans for 10 minutes.
Remove from pans and allow to cool for 30 minutes before serving.
To store, wrap loaves tightly in plastic wrap and keep at room temperature for up to 3 days.
Enjoy!
Recipe by
Lemon Sugar
at http://lemon-sugar.com/2013/01/cream-cheese-banana-nut-bread.html/