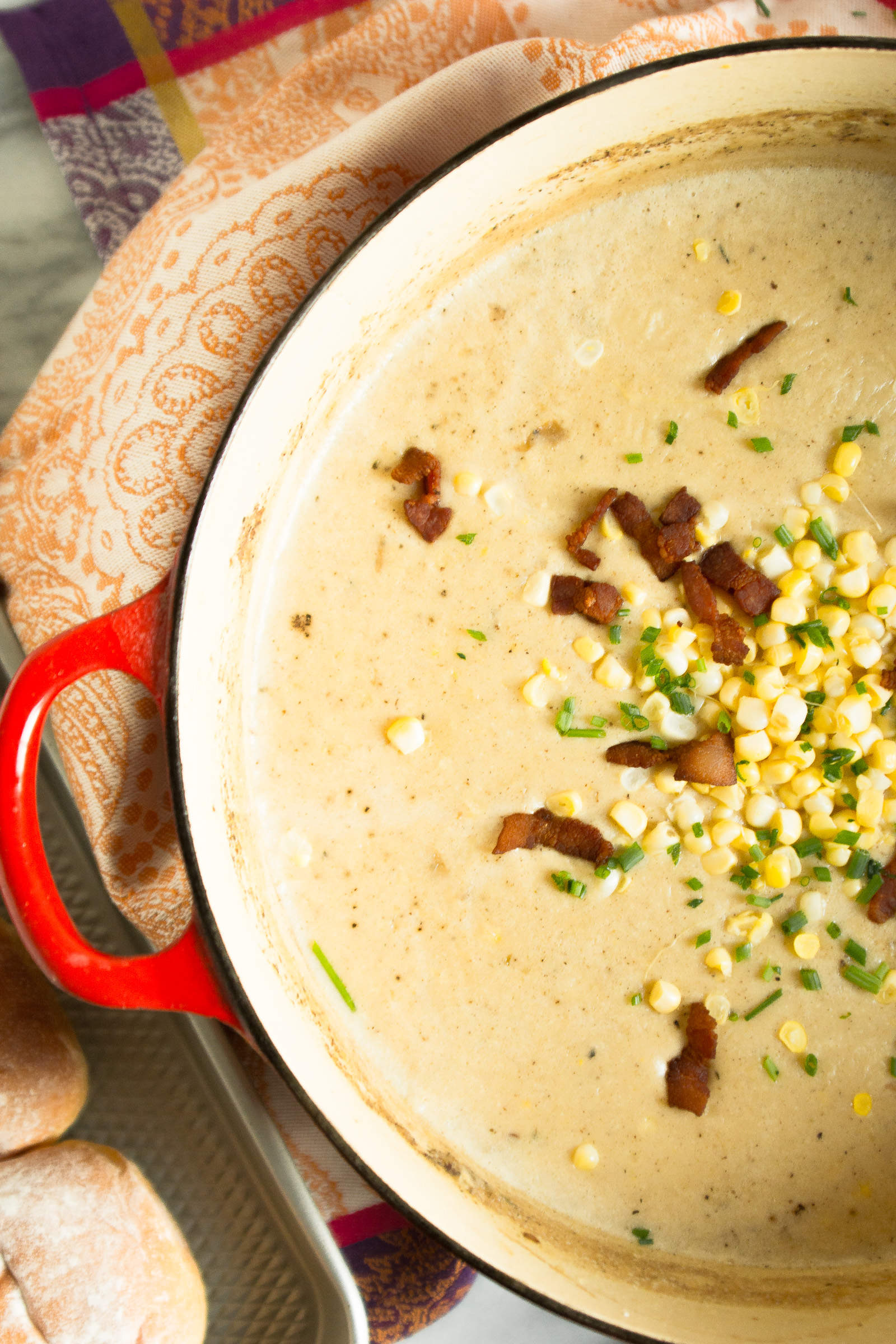 I'm a soup person.  I love it, and I can eat it year 'round – yes, even when it's 103 degrees outside.  (Which is good because it was PRECISELY 103 degrees outside when I made this yesterday!) There's something about this particular recipe thought that really doesn't feel like a soup – or a chowder – but feels lighter and screams summertime.  The combo of the fresh sweet corn with potatoes and bacon is a marriage made in heaven, so I was particularly excited to team up with my friends at Smithfield to bring you this fabulous summer treat.
Perhaps the thing I love the MOST about this recipe is that it's super fast – about 30 minutes, so it's the perfect recipe for a busy summer night.  And, since the farmers markets and grocery stores have just started tempting me with ears of sweet corn, well – it's just been calling to me.
Plus, bacon.  It goes with everything, doesn't it?  And with every meal?  My girls have recently become smitten with it that I was literally having to watch my bowl of crispy-garnish-bacon (it's a thing) while I was making this soup for you all today – otherwise they would have scarfed it down in three-seconds flat.
We're big fans of Smithfield Hometown Original Bacon here – not only can we find it in all of our grocery stores, but it's always delicious and perfectly smoked and cured.  It comes in other flavors too, so be sure to check it out.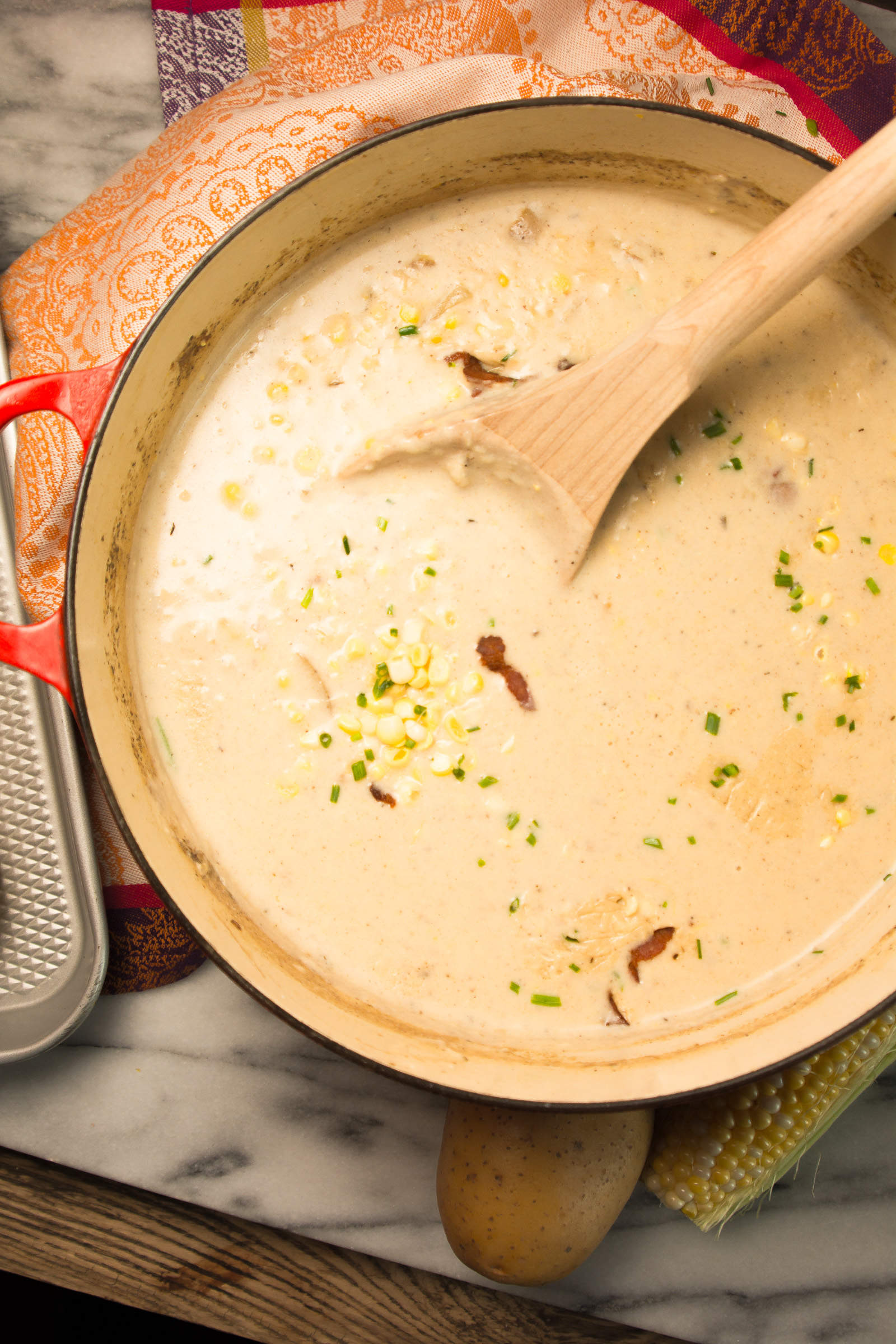 The chowder is a very basic, layered recipe.  First sweat the onions in butter and bacon for flavor, then create your roux with flour, then add the liquid and boil the potatoes, and then thicken with half and half.
See?  Easy-peasy.  Honestly the most difficult task here is chopping onions and cutting up potatoes.  So easy.
I like to serve mine with soft potato rolls and a tall glass of sweet tea – such a perfect summer meal.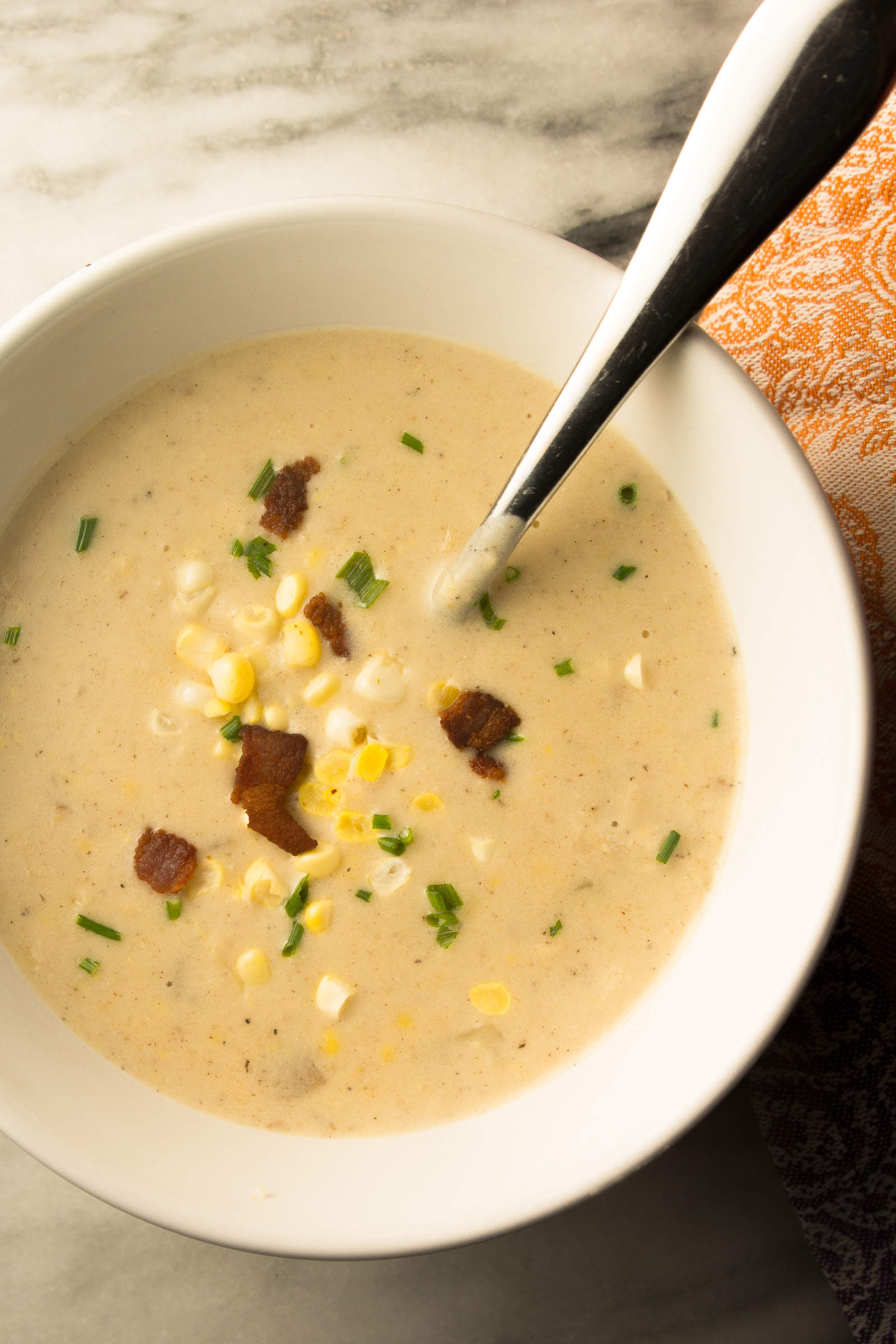 There are a couple of tips you should know when making this recipe – first, make sure you get the bacon nice and crisp – you want to be able to use it as a garnish when you're done.
Second, use a bundt pan to help remove the corn kernels from the cob.
Third (ok, maybe more than a couple of tips…) cut all of your potatoes into small and equally-sized pieces – this will help cooking speed.
And finally, if the chowder doesn't thicken up the way you want it to, feel free to mix a bit of flour with a bit of half and half and add it to the soup at the end – you'll only need a Tablespoon or so of flour and about a 1/4 cup of half and half.  Whisk to remove lumps and dump it in while stirring constantly.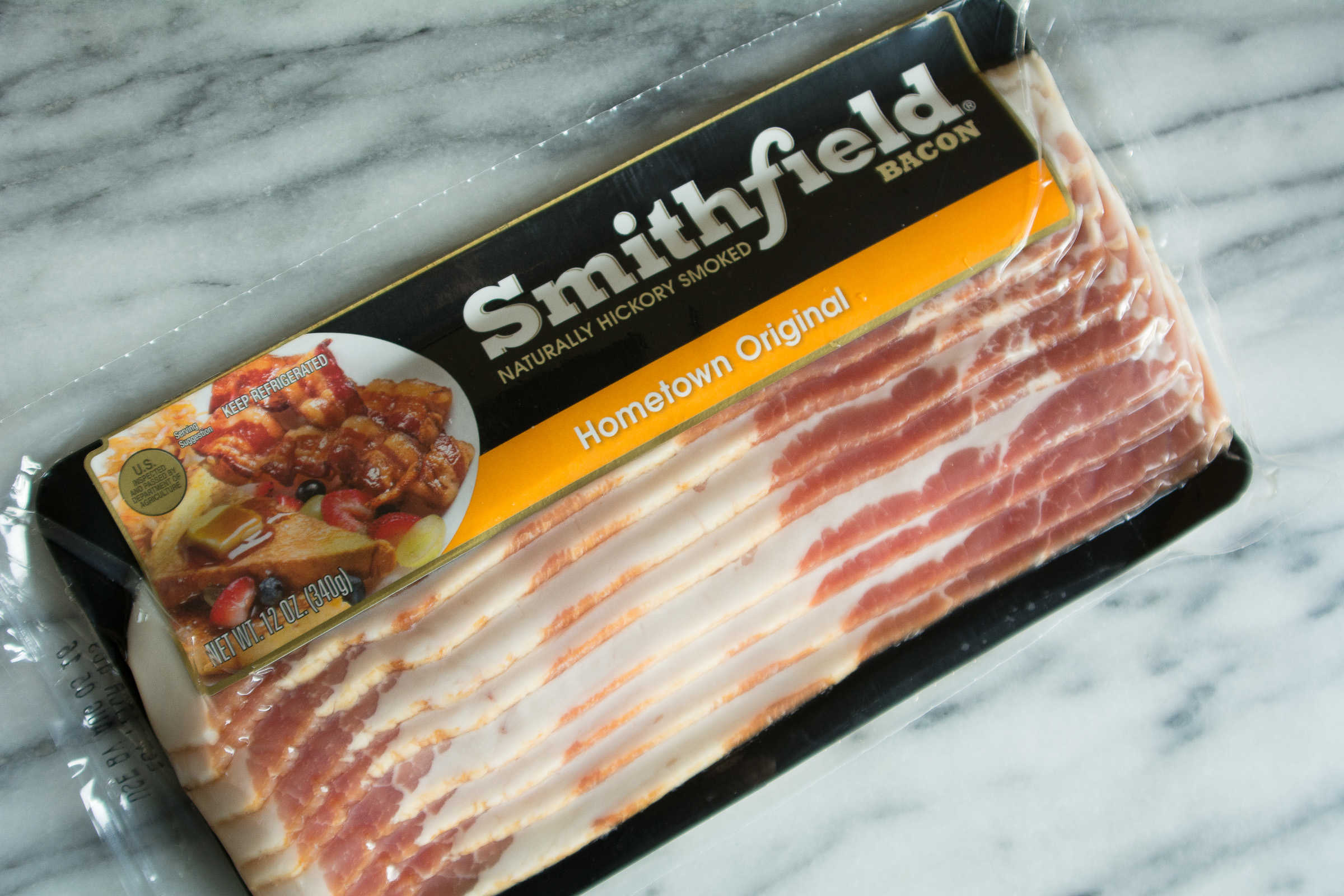 For more meal inspiration and recipe ideas, visit smithfield.com or Facebook.com/CookingwithSmithfield.  There are tons of (OMG delish) bacon recipes living there, and you won't be sorry.  Smithfield Hometown Original Bacon can be found at grocery stores nationwide, so run-don't-walk to your favorite store and get your bacon on!
I hope you enjoy this as much as we do!  Enjoy!

Summer Corn & Bacon Chowder
This quick summer soup is full of fresh corn and crispy bacon, and is sure to become a family favorite! Serve with soft potato rolls and enjoy!
Ingredients
8-10 ears fresh sweet yellow corn, kernels cut from the cob
¼ cup unsalted butter
5 slices bacon, cut into ¼ to ½-inch pieces
1 medium yellow onion chopped
¼ cup all-purpose flour
1 clove garlic, finely minced
5 cups water or low-sodium chicken stock
1 lb Yukon Gold potatoes, cut into small ½-inch pieces
½ tsp dried thyme
1 bay leaf
Salt and pepper, to taste
1 cup half and half or heavy cream
1 Tbsp honey
2 - 3 Tbsp chopped fresh chives
Shredded cheddar cheese, for serving (optional)
Instructions
In a large dutch oven or soup pan, melt butter over medium heat.
Add the onion and bacon to the melted butter, and saute until the bacon is browned to desired crispiness.
Use a slotted spoon or spider to remove the bacon (onion is ok to leave behind) and place the bacon on a paper-towel lined sheet, set aside.
To the butter/onion mixture, add in the flour and garlic and cook 1½ minutes.
While whisking, slowly pour in 5 cups water (or substitute low-sodium chicken stock)
Bring mixture to a boil, stirring constantly, then stir in corn kernels and potatoes.
Add the dried thyme and bay leaf and season with salt and pepper to taste.
Bring to a simmer, and cook until the potatoes are tender, about 15 minutes.
Remove bay leaft.
Transfer about 2½ cups of the chowder to a blender and blend until smooth.
Stir the blended chowder back into the large pot, and stir to combine.
Add the half and half and honey, and stir.
Sprinkle each serving with chives and cheddar cheese, plus a healthy serving of crispy bacon.
This is a sponsored post written by me on behalf of Smithfield.
2
leave a comment your way - using facebook or disqus: