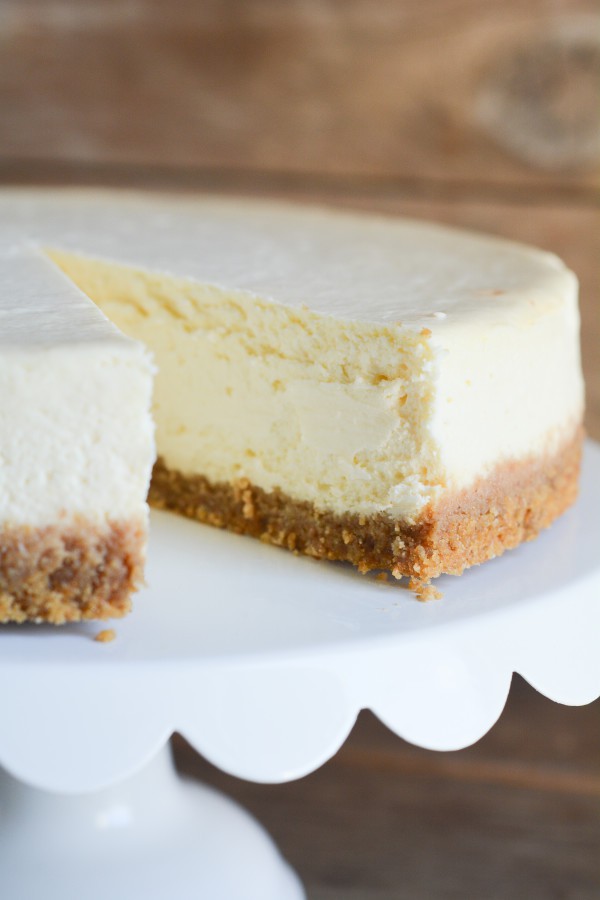 Best cheesecake ever.  It doesn't crack.  It's crumbly but not dry.  It has a THICK, buttery graham cracker crust. It's the best.
The end.
Seriously.
So. good.
I don't have a lot of words about this.  I've made cheesecake a number of times, but I've never shared my go-to recipe with you all, which frankly seems like a crime against humanity.  Or against lemon-sugarers, at least.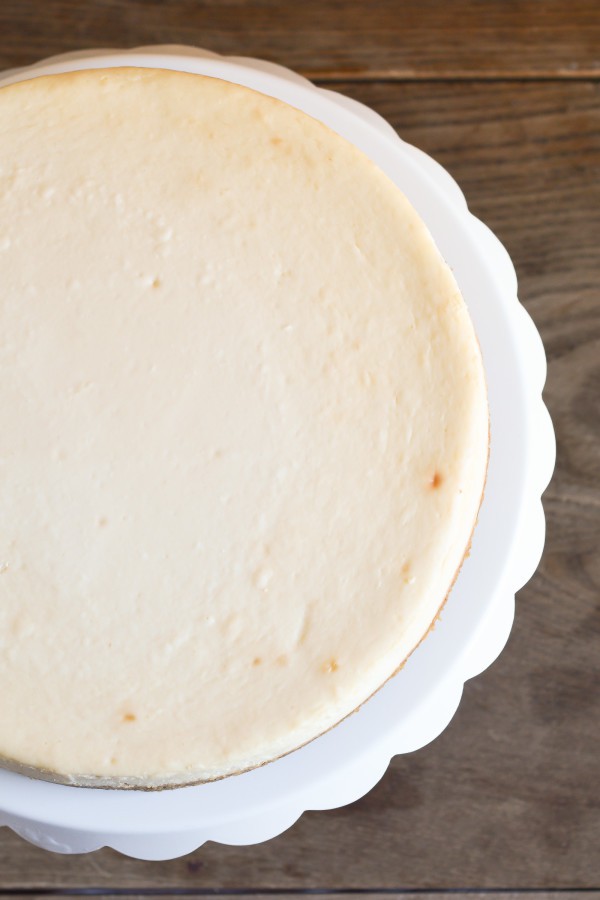 Cheesecake has a bad rep for being difficult and finicky – which it can be.  I've tested SO many recipes over the years, all of them claiming to be the best of course, but it wasn't until I started tweaking and making it my own that I really came into my cheesecake game.
Yup.  I just said that.
So, I don't like cheesecake that's too creamy.  It't not custard, after all.  I like it to be creamy AND crumbly – not too dense, not too fluffy.  I like a thick crust, and graham cracker is the way to go.
I don't want to have to worry about over-mixing, under-mixing, wrapping my pan in aluminum foil.  This recipe has solved all of my #cheesecakeproblems.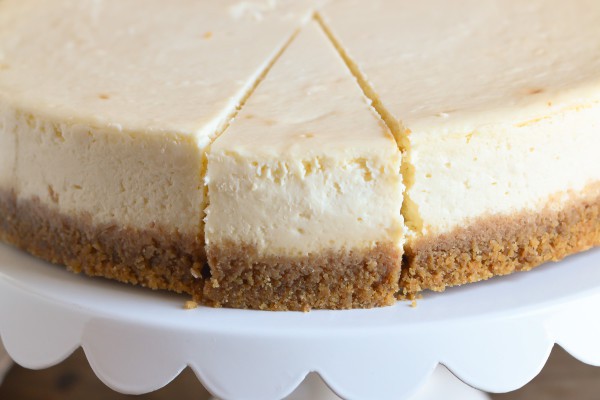 Start with room temperature cream cheese – and don't buy the cheap stuff.  The cheap cream cheese has a funky texture and higher water content – so go with the good stuff.  And NEVER, EVER use low or reduced fat (or heaven forbid, fat-free) cream cheese.  It's a cheesecake, folks.  It is what it is. Own it.
Also at room temperature?  Eggs and sour cream.  Just set them out 30 minutes before and they'll be fine.
Now, don't go in with the idea that you CAN'T under or over mix this batter – you can.  But follow the recipe exactly and you'll be fine.   Don't overthink it.
Yes, this recipe does require a water bath, but I've found a way to avoid the soggy crust from a leaky springform pan.  Aluminum foil will do the job – about 80% of the time.  If you don't wrap it perfectly, your pan will always leak.
I left the aluminum foil method in the instructions, but there's a BETTER way!  If you are using a 9-inch springform pan, run to your nearest baking supply store and purchase a 10-inch aluminum round cake pan with 3″ sides.  Your springform pan will fit right into it, and voila – leak proof pan.
I use my big turkey roasting pan for my water bath and it works great – also gives the pan another use the other 364 days of the year. 🙂
Make sure you leave plenty of time to let your finished cake refrigerate for 12-24 hours before you eat it.  It will be hard, (#cheesecakeproblems) but you will be rewarded with the best darn cheesecake of your life.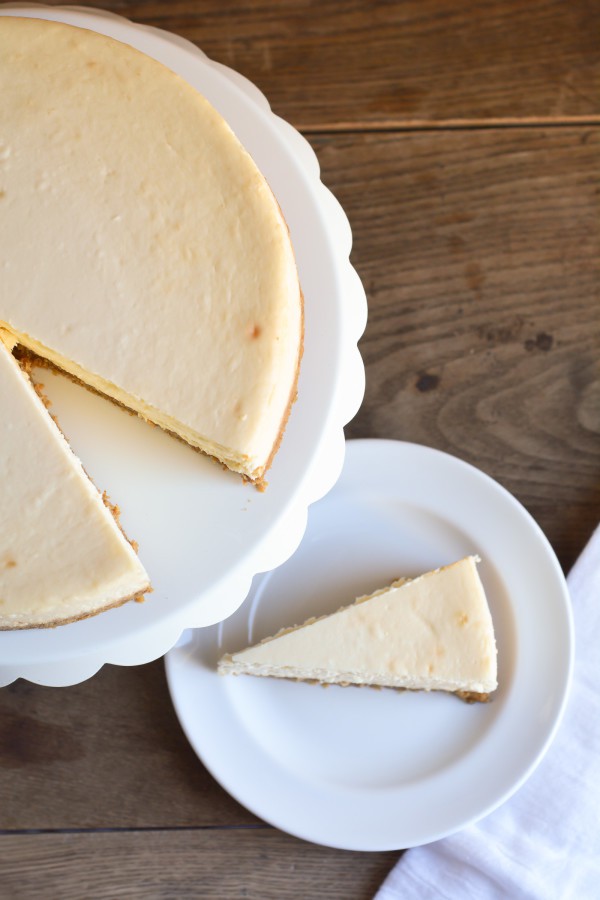 I love this cheesecake plain, but it's great with cherries, chocolate, berry compote, caramel…can't go wrong.
Hope you love it as much as we do.
Enjoy!

Basic Cheesecake
The best cheesecake of your life, plus a solution to all of your #cheesecakeproblems. Enjoy!
Ingredients
Crust:
1 and ½ cups graham cracker crumbs
½ cup brown sugar
1 tsp vanilla extract
1 stick (1/2 cup) unsalted butter, melted
Filling:
4 (8-ounce) packages of cream cheese, softened
¾ cup granulated sugar
2 Tablespoons corn starch
2 eggs at room temperature
½ cup sour cream at room temperature
¾ cup heavy cream
2 teaspoons vanilla extract
Instructions
Preheat oven to 325 degrees (F).
Prepare a 9-inch springform pan with cooking spray or butter.
To prevent water seepage, wrap the springform pan in heavy-duty aluminum foil. I use two layers of extra-large sheets.
Place springform pan into a large roasting pan, and set aside.
In a medium-sized bowl, combine graham cracker crumbs and brown sugar.
Add vanilla and melted butter, and stir until completely moistened.
Pour mixture into the springform pan, and use the bottom of a glass to press the mixture into the bottom of the pan in an even layer - do not come up the sides with this crust. Set aside.
In the bowl of your stand mixer (or a large bowl with a handheld mixer) beat cream cheese with your paddle attachment until smooth and creamy.
Add cornstarch, and beat to combine.
Add sugar, and beat until completely incorporated.
Add eggs, one at a time, beating completely after each addition.
Add vanilla, sour cream and whipping cream, and beat until smooth, scraping down sides of bowl at least once.
Pour batter into the prepared springform pan.
Drop the filled cheesecake firmly on to your countertop several times to release any air bubbles. Return the springform pan to the roasting pan.
Place the roasting pan, with wrapped springform pan inside, into preheated oven.
Fill the roasting pan with water, until halfway up the springform pan. Work quickly, so you don't release too much heat from the oven.
Bake for 90 minutes. DO NOT open the door during baking.
Remove cake from roasting pan, and allow to cool for 30 minutes on a wire rack.
After 30 minutes, run a thin knife around the outside of the crust to release from the sides. This will help prevent cracking.
Cool for another 30 minutes on a wire rack, then lightly cover and move to the refrigerator.
Continue to cool for at least 4 hours, but ideally overnight.
Enjoy!
3
leave a comment your way - using facebook or disqus: