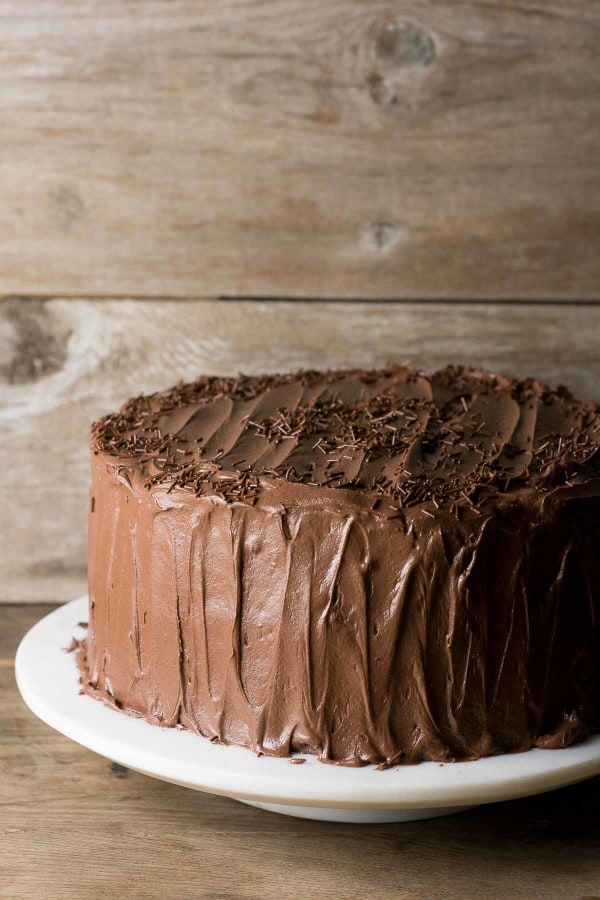 I almost titled this post something like, "Back to Basics: Yellow Cake with Fudge Frosting," but then I thought that it's not really back to basics here. Good yellow cake is not an easy thing to accomplish, so while it is a bit of a basic cake, it's definitely not an easy one.
I've made a hundred different recipes and varieties of yellow cake over the years, some great, some not so much.  It's been a good lesson in the science behind baking for me, and it turns out that a combination of my favorite recipes works best for me, so I feel like I'm finally ready to share it with all of you.
So yes, yellow cake is a tough one to master.  The wrong combination of ingredients can result in a dry cake, a crumbly cake (usually good, but only if the cake is tender and moist, too.)  Or, the texture could be spot-on, but the flavors could be all off.  It's tough.  And after bazillions of test-runs, I've come to the conclusion that I don't like egg whites mixed into my yellow cake batter.
Plain ol' egg yolks for me. Works every time.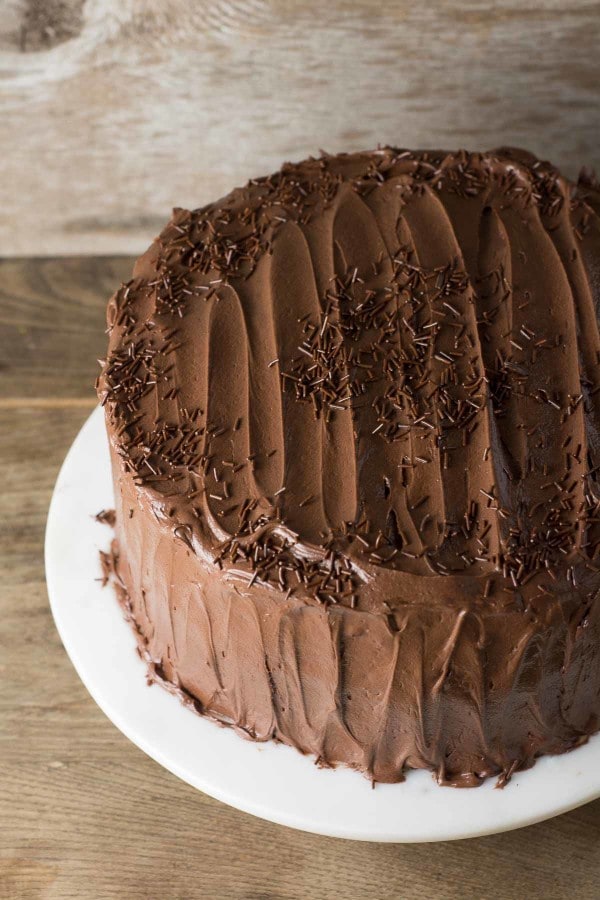 This cake is tender, moist (sorry for the m-word but it's necessary here!) and it has a nice, bright vanilla flavor.  The fudge frosting is rich but not too sweet, so the combination of the frosting and the cake just work PERFECTLY together.  They combine into a silky, velvety texture, and the flavor combo is right where it should be.
Plus, look at the frosting!  Doesn't it just make you want to stick your finger right in the middle of it?  Check out my Instagram Video so you can see just how tempting it is.  So, so good you guys.  Get the milk ready.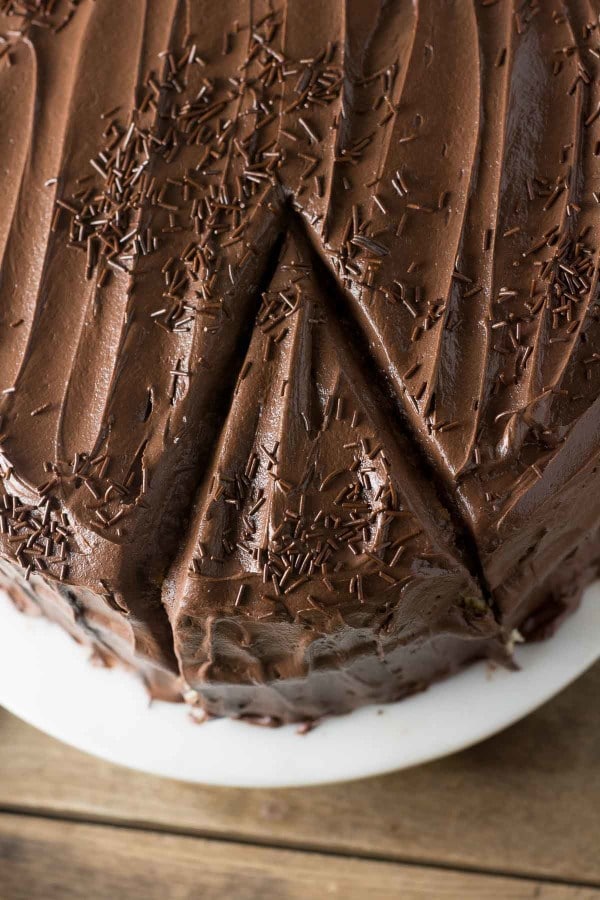 Wouldn't this make the perfect "grown-up" birthday cake?  I would definitely NOT complain if someone made this for me for my birthday!  Those sprinkles on top are my very favorite sprinkles, from India Tree.  They're delicate, pretty and actually taste good!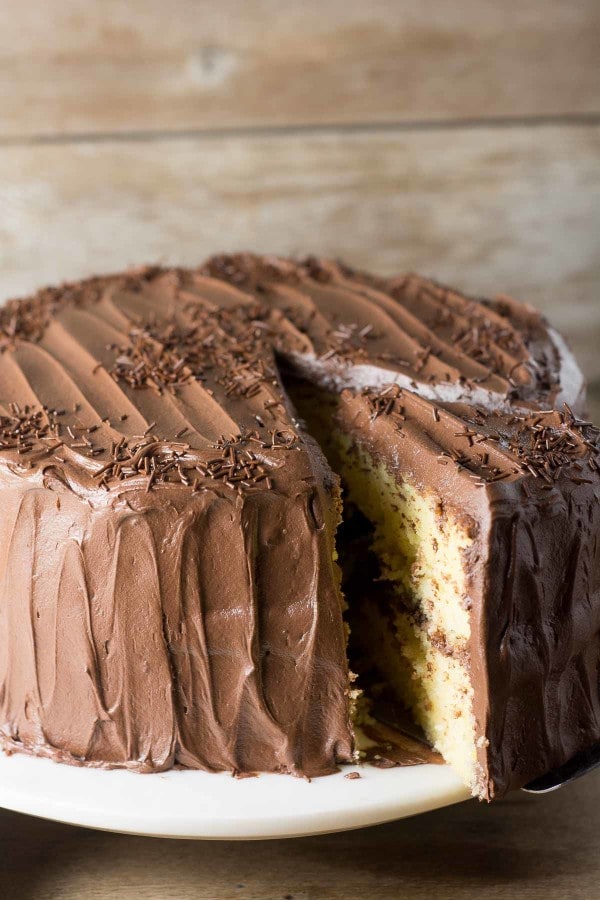 Is there anything better than cutting into a cake and pulling out the first slice?
Nope.  Didn't think so.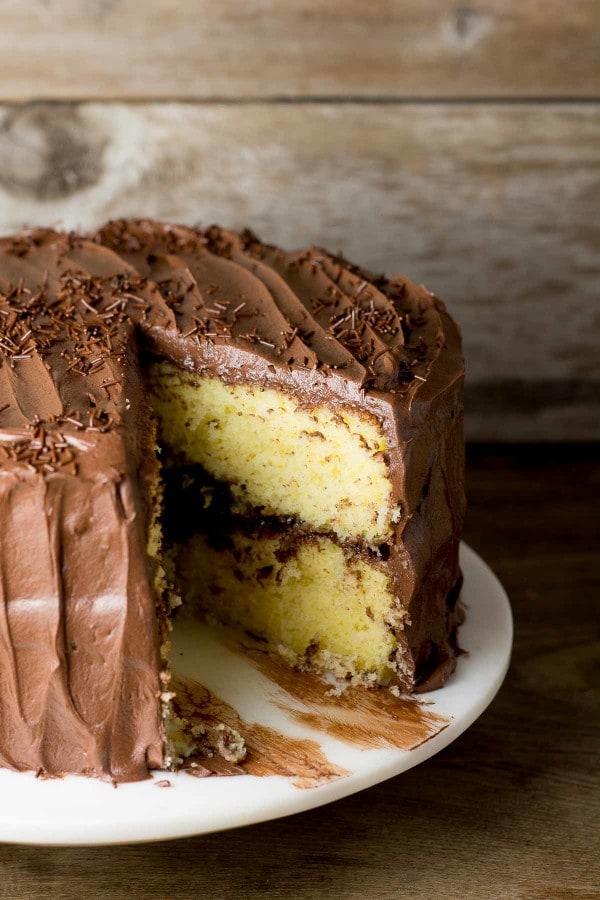 My best layer cake tips are pretty simple – there are just four of them.  First, I like to use 8-inch round, aluminum pans.  Light colored aluminum bakes much more evenly and prevents over-browning.  I never bake a cake anymore without a parchment circle in the bottom of the pan, and I always set my timer for at least 5-minutes before the recipe says it will be done.  I like to closely monitor the cakes in their last few minutes in the oven – an overbaked cake is a dry cake!
Finally, when you are mixing and combining your ingredients, follow the recipe exactly.  If the recipe says to alternate wet and dry ingredients as you add them do the mixer – follow the recipe!  This will ALWAYS help the texture of your cake.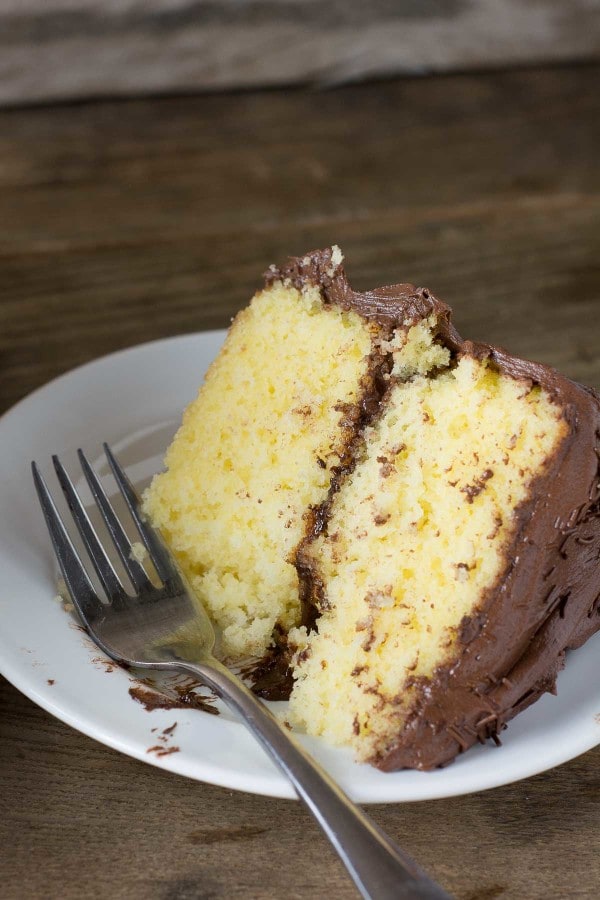 Hope you love this one as much as we do.  It's pretty darn easy, just make sure you have cake flour on hand and you're ready to go!
Enjoy!

Yellow Cake with Fudge Frosting
Ingredients
Cake:
3 cups sifted cake flour
3 and ½ teaspoons baking powder
½ teaspoon salt
¾ cup unsalted butter, room temperature
1 and ⅓ cups granulated white sugar
6 large egg yolks
1 cup milk
2 teaspoons pure vanilla extract
Frosting:
1 and ½ cups (2 and ½ sticks) unsalted butter, softened
1 cup powdered sugar
¾ cup Dutch-processed cocoa powder
⅛ teaspoon table salt
¾ cup light corn syrup
1 teaspoon vanilla extract
8 ounces dark chocolate (semi or bittersweet) melted and cooled slightly
Instructions
Cakes:
Preheat oven to 350 degrees, (F).
Prepare two 9-inch round cake pans with cooking spray and parchement rounds. Set aside.
In a large bowl, whisk together the flour, baking powder, and salt.
In the bowl of your electric mixer, or with a hand mixer, beat the butter until soft and creamy (about 1-2 minutes).
Gradually add the sugar and beat until light and fluffy (about 3-5 minutes).
Add egg yolks, in two batches, beating well after each addition.
Scrape down the sides of the bowl as needed.
Add the vanilla extract and beat until combined.
With the mixer on low speed, alternately add the flour mixture (in three additions), and milk (in two additions), beginning and ending with the flour.
Evenly divide the batter between the prepared pans, smoothing the tops with an offset spatula or back of a spoon.
Bake 22 to 28 minutes or until a toothpick inserted into the center of the cake just comes out clean and the cake springs back when pressed lightly in center.
Place the cakes on a wire rack to cool, in their pans, for about 10 minutes.
Then invert the cakes onto a greased rack. To prevent cracks, reinvert cakes so that tops are right side up. Cool completely before frosting.
Frosting:
Once cakes are completely cooled, prepare frosting.
In a food processor, pulse butter, sugar, cocoa, and salt until smooth, about 30 seconds.
Add corn syrup and vanilla extract and process until combined about 5 to 10 seconds.
Scrape sides of bowl, then add chocolate and pulse until smooth and creamy, about 10 to 15 seconds, or until completely smooth.
Pour frosting into a large bowl, and use a rubber spatula to further combine if needed.
Assemble cakes. Stack first layer, then top with about ¾ cup of frosting. Smooth to edges.
Add next layer, and smooth a thin layer of frosting over the whole cake.
Pour remaining frosting over the top of the cake and spread evenly over layers.
Enjoy!
3
leave a comment your way - using facebook or disqus: