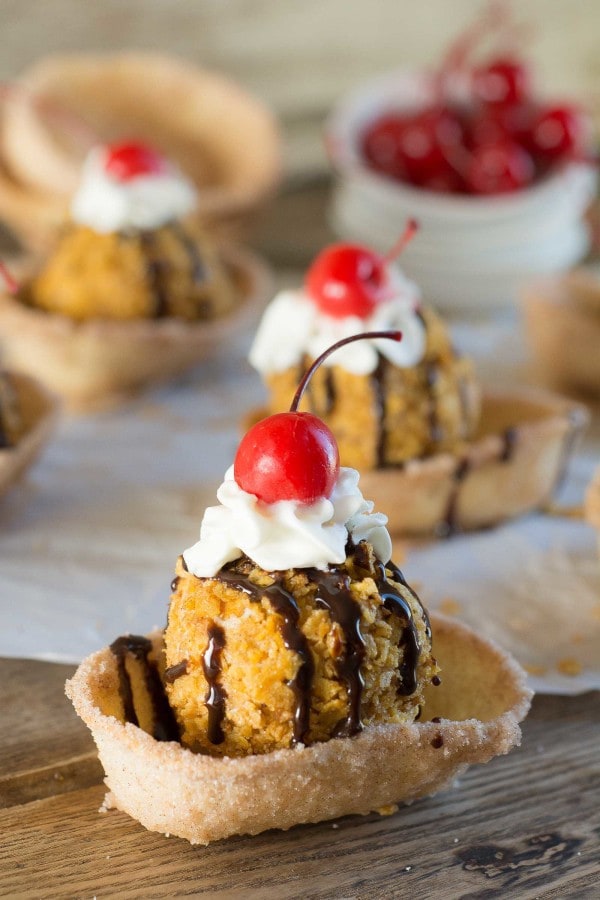 YOU GUYS!  How CUTE are these little fried ice cream boats?  Even though it's exactly zero degrees outside right now, these were still a welcome treat at our family gathering this weekend!
It's been a good sports year  in Kansas City.  Our beloved Royals (finally) won the World Series, and the Chiefs (finally) won a playoff game.  My family decided to gather to celebrate the big football game, so I thought I'd share some of our quick and easy party tips with you.
Ice cream and beer.  Done.
Ha – it's not really that easy, but just about!  And because I'm one to eat dessert before the main course, let's start with ice cream.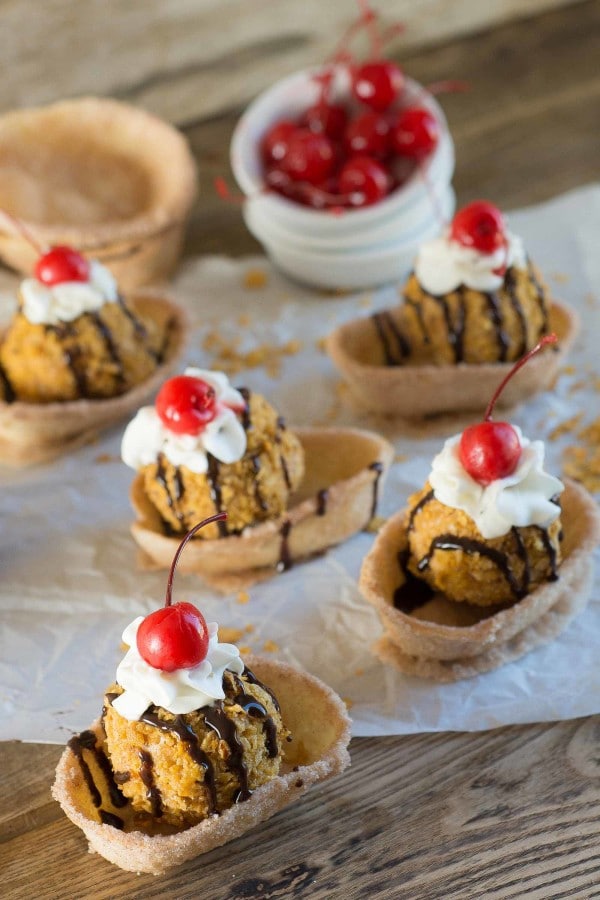 I call this scrumptious little creation a fried ice cream boat.  The ice cream is rolled in a crunchy shell of cornflakes, sugar and cinnamon, it's topped with chocolate syrup and whipped cream, and it's nestled inside a baked tortilla shell.
My girls love baked tortillas coated in butter, cinnamon and sugar, so when I saw these Mini Soft Tortilla Taco Boats by Old El Paso at WalMart last week, I knew they'd be the perfect bowl for our fried ice cream.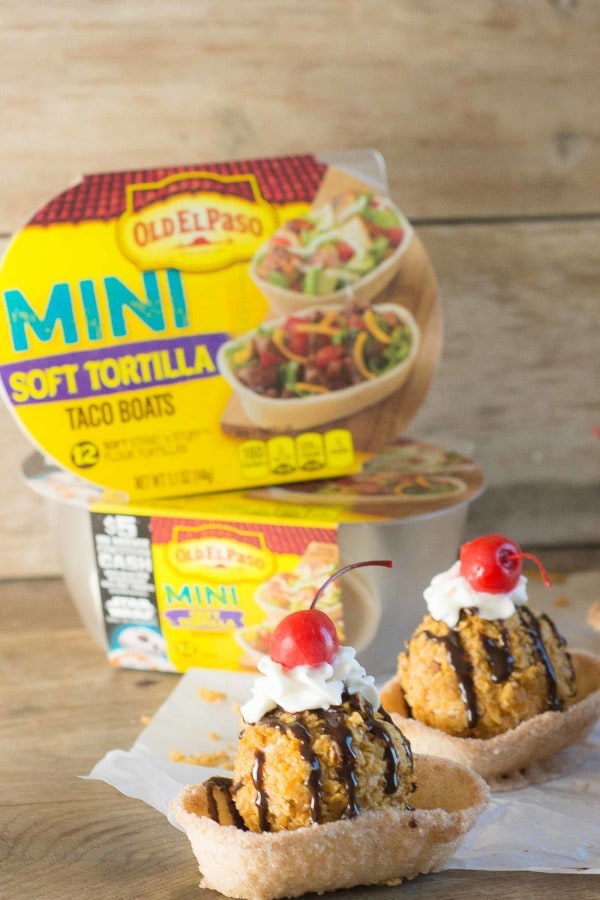 They're so easy to make – brush the shells with melted butter and then coat with cinnamon sugar – and after a quick session in the oven they're crispy and crunchy and sweet and oh-so-good covered in ice cream and chocolate syrup.  I like mine extra crispy, so I bake them for about 15 minutes.  I could totally eat them plain, but how can you possibly pass up a big old helping of fried ice cream?  I can't.
The cornflake coating gets a quick pulse in the food processor (or just smash them with a rolling pin) and toss in the saute pan.  Your kitchen will smell buttery and cinnamon-y and it will be all you can do to keep your guests out of the freezer until they're ready.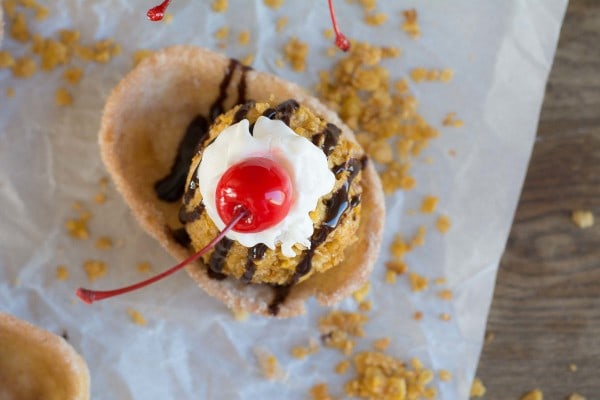 I like to top mine with whipped cream and a maraschino cherry.  These were a HUGE hit, and since you can make them ahead of time, they're perfect for entertaining.
While we were at WalMart, we picked up a big selection of beer, and found a little bit of something for everyone.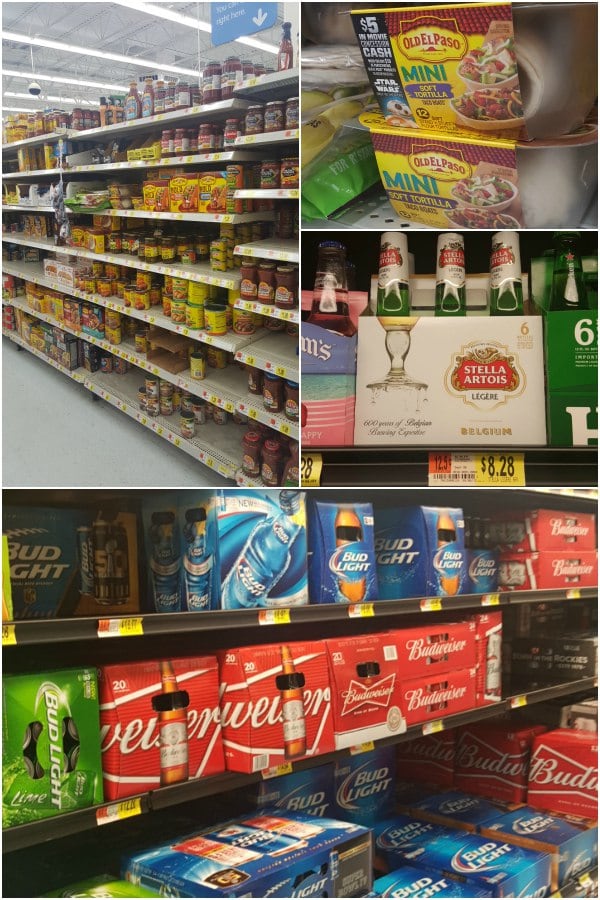 Boddingtons Pub Ale has always been one of my favorites, so I was thrilled when I saw the cheerful yellow package among the selection.  My husband honed in on the Beck's, we grabbed some Cidre for my sister-in-law and an assortment for everyone else.  Walmart has a great selection of Budweiser beers, so it was easy to find something for everyone.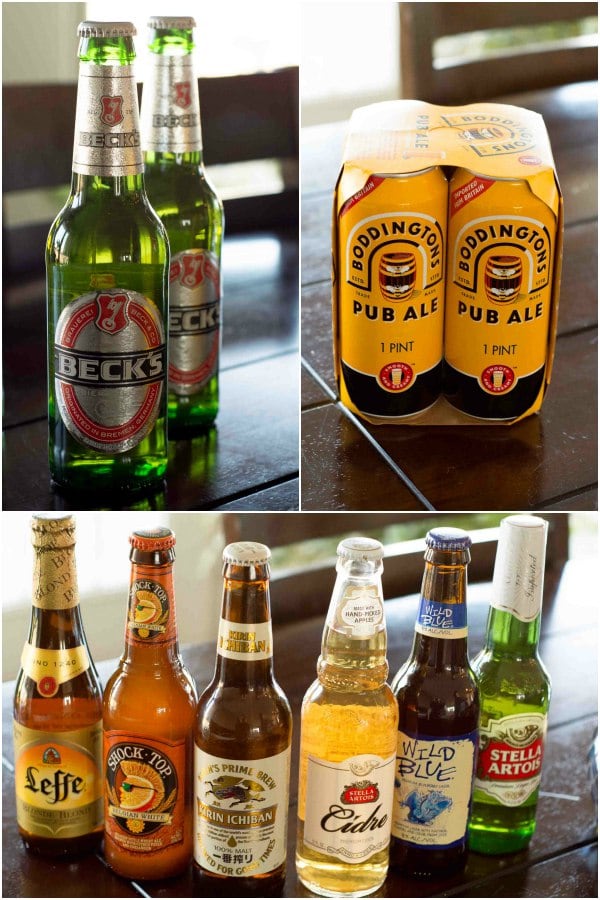 My brother hosted the gathering this week, so we all contributed a side dish and it made things a bit easier on everyone.  There are 19 people in my family now, so we're getting pretty good at our little parties.  We know how much food to bring (too much is always better than not enough), how many drinks to provide and how to keep it fun.
And, dessert is a must!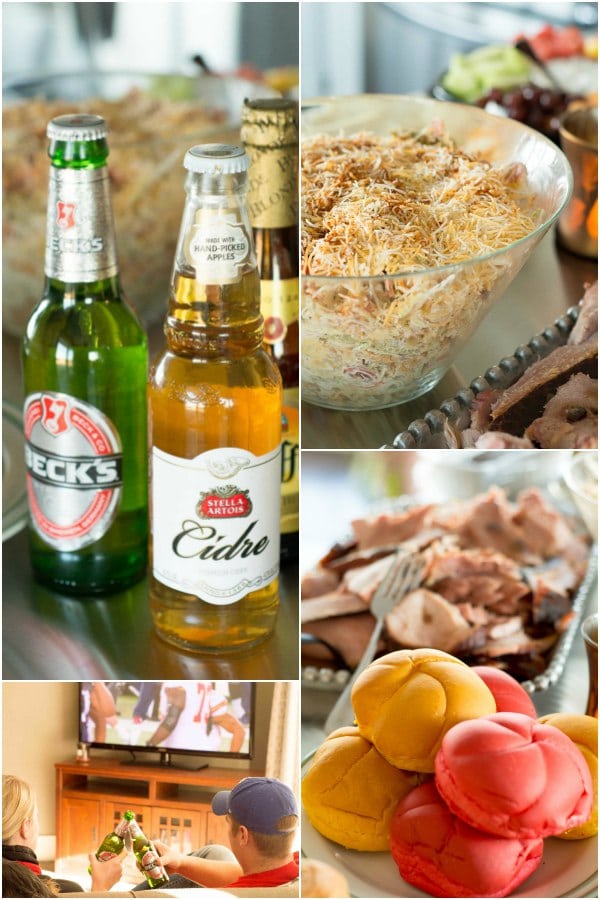 My brother smoked a ham, my sister-in-law found some awesome red and yellow buns (Chiefs colors!) for sandwiches, and she also made her famous pasta salad.  We had a fruit tray, a potato casserole and some chips and dip, and we were all set.  We had a great party, we kept it simple and focused on delicious food and drink, and left the rest to our favorite team.
Thanks for checking out our little party.   I'm sharing the recipe for my fried ice cream boats below, I hope you enjoy them!  We still have a few weekends of football left this season, who are you watching the big game with?
This is a sponsored conversation written by me on behalf of General Mills. The opinions and text are all mine.
Fried Ice Cream Boats & A Football Party
These Fried Ice Cream Boats are quick and easy, and use Old El Paso Mini Soft Tortilla Taco Boats as the crunchy cinnamon sugar shell!
Ingredients
For shell:
1 package Old El Paso Mini Soft Tortilla Taco Boats
¾ cup granulated sugar
1 teaspoon ground cinnamon
6 Tablespoons unsalted butter, melted
For ice cream coating:
12 scoops of vanilla ice cream, rolled into balls slightly bigger than a golf ball
5 cups corn flakes
8 Tablepoons unsalted butter
remaining cinnamon sugar mixture from shell coating
Garnishes:
Whipped cream
Maraschino cherries
Chocolate Syrup
Instructions
Preheat oven to 350 degrees, (F).
Prepare a large baking sheet with parchment paper or foil. Set aside.
In the microwave, melt 6 Tablespoons of butter in a glass measuring cup.
In a medium bowl, combine sugar and cinnamon.
Using a pastry brush, coat a taco boat completely with butter. Be generous.
Immediately cover the melted butter with a generous coating of cinnamon sugar. Make sure to cover all sides, top and bottoms.
Place coated boat on baking sheet, and repeat with 11 remaining boats.
Bake for 15 minutes or until just turning golden brown. Don't let them get too dark, they'll burn quickly - but if you don't bake them long enough they won't get crispy.
Allow boats to cool completely. Meanwhile, prepare ice cream.
Prepare a small baking sheet by covering with plastic wrap. This pan needs to be able to fit in your freezer.
Scoop 12 balls of ice cream on to the sheet. They should be slightly bigger than golf balls and as round as you can get them with your scoop.
Place balls back into freezer for at least 15 minutes to re-harden.
Meanwhile, prepare coating.
Pulse 5 cups of corn flakes in a food processor, or crush them with a rolling pin. You want a coarse crust, not crumbs.
In a large (10-inch) saute pan, melt butter over medium heat.
Add crushed cornflakes and stir constantly until golden brown (about 5 minutes.)
Remove from heat and spread on to a cookie sheet to cool.
Sprinkle the cooling cornflake mixture with the remaining cinnamon and sugar from dipping your boats (should be a couple of Tablespoons.)
Allow coating to cool completely.
Remove ice cream balls from the freezer and roll them, one at a time into the crumb mixture. Use your hands to help form them into round balls.
Return them to the pan and put the coated balls back into the freezer for 15 minutes.
When ready to serve, place a coated ball into a cinnamon sugar boat.
Top with chocolate syrup, whipped cream and a cherry.
Enjoy!
4
leave a comment your way - using facebook or disqus: