This is a sponsored post written by me on behalf of KORBEL California Champagne for IZEA. All opinions are 100% mine.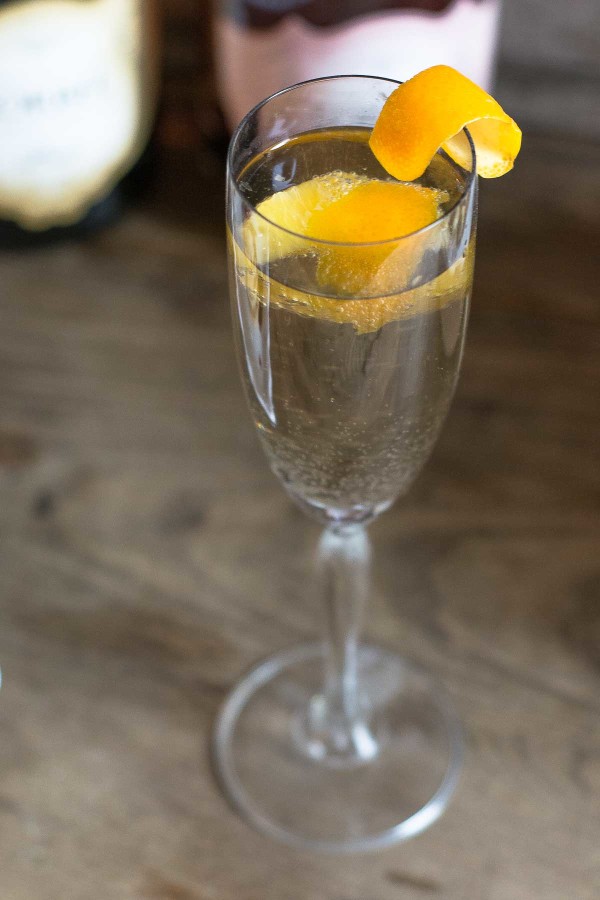 Last week I hosted a small brunch for some friends who were passing through town for the holidays.  Nothing big, but I wanted to have a few dishes for them to nibble on and some delish champagne cocktails to go with.
I kept it simple with a fruit tray, a few pastries from a local bakery and then added in a couple of my own dishes: lemon ricotta pancake stacks with raspberry syrup and croque-monsieur sandwiches.
It was a perfect mid-morning meal and worked perfectly with the selection of  KORBEL California Champagne I had on hand to serve.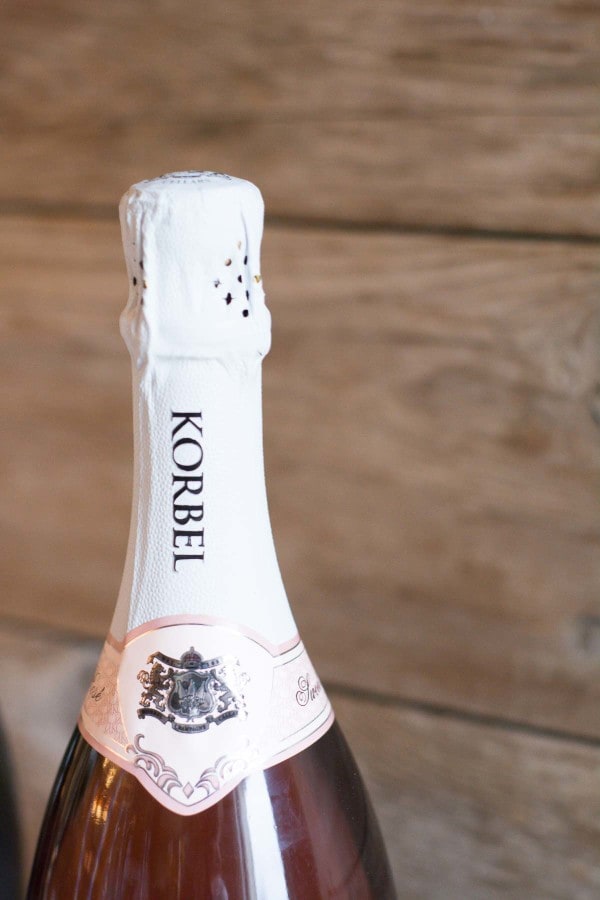 While KORBEL has many varieties to choose from, today I served their Brut, Sweet Rosé and Brut Rosé.  I used the Brut Rosé to make an orange champagne cocktail, and served the other two right out of the bottle.
The Brut pairs perfectly with salty and creamy cheeses, so it was really perfect with the creamy bechamel topping on the croque monsieur sandwiches. The Sweet Rosé is a nice complement to fruit and chocolate, so it was lovely against the sweet lemon ricotta pancakes and raspberry syrup.  And of course, the Orange Sparkler was great on it's own, made with the Brut Rosé.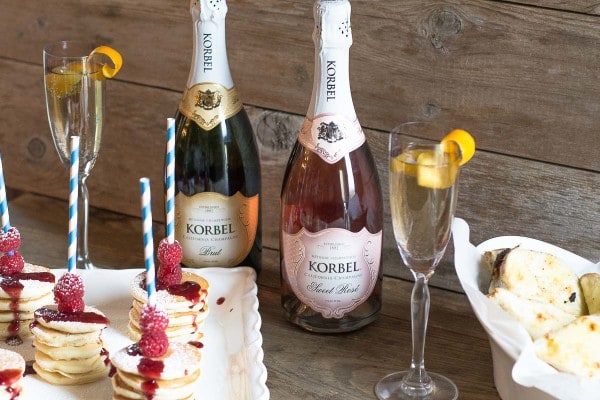 I've been part of a LOT of brunch menus in my life, and they are all different – some have food for days, some are small and light – but for me, a good brunch is a mix.  You have to have enough food for everyone (running out of food is the worst thing, ever – right?) and you need a mixture of light and rich, sweet and savory and cocktails and coffee.
It's brunch math.  Light + Rich + Sweet + Savory + Cocktails + Coffee = Winning Brunch Menu. See?  Easy.
Using that formula, I served a fruit plate, croque monsieur, lemon ricotta pancakes, buttery croissants, orange sparkler cocktails and hot coffee. And the best part?  It all went together in under an hour, and my guests were SUPER happy.  Especially when I popped open the KORBEL.  Yum.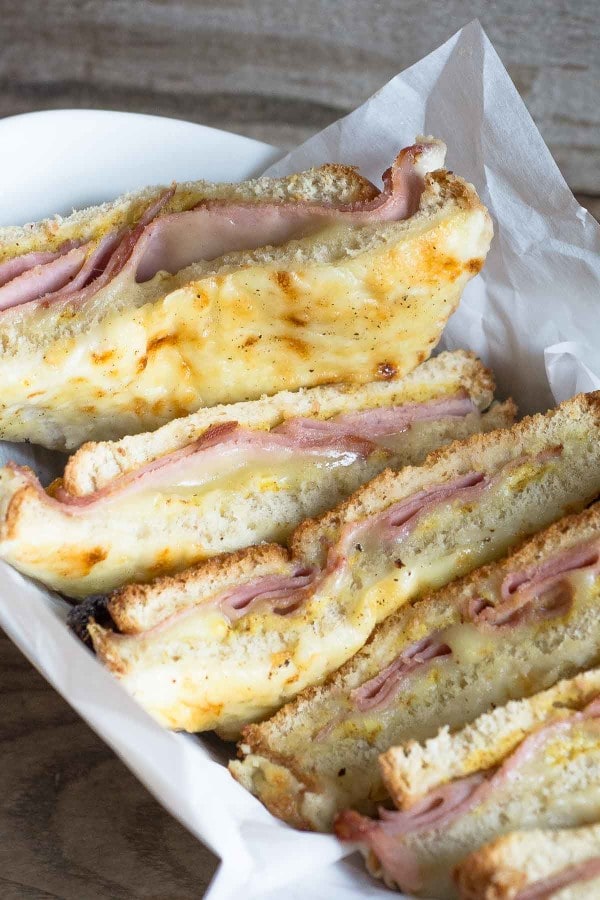 Croque Monsiur?  GOOD.  Look for the recipe on an upcoming blog post. Lemon Ricotta Stacked Pancakes with Raspberry Syrup? GOOOOOOOOD. This recipe is below.  And how CUTE are they?
They're great warm, but what's fantastic about them is that they are delicious at room temperature, too. Especially with an Orange Sparkler KORBEL Cocktail.  (I know, I keep saying that.  But how long has it been since you've had a champagne cocktail?)  Seriously, a good champagne cocktail will make your brunch great.
Better than great.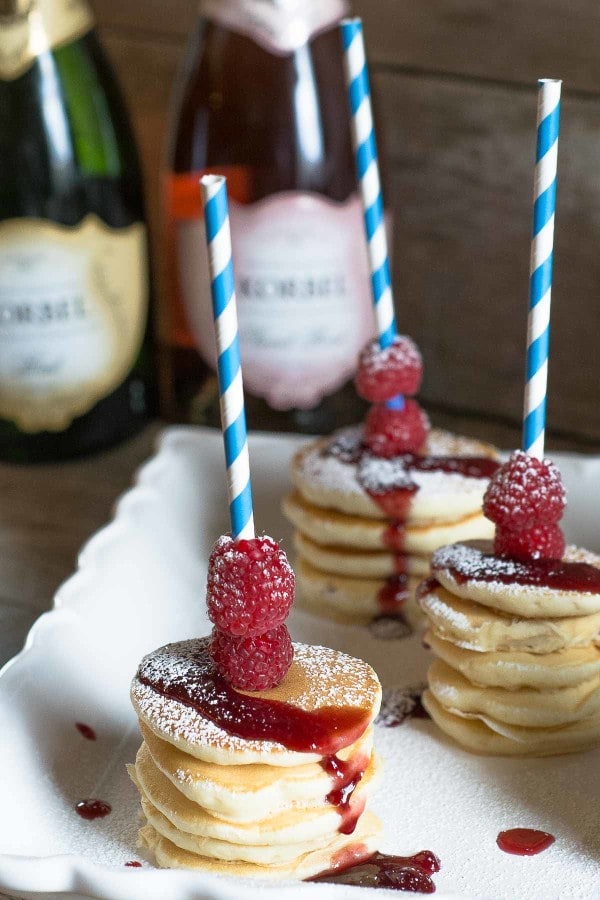 As far as decor goes, brunch is usually a very casual affair at my home, usually just right in my kitchen.  I feel like bruch should be a welcoming, un-intimidating meal.  No stuff clothes, no uncomfortable conversation.  Just good food and drinks with good friends.
I stick with my theme of white plates and everything works together.  A big barnwood serving table makes for a cute, rustic look, and I just love it. Easy, right?  White plates and barnwood.
Oh, and champagne cocktails.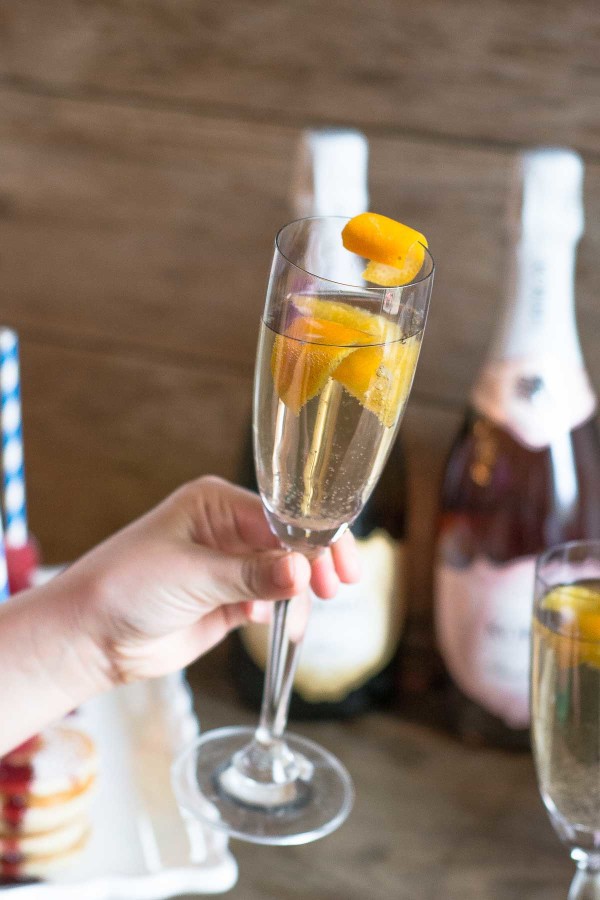 Can we talk about the Orange Sparkler for a moment?  KORBEL makes a delicious BRUT Rosé, so it was naturally a great fit for this cocktail.  It's a versatile champagne and pairs with a wide variety of foods, but since it has a slight sweetness, I thought it would be great with the orange liqueur and I was totally right.
PLUS, it worked really well with the saltiness from the ham in the croque monsiuer sandwiches. An orange segment and a spiral of orange zest made it beautiful, too – it's a simple but really, really delicious treat for your brunch spread.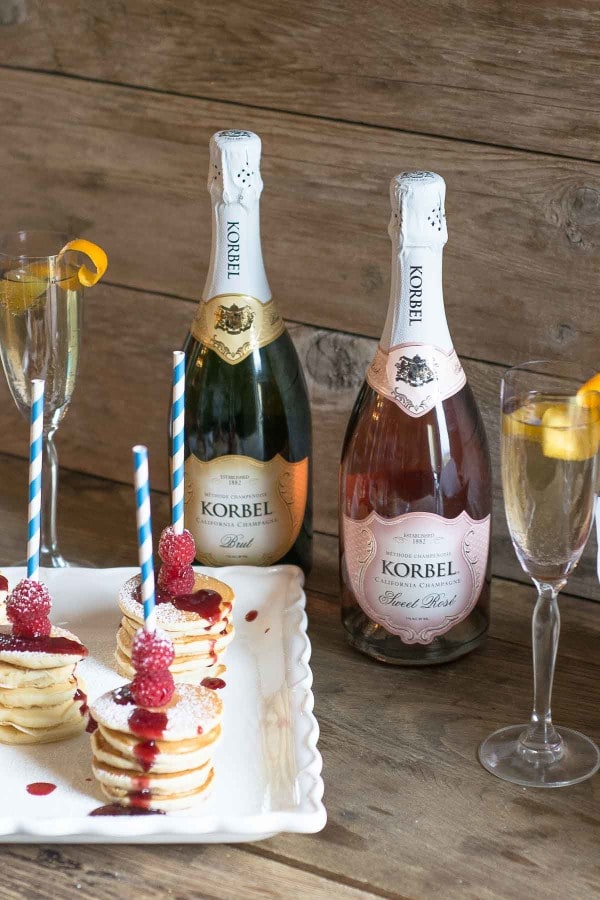 Hope you love these ideas today.  My guests were raving about the food and the drinks, so head out and stock up on KORBEL California Champagne and get brunching!  There are lots of fun recipe ideas for KORBEL Cocktails here, and KORBEL Brunch ideas here, so go check them out, too. Enjoy!

Orange Sparkler
KORBEL California Champagne makes this easy cocktail extra delicious. Garnished with an orange twist, it's as pretty as it is tasty!
Ingredients
1 Tablespoon Cointreau, Triple Sec or other orange liqueur
¾ cup KORBEL California Champagne (Sweet Brut is best)
1 orange twist, plus orange segment, if desired
Instructions
Pour the orange liqueur into a flute.
Top with KORBEL California Champagne
Garnish with the twist and orange segment, if desired.
Enjoy!
Lemon Ricotta Pancake Stacks with Raspberry Syrup
Pretty and festive, these delicious lemon ricotta pancakes are topped with a sweet raspberry syrup. Perfect for brunch!
Ingredients
3 large eggs, separated
1 and ½ cups buttermilk
3 tablespoons sugar
1 cup ricotta cheese
1 and ½ cups unbleached all-purpose flour
1 teaspoon baking soda
1 teaspoon baking powder
2 tablespoons lemon zest (the zest from 2 large lemons)
½ teaspoon salt
1 small jar rapsberry jam, seedless
1 pint fresh raspberries
3 Tablespoons confectioners sugar, for garnish
Instructions
Heat a griddle pan or large frying pan over medium heat.
In a medium mixing bowl, beat togehter the egg yolks, buttermilk, sugar and ricotta cheese.
In another bowl, whisk together the flour, baking soda, baking powder, lemon zest, and salt.
In a third bowl, using a handheld mixer, beat the egg whites until they are stiff but not dry.
Mix the dry ingredients into the buttermilk mixture - do not over mix. A few lumps remaining are ok. Gently fold in the egg whites.
Lightly and carefully grease the hot pan with a very thin layer of canola oil.
Spoon the batter into ⅕ inch discs, onto the heated pan. Cook for about 40 seconds on the first side, until bubbles rise and burst on the first side. Flip the pancakes and cook for about 30 seconds on the second side.
Repeat with remaining batter.
Stack pancakes into stacks of five.
Spear with a kabob stick or decorative straw, and top with two fresh raspberries.
On the stovetop, heat the raspberry jam over low heat until liquified.
Spoon jam over pancake stacks, and sprinkle with powdered sugar.
Enjoy!
4
leave a comment your way - using facebook or disqus: