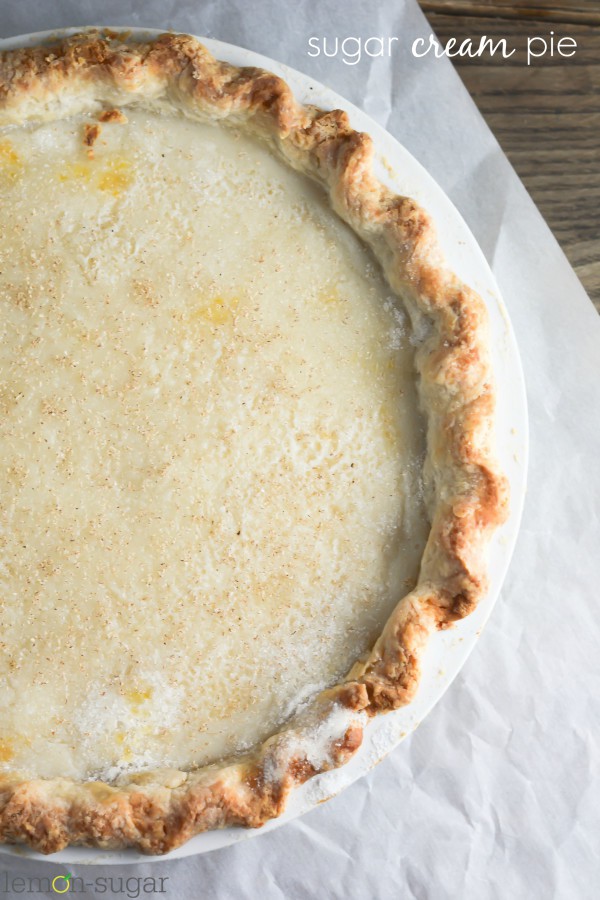 Sugar.  Cream.  Pie.
Okay you guys, help me with this.  Who was like, "I'm gonna mix up some sugar and some cream and bake it all up in a pie?"  Who thinks that way? (Ok, maybe I do.  A little bit.)
Seriously, this is just what it sounds like.  Sugar and cream in a pie crust.  And it's fantastic.  Oh, just a custard pie, right?  I know what you're thinking.  But it's not. There are no eggs in this pie!  It is literally baked cream.  Did I mention how fantastic it is yet?
It's creamy and milky and sweet and topped with just a touch of nutmeg – which to me, makes it taste a bit like egg nog – but there are NO eggs.
I'm not sure why this is so strange to me.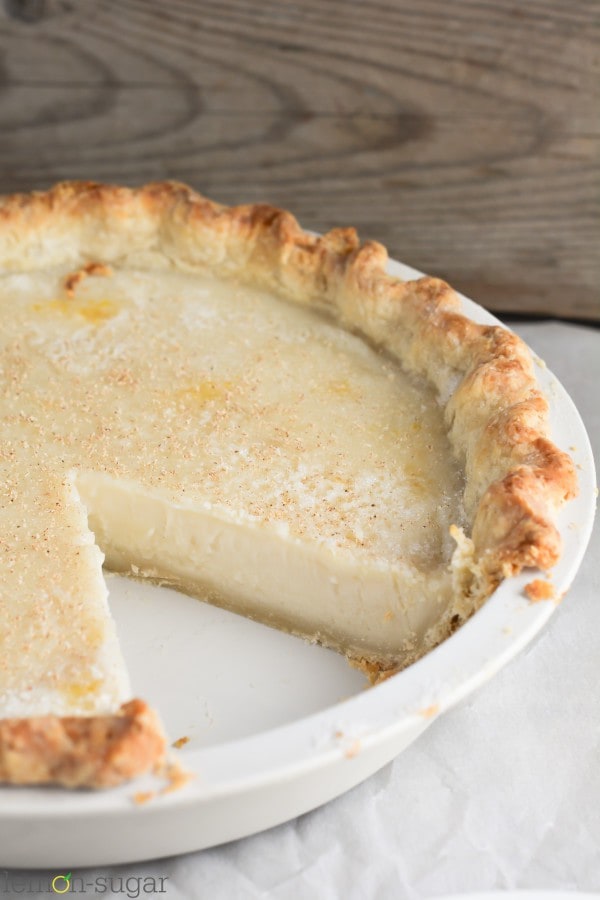 I'm also not sure why this is the first time I've made a sugar cream pie.  I LOVED my Grandma's custard pie, so I've been curious about the difference between the two for a while now.  And, now I know.
It's really a texture difference.  It's, like I said, very creamy – but almost has a sticky consistency.  I know that doesn't sound terribly appetizing, but I don't mean it's sticky in a bad way, I mean it's sticky in a GOOD way.  Have you ever had a Banofee pie?  This is pretty much the same deal.
Also – I love this pie cold, right out of the fridge.  And whipped cream doesn't hurt one little bit.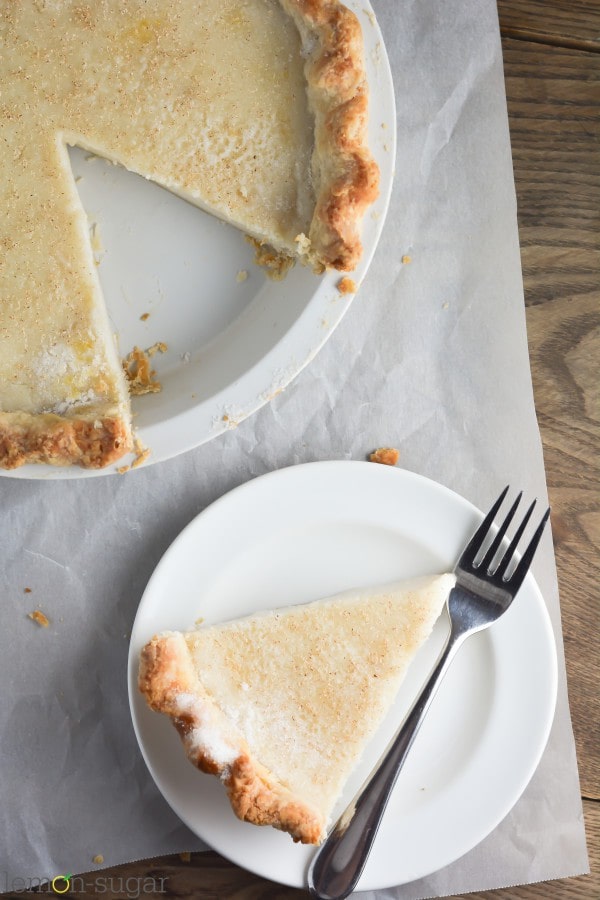 In my recipe research, I saw many variations on the topping.  I opted for a very light sprinkle of freshly grated nutmeg, but I saw tons of other options, too, such as bruleed sugar, cinnamon, cinnamon and sugar under the broiler, and even caramel sauce.
Gotta say though, I loved the nutmeg and whipped cream.  I'm not sure I have any desire to try it another way.  (But I'm also the girl that orders the same thing in restaurants, too.  Once I find something I like, I stick with it.)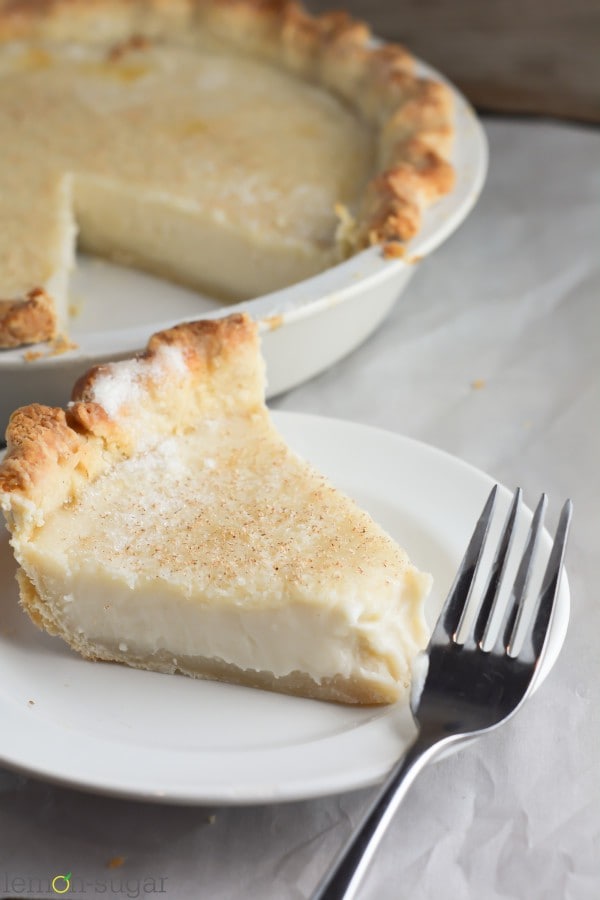 The trickiest part about this pie happens to be the crust.  I found that it's pretty difficult to keep the crust from over-browning, but I came up with a tip or two that might help.
First, lower your baking rack to the lower 1/3 of your oven.  When you bake the pie, place the pie dish on a light-aluminum cookie sheet to prevent the bottom from over-browning.  Then, tent the pie with a sheet of heavy duty aluminum foil.  My pie shield didn't work well – the foil definitely gave me a better result.
Brush your pie crust with a bit of milk or egg white mixed with water.  It gives it a pretty, glossy appearance.
So good.  All of it.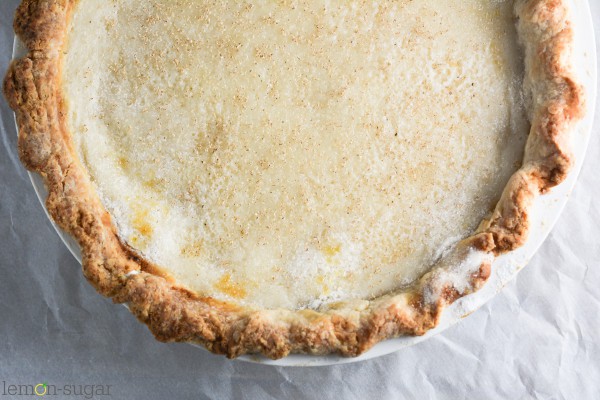 I hope you love it.  Enjoy!

Sugar Cream Pie
This eggless custard pie is really something special. Creamy and rich, this is a decadent treat for truly special occasions. Enjoy! Recipe source: Adapted from Saveur, Indiana Sugar Cream Pie
Ingredients
Pie dough:
1 and ¼ cups all-purpose flour
1 Tablespoon sugar
¼ teaspoon salt
8 Tablespoons (1 stick) unsalted butter, very cold
5-6 Tablespoons ice water
Filling
1 and ¼ cups sugar
1⁄2 cup plus 2 Tablespoons all-purpose flour
1 and ¼ cups half-and-half
1 and ¼ cups heavy cream
1 and ½ teaspoons vanilla extract
About 1 Tablespoon sugar, to garnish
Freshly grated nutmeg, to garnish
Instructions
Pie dough:
Preheat oven to 375 degrees (F).
In a large bowl, whisk together flour, sugar and salt.
Quickly cut butter into small cubes, and add to flour mixture. Work quickly so the butter stays very cold.
Using a fork or a pastry cutter, cut in butter to small pea size.
Add water a tablespoon at a time just until dough pulls together.
Remove the ball of dough from the bowl, and flatten it into a disc.
Lightly flour surface.
Flatten disk with 6-8 taps of the rolling pin.
Roll dough, and after every roll, lift dough give ¼ turn.
Roll into a 12 inch circle.
Once rolled, use the rolling pin to roll up the dough and transfer it to a pie plate.
Unroll the dough, trim the edges and crimp as desired.
Line the dough with a sheet of parchment paper and fill the pie dish with pie weights or dried beans.
Bake until the crust begins to just turn brown at the edge, about 15 minutes.
Transfer the pie dish to a cooling rack, and remove the paper and weights.
Prepare filling.
Filling:
In a medium bowl, whisk the sugar with the flour, and then stir in the half-and-half, cream, and vanilla.
Pour the cream into the pie crust, and sprinkle the top of the cream with sugar.
Bake until the filling is lightly set but jiggles when tapped on the side, 1 hour and 30 minutes. (Oven will remain at 375 degrees (F).
Use foil or a pie-crust shield to prevent over-browning of the crust. I just tent my pie with foil the entire time it's in the oven.
Transfer the pie to a rack and let cool completely. Grate nutmeg over the top just before serving.
0
leave a comment your way - using facebook or disqus: