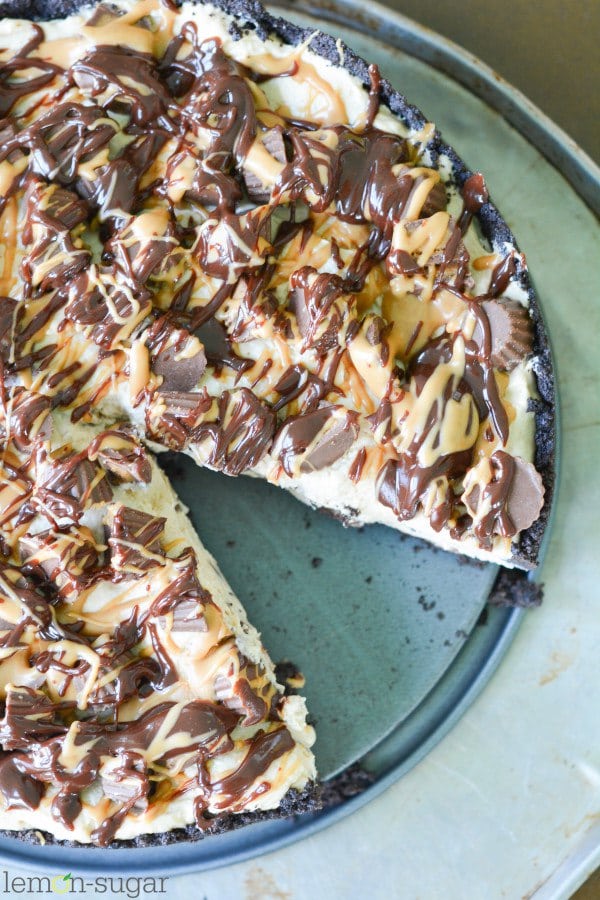 As the minutes start to dwindle on my four-day holiday weekend, I have to admit that I'm not ready quite yet to get back into the swing of things.  Tomorrow it's back to work, the girls start two-nights-a-week dance class, and suddenly the first signs of fall are all around us.  Now, don't get me wrong – I love fall, but I don't love winter.  Fall is a bit of a double-edged sword.  Love it, but dread it because cold weather is right around the corner.
So, I'm not really ready to jump into the pumpkin desserts quite yet.  I'll get there, but I'm going to ease in this year.  Let's stick with chocolate and peanut butter. Okay? Okay.
This is an especially good dessert for this busy time of year, because it really goes together very quickly.  You can even make it a day or two ahead of time and keep it stored, covered, in the refrigerator and it will be good as new.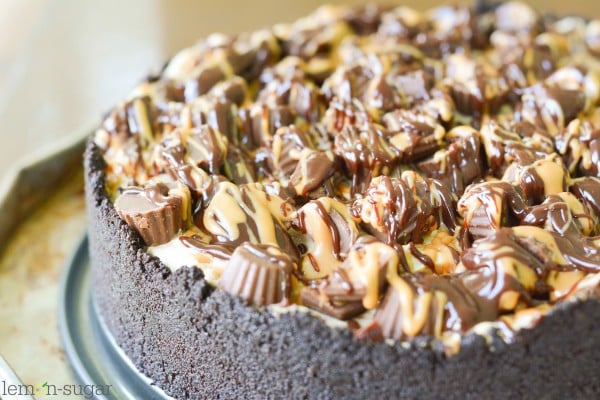 A couple of days ago, my father-in-law was in a terrible motorcycle accident and has been in the hospital since then – he's thankfully going to be fine, but I am planning a few meals and treats for him once he gets home.  This is definitely going on the menu.  It's delicious, first of all, but since it also holds up well in the refrigerator, it should be a nice treat for him to enjoy for a few days.  Plus, it's easy to split the recipe and make a smaller version.
Oh, and also – who doesn't love peanut butter and chocolate?
If you don't have a springform pan, I'd definitely recommend one – they aren't terribly expensive and they make these refrigerated desserts so much  easier – and I'm not sure I'll ever make a cheesecake without one again.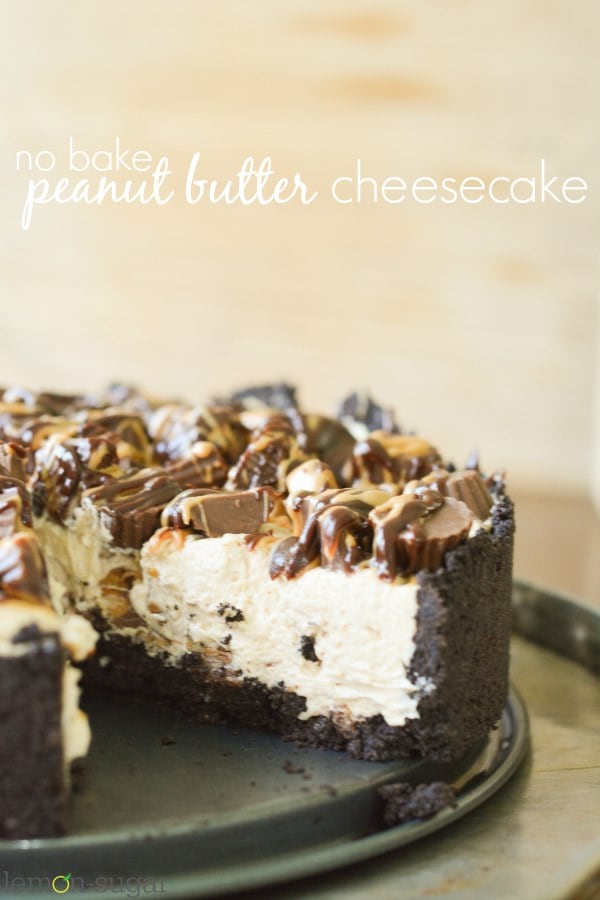 One of my favorite things about this dessert this the thick cookie crust – I just adore crust on just about every dessert, so the fact that this one has an extra-thick one makes it an immediate winner in my book.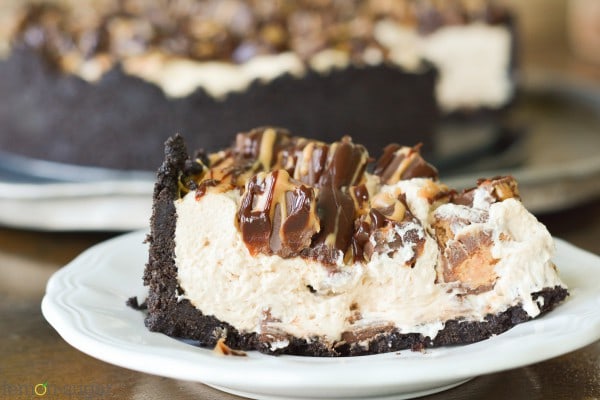 I hope you love this one.  Enjoy!

No Bake Peanut Butter Cheesecake
This light and fluffy peanut butter cheesecake goes together in minutes, won't heat up your kitchen, and is always a crowd-pleaser! Enjoy! Recipe source: Lightly adapted from
Beyond Frosting.
Ingredients
Crust:
2 and ½ cups Oreo Cookie Crumbs (about 1 package of Oreo Cookies, crushed)
5 Tablespoons unsalted butter, melted (melt after you measure)
Filling:
8 ounces cream cheese, at room temperature
¾ cup creamy peanut butter
1 teaspoon vanilla extract
3 Tablespoons heavy whipping cream
1 tub cool whip (or fresh whipped cream - about 3 cups, whipped
10 Reese's Peanut Butter Cups (chopped)
Garnish:
6 Reese's Peanut Butter Cups (chopped)
¼ cup creamy peanut butter (optional)
¼ cup fudge sauce (optional)
Instructions
Crust:
Using a food processor, pulse the Oreo cookies until they are reduced to a fine crumbed powder.
Measure 2 and ½ cups of crumbs, and place into a large bowl.
Pour melted butter over crumbs, and stir to combine, until all of the crumbs are moistened
Using the bottom of a drinking glass or measuring cup, press the crumbs into the bottom of a 9-inch springform pan. Set aside.
Filling:
In the bowl of your stand mixer fitted with the paddle attachment, beat the cream cheese until light and fluffy.
Add peanut butter and beat until completely incorporated.
Add the vanilla extract and heavy whipping cream.
Beat on medium-high for 2-3 minutes, until very fluffy and light.
Add Cool Whip and beat into batter, scraping the bowl occasionally.
Add chopped Reese's Peanut Butter Cups and stir to combine.
Pour filling into prepared crust.
Refrigerate for two hours before serving.
Garnish:
Sprinkle remaining chopped peanut butter cups over the top of the cake.
Melt the peanut butter in the microwave, in 15 second increments to prevent burning.
Drizzle melted peanut butter and hot fudge over the top of the cake.
Enjoy!
0
leave a comment your way - using facebook or disqus: