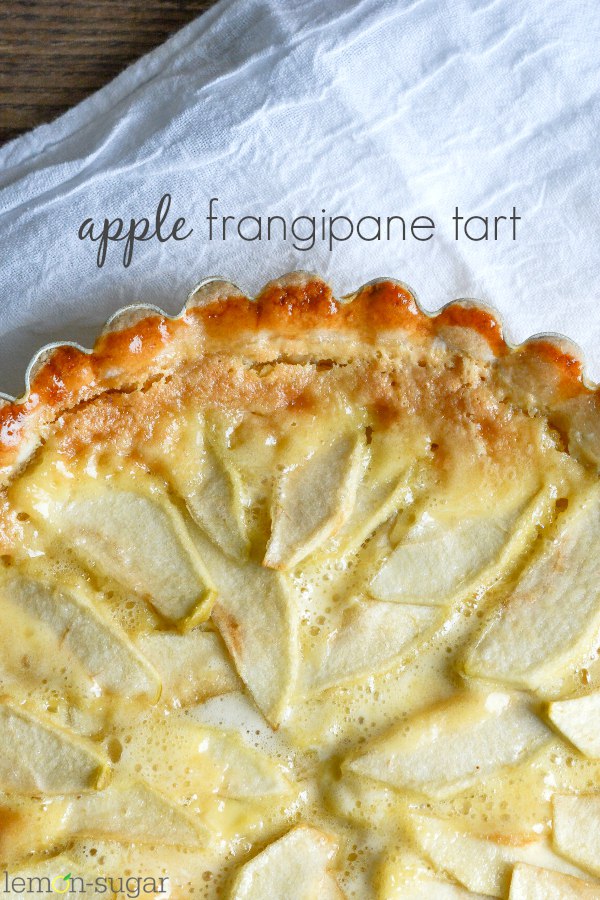 I'm so fancy.
Ok, not really.  Not at all, actually.  But if I was, this is tart that would prove it.
Guys, this tart is amazing.  Apples, almond filling, shortbread crust.  So, so good.  The apples are juicy and sweet, the frangipane apple custard is firm and creamy, and the crust is thick and soft.  I'm not sure how it gets any better.
Frangipane is a baked almond cream.  It's much like a custard – maybe a bit more firm, but it has that lovely almond flavor that I love.  (Think the flavor of almond paste or even marzipan.)  The photos here are a bit misleading – my sugared apples put out a lot of juice so the bubbles from the apples give the appearance of a wet filling – but it's really very custard-like and creamy underneath the apple "sauce" on top of the tart.
Bubbles or not, this tart is sophisticated, delicious and you can't help but feel fancy when you say "frangipane."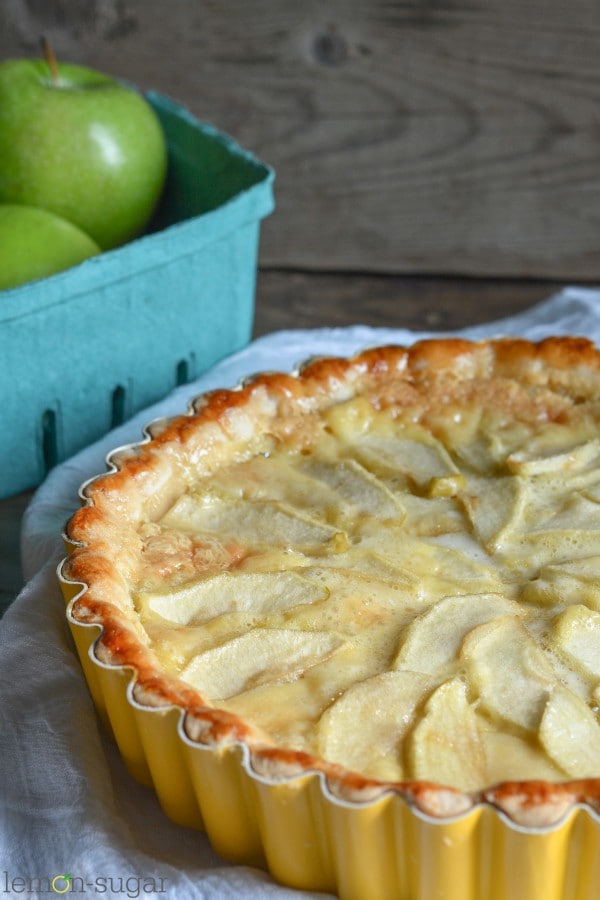 The crust of the tart is very much like a shortbread cookie.  It's a bit crumbly, but mostly soft and flavorful – a touch sweet, very buttery and melt-in-your-mouth Y-U-M.  I love to brush my pastries with little bit of melted jam, because it just makes it so brown and pretty!  Today I used some apple jelly from my recent trip to Minnesota and it worked nicely!
While I definitely recommend a tart pan, you don't have to go that route.  Tart pans are nice because they have a removable bottom, and the tart is easy to remove from the pan when you are all done.  It's mostly aesthetic, so if you don't have one, don't stress!  Just use a deep pie pan or even a 9×9 square baking pan.  It's all good.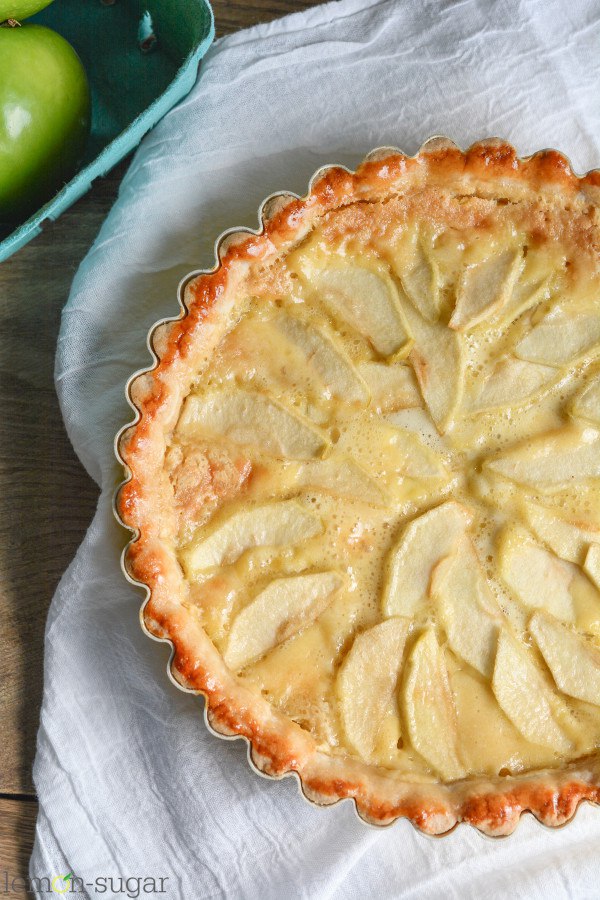 You can substitute pears, figs would be great – or even berries.  Raspberries would be great here!
Make sure you bake it until it's completely set up in the middle – and  if your crust is getting too brown just drop a foil tent over the top while it finishes baking.  I also like to set my tart pans on a larger baking sheet – mostly to make it easier to get in and out of the oven.  Tart pans always make me nervous – like my hand is going to punch through the bottom and ruin whatever I've just made.
Dumb.  But still.  If it was going to happen to someone, it would be me.  😉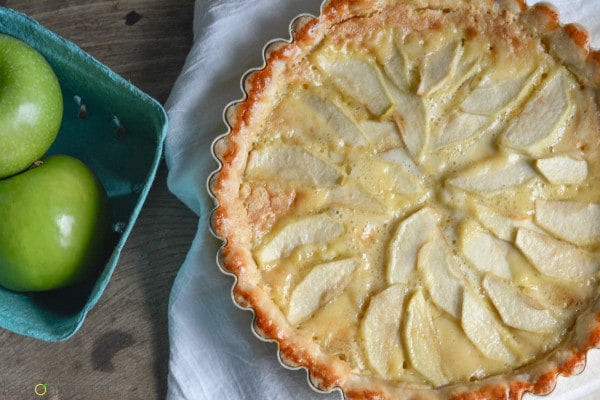 The apple and almond combo is great – the apples are sweet but tart, and the almond flavor is prevalent but not overwhelming.  And seriously, you can't go wrong with the crust!  In fact, I loved it so much that I used it on last week's Peach Streusel Slab Pie.  I hope you love this one.  Enjoy!

Apple Frangipane Tart
Ingredients
Tart Dough:
2 sticks (1 cup) unsalted butter room temperature
3 cups all-purpose flour
⅔ cup confectioners' sugar
½ teaspoon kosher salt
Frangipane (almond filling):
5 ounces almond paste, broken into pieces
⅓ cup sugar
2 eggs, divided
½ cup (1 stick) cold butter, cut into small pieces
Zest of 1 lemon
1 teaspoon vanilla extract
2 Tablespoons flour
¼ teaspoon baking powder
Fruit Topping:
3 ripe apples (like Granny Smith) peeled, cored and sliced thin
Instructions
Prepare:
Prepare a tart pan (with removable bottom) with cooking spray or butter. Set aside.
Dough:
Combine the butter, flour, confectioners' sugar and salt in a food processor and process until the mixture comes together in a solid mass (this may take a few minutes).
Drop pieces of the dough in to the prepared tart pan.
Use your fingers to press the dough evenly along the bottom and up the sides of the pan, filling any gaps. Set aside.
Filling:
Put almond paste, sugar and 1 of the eggs into the food processor and purée until smooth.
Add butter, zest and vanilla and continue mixing until well combined.
Mix in flour and baking powder then add remaining egg and continue mixing until smooth and well incorporated.
Transfer frangipane to tart shell, cover and chill for at least 30 minutes.
Meanwhile, preheat oven to 350 degrees (F).
Peel and slice apples.
After the tart and filling have chilled for 30 minutes, add the apples.
Starting in the middle, arrange apples in a spiral pattern on top, pressing them down lightly and leaving some room between slices for frangipane to puff up.
Place tart pan on a baking sheet and bake until pastry is golden brown and frangipane is set in the center and golden, about 45 minutes.
Remove from oven, set aside to let cool for 15 minutes then carefully remove outer ring of pan and transfer tart to a serving plate.
Serve warm or at room temperature.
3
leave a comment your way - using facebook or disqus: