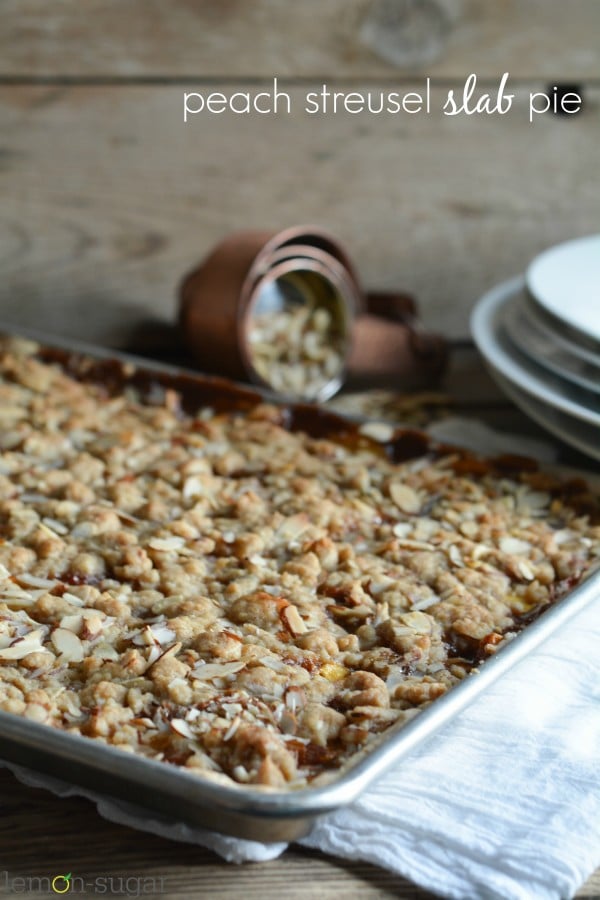 Last week was just one of those weeks.  We were coming off the first week of school, which is always a bit earth-shattering as we settle back into our normal routines, but we also started our weekend with a funeral.  My husband's grandfather passed away, which was sad and complicated and full of all the feels you would expect, and my niece was already five days old and I'd barely even held her yet because I'd been so busy.  And then, I threw my back out.
Then halfway through week two of school, my youngest already had her first absence of the school year, a mere five days in, and my other daughter and I didn't feel all that well either.  Work has been stressful.  The weather was cool and dreary.  My house has been messier that I like for a while.  Our vacation afterglow has worn off.
So it's just been a week.  On Friday, I made a trip to Whole Foods for a bit of retail therapy (yes, sometimes food shopping counts – Dean & Deluca or gourmet baking shops work, too.  Oh, and cookbooks.)  I got all excited about their peaches, figs, and apples – I think the cooler weather is getting me in the mood for fall baking.
So, I bought 18 peaches.
Yep, 18.  I don't know why.  Apparently having a blah week calls for peaches.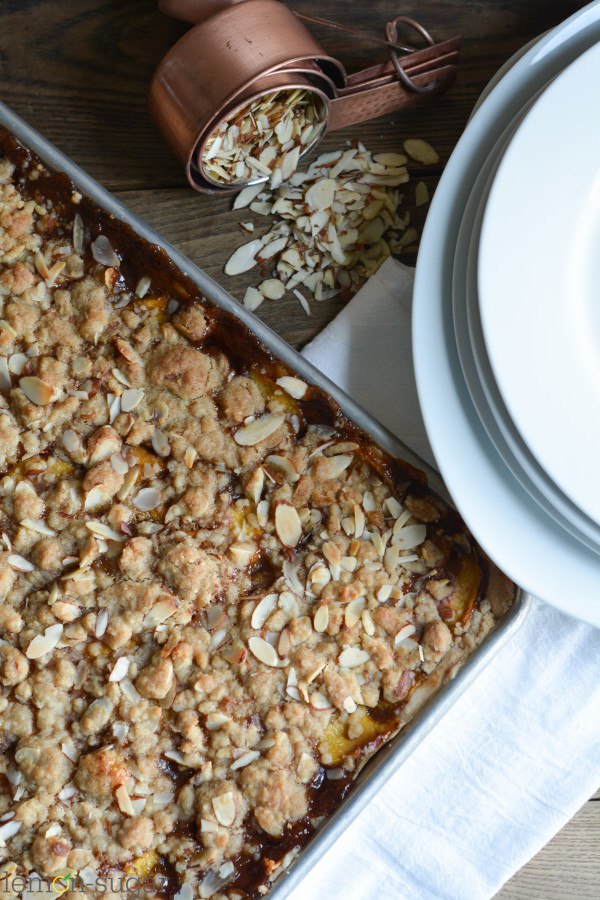 So, since I have 18 peaches to use up in approximately 36 hours, ('cause organic peaches just don't last long!) I made four peach desserts this weekend.
But you know what?  I totally feel better.  Baking just does that for me – sounds so dumb, but spending time in the kitchen really does cheer me up.  Especially when I'm baking for the blog, or just for me – for no other reason than I just want to be in the kitchen.  No stress, no deadlines.  Just baking.
Mia even came in and sat with me – she made the streusel and ate about three whole peaches in one sitting. We talked about school and her first spelling test and how much she LOOOVES her first grade teacher.  She's sweet.
But ANYWAY, so yes.  I had a bad week and now I feel better.
So, peach pie, anyone?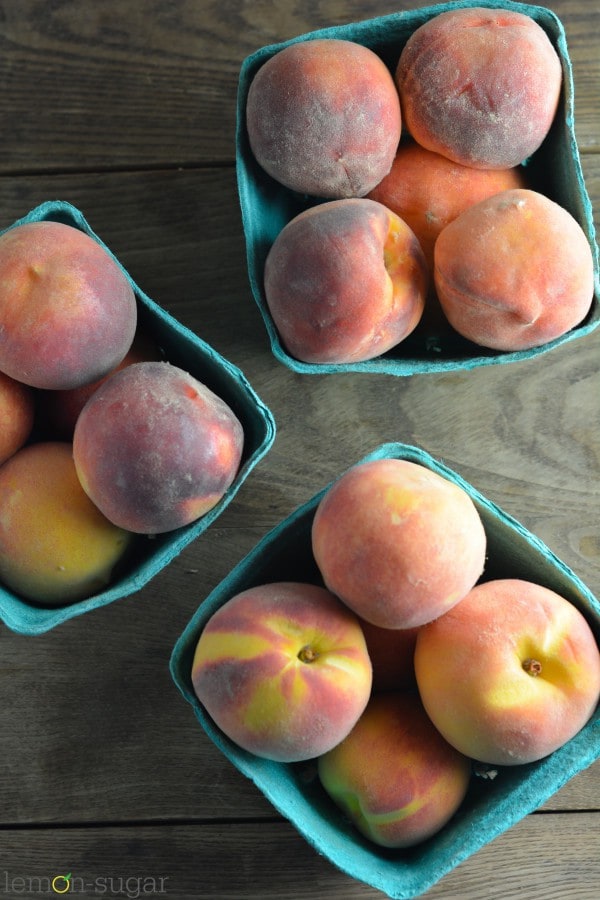 I love slab pies – they're easy and a fun take on the traditional pie – and it took me exactly two seconds to decide on this recipe when I saw that streusel topping.  It's so good – cinnamon and sugar and a little crunch from the sliced almonds.  Peaches and cinnamon go together perfectly, so the whole thing just worked.
This crust is a bit like a shortbread cookie – not terribly sweet and a bit crumbly – but even better, it's all made in a food processor so it's easy as, well…pie.
Peach pie.
Sorry.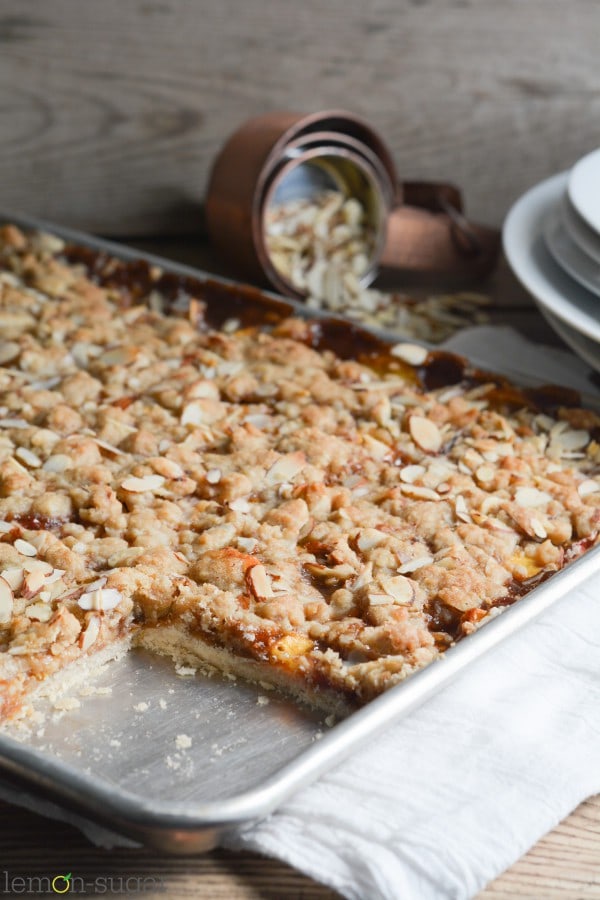 This is a pretty easy recipe – my only advice would be to maybe put some foil underneath your baking sheet just in case the peaches bubble over.  And if you really like streusel, double it for a special treat!
Enjoy!
Peach Streusel Slab Pie
Slab pies are quicker and easier than traditional pies, and can be eaten as bars, and served warm or at room temperature. This beautiful pie makes good use of late summer peaches, making the transition from summer to fall a delicious one! Recipe source:
The Food Network
Ingredients
Dough:
2 sticks (1 cup) unsalted butter room temperature
3 cups all-purpose flour
⅔ cup confectioners' sugar
½ teaspoon kosher salt
Filling:
3 pounds peaches (about 6 peaches), cut into ½-inch wedges
1½ cups firmly packed light brown sugar
Juice of 1 lemon
3 tablespoons cornstarch
2 teaspoons pure vanilla extract
1 teaspoon ground cinnamon
½ teaspoon kosher salt
¼ teaspoon nutmeg
Streusel:
¾ cup all-purpose flour
½ cup sliced skin-on almonds
½ cup firmly packed light brown sugar
6 tablespoons unsalted butter, melted
¼ teaspoon kosher salt
Instructions
Preheat oven to 350 degrees (F).
Prepare a 10x15 rimmed baking sheet with cooking spray or butter. Set aside.
Dough:
Combine the butter, flour, confectioners' sugar and salt in a food processor and process until the mixture comes together in a solid mass (this may take a few minutes).
Drop pieces of the dough all over the prepared baking sheet.
Use your fingers to press the dough evenly along the bottom and about ½ inch up the sides of the pan, filling any gaps. Set aside.
Filling:
Peel and slice peaches.
Toss together the peaches, brown sugar, lemon juice, cornstarch, vanilla, cinnamon, salt and nutmeg in a large bowl until the cornstarch dissolves.
Transfer the filling onto the crust and spread in an even layer. Bake for 30 minutes.
Streusel topping:
While the pie bakes, make the streusel topping by combining the flour, almonds, brown sugar, melted butter and salt in a small bowl until evenly moistened.
Remove the pie from the oven and sprinkle the streusel evenly over the filling.
Return the pie to the oven and bake until the topping is golden brown and the filling is bubbly, 25 to 30 minutes more.
(If the crust browns too quickly during baking, cover the pie loosely with foil.)
Let the pie cool. Serve warm or at room temperature.
link
0
leave a comment your way - using facebook or disqus: