This is a sponsored post written by me on behalf of BACARDI® Mixers for IZEA. All opinions are 100% mine.
You know by now that I love to
entertain and host parties
so I'm always looking for a reason to celebrate.  Like the old adage "It's five o'clock somewhere," there is always something to celebrate – and it's not terribly difficult to find it if you just look.
For instance, last week my husband and I were celebrating the last week of softball.  But heck, we could find reason to celebrate in finishing our deck.  Changing the lawnmower belt.  Keeping the house clean!  Getting the laundry done before we all run out of pants.
The point is, there is ALWAYS something to celebrate, even in life's mundane tasks.
This weekend, though, I have a legit reason to celebrate – GIRLS NIGHT!
My dear friend Dawn just bought a lovely new home, and the girls and I are taking it upon ourselves to break in her new swimming pool.  We'll bring drinks and apps, and hang out by the pool and catch up, gossip and of course, indulge in some adult beverages.
I'm not sure if anything screams "pool-party-girls-night" more than some frozen drinks and BACARDI® Mixers, so we spent some time via email this week on
instantparty.com
, picking our favorite recipes, deciding on the menu and planning the event.  There are a TON of great recipe ideas on the site, so definitely take some time to browse – lots of good inspiration.
So, here's what I love about this.  
BACARDI® Mixers
 make 
Party planning
 (or instant parties) much easier!  The drinks are SO easily made, the recipes are simple and you can even get a little bit creative and make your own drink in no time.  Compared to whipping up a frozen fruit drink from scratch, these are a TOTAL breeze!   The Mixers are made with fresh juices, but they are very convenient and can be stored in your freezer for anytime the mood strikes.  (Yay, good hair day!  Pina Coladas for everyone!) 
My reason to party
 today?  I have a three cans of ​B
ACARDI® Mixers in my freezer!
Because the inspiration to celebrate can hit at any time, (Yay! My new cookbook came a day early!) BACARDI® Mixers are easy to store in your freezer for any 911 party needs. There are seven flavors to choose from, including Strawberry Daiquiri, Margarita and Pina Colada, and they can be found at retailers nationwide.
We've narrowed our recipes down to three or four now, so stay tuned and I'll post pictures and more recipes from the party in a few days. In the meantime, this is a recipe I created myself to share with everyone.  It's so pretty with the swirl of blue on top that I decided to call it a Blue Sea Pina Colada.  It's a basic Pina Colada recipe, but includes a swirl of Blue Curacao (an orange liqueur) and a fun garnish.  So, so good, and I know my friends will just love it.
Oh, and experimenting with recipes for an upcoming girls night?  Another reason to party!  I could get used to this.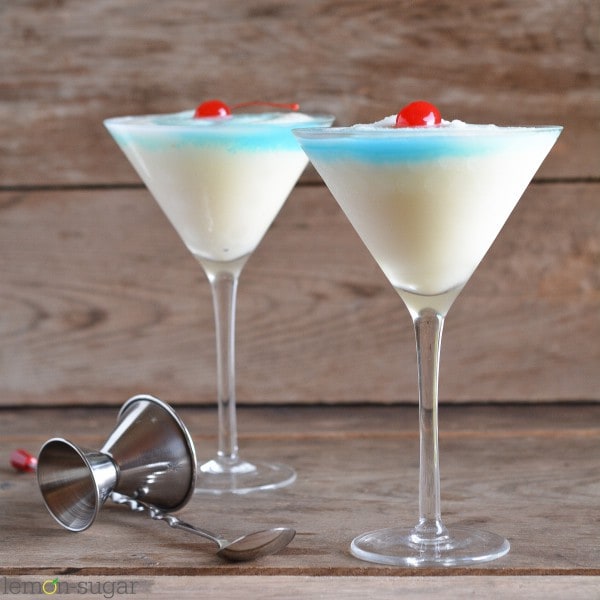 Enjoy, and I'll be back soon with pictures from our party.
Blue Sea Pina Colada
A gorgeous twist on a Pina Colada, the addition of Blue Curacao as a swirl on top lends a slight hint of orange to the coconut flavor, and makes a beautiful drink, too! Garnish with fresh pineapple and a maraschino cherry for a beautiful presentation. Recipe source: Lemon Sugar Original
Ingredients
1 can BACARDI Mixers Pina Colada mix
½ cup BACARDI Rum
5 cups ice
Blue Curacao, to taste (about 2 teaspoons)
Fresh pineapple and cherries for garnish
Instructions
In a blender, combine Pina Colada mix, rum and ice.
Pulse until smooth.
Pour into glasses.
Pour Blue Curacao over the top of the drink, and use a spoon to swirl.
Garnish with pineapples and cherries.
Enjoy!
 ENJOY RESPONSIBLY. ©2014 BACARDI AND THE BAT DEVICE AND ITS TRADE DRESS ARE REGISTERED TRADEMARKS OF BACARDI & COMPANY LIMITED. RUM 40% ALC. BY VOL. ©2014 THE COCA-COLA COMPANY. NON-ALCOHOLIC MIXERS.
0
leave a comment your way - using facebook or disqus: