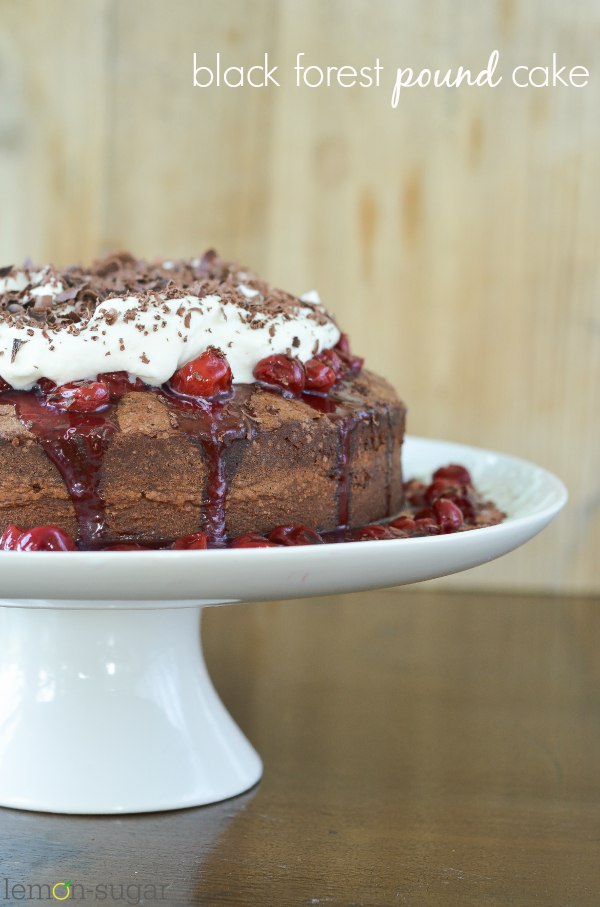 You know what a grown-up dessert is, don't you?  My desserts get that label simply when my kids won't eat them – usually because they aren't sweet enough, or they have nuts or unfamiliar ingredients.  (Or booze, but that's captain obvious, right?)
This one is a grown-up dessert.  The chocolate is dark, it's rich but light, and the sweetness comes from the whipped cream and cherry sauce. My kids did the "we're gonna act like we like this so we don't hurt your feelings" face and walked away.
My husband and I couldn't get enough.
See?  Grown-up dessert.
'Cause you guys – the cherry sauce.  The dark chocolate pound cake.  The creamy whipped cream.  Grown-up cakes are my favorite!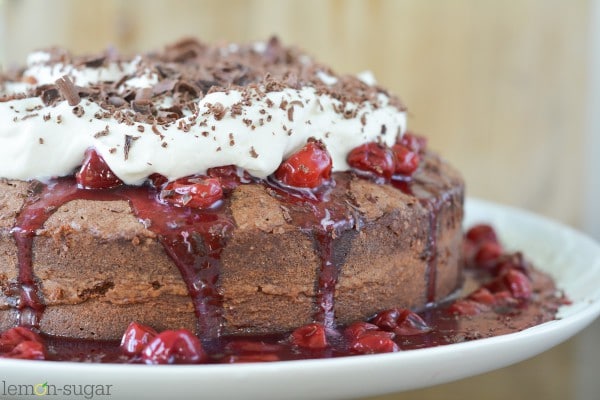 I have to admit that my favorite part is the cherry sauce.  It simmered on my stove top and made my whole house smell like magic, and I just couldn't stop tasting.  I used tart cherries (mostly because I can't stand sweet cherries unless they are fresh but that's just me I'm sure) and I gotta tell you – the combo of the tart cherries and the dark chocolate was out of this world.
Plus, so pretty.  Just look: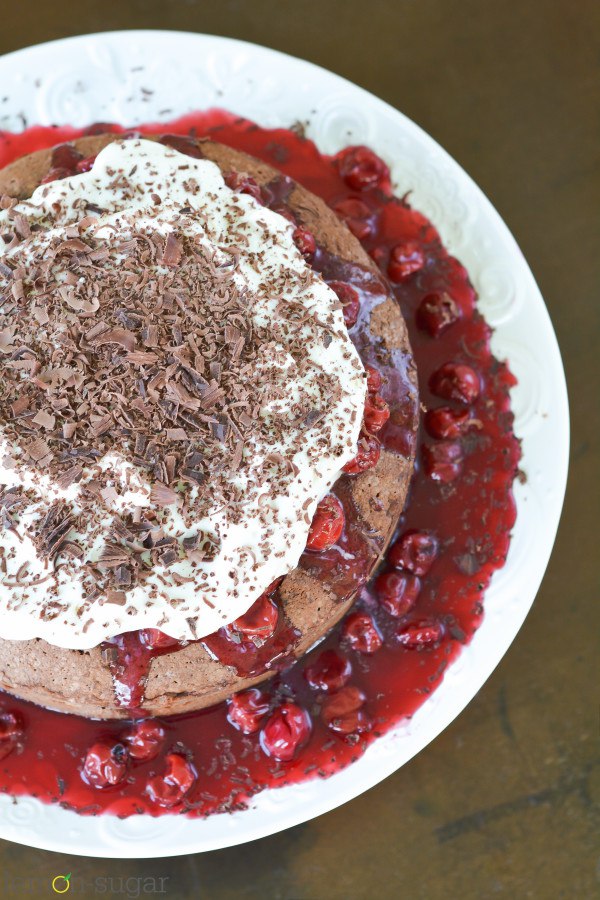 And then, you cut a big ol' slice of this rich cake, and the cream kind of intermingles with the cherries, and it's all just so wonderful up in your world for a few minutes.
Until, of course, you eat your whole big piece in about three distinguished bites.
But then things get awesome again because you remember that this a grown-up dessert, you don't have share with your kids.
#moreforme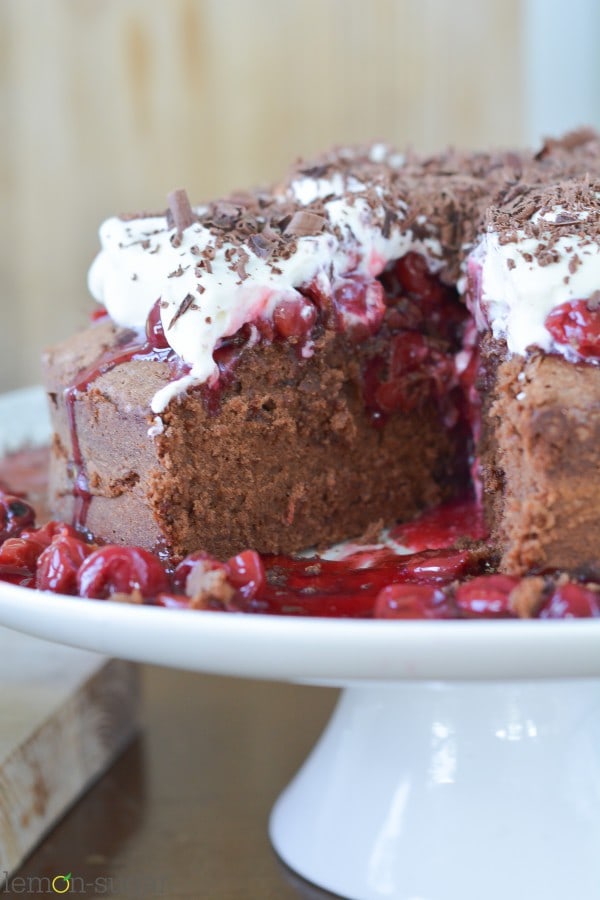 This is probably one of those recipes that's easier if you make it in stages.  The cake takes about an hour to bake, and the cherry sauce has to simmer for a bit and then cool completely.   The cherry sauce will keep in the refrigerator for a few days, so you might as well just go make some right now.
It's ok, I'll wait.
Don't eat it all though – you'll kick yourself if you don't save any for the cake.  Plus, the cherry sauce isn't deemed a grown-up dessert until you actually put it on this cake, so consider yourself warned.  It's not safe in your fridge.  Might want to hide it in the back and cover it up with some kale and bean sprouts to be safe.
Not that things work that way in my house.  Don't be silly – I'd NEVER hide anything from my kids.  Or husband.  Never.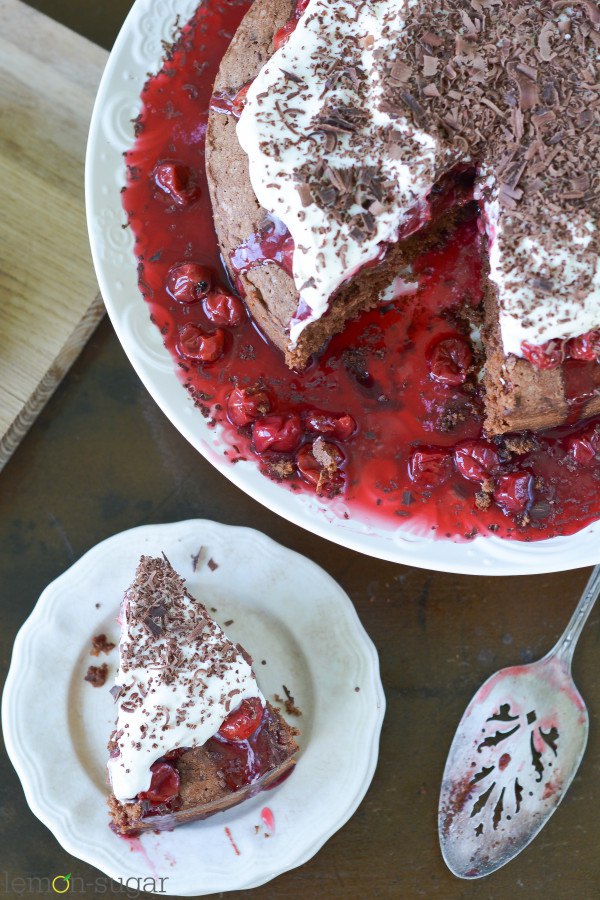 I hope you love it.  Enjoy!

Black Forest Pound Cake
This pound cake is dense and intensely chocolate. The sweetness of the cherries and whipped cream add a lightness to a really beautiful dessert. Enjoy! Recipe source: Southern Living Cakes & Pies, Summer 2014
Ingredients
For cake:
⅔ cup unsalted butter, softened
1 and ⅓ cups sugar
⅔ cup packed brown sugar
4 large eggs at room temperature
1 teaspoon vanilla extract
1 and ½ cups cake flour
½ cup unsweetened cocoa powder
½ teaspoon salt
¼ teaspoon baking soda
¾ cup sour cream
3 ounces semisweet chocolate, finely chopped
Cherry Sauce
2 12-ounce packages frozen cherries
⅓ cup sugar
⅓ cup cold water
3 teaspoons corn starch
2 teaspoons amaretto or brandy
½ teaspoon vanilla extract
pinch of salt
Whipped Cream:
1 and ¼ cup heavy cream
3 Tablespoons powdered sugar
½ teaspoon vanilla extract
Garnish:
Instructions
Prepare Cherry Sauce:
In a medium saucepan, stir together frozen cherries, water, sugar and cornstarch.
Cook over medium-low heat for 12-15 minutes, stirring often.
Remove from heat, and add amaretto (or brandy), vanilla, and salt. Stir to combine.
Allow to cool completely before topping cake (about 1 hour.)
Cake:
Preheat oven to 325 degrees (F).
Prepare a 10-inch pan with 3-inch sides by buttering and coating with flour.
In the bowl of a stand mixer using the paddle attachment, beat butter until smooth and creamy.
Gradually add both sugars, beating until light and fluffy. (This will take about 5 minutes.)
Add eggs one at a time, beating until just combined after each addition.
Add vanilla.
In another bowl, whisk together flour, cocoa, salt and baking soda.
Add to butter mixture in three additions, alternating with two additions of sour cream. (Flour, sour cream, flour, sour cream, flour...) Beat on low speed until just incorporated after each addition.
Stir in chopped chocolate.
Pour into prepared pan, and bake for 50-70 minutes, or until a cake-tester comes out clean.
Cool in pan for 15 minutes, then remove from pan and cool completely before topping.
Whipped cream:
In a clean, cold bowl, beat cream until soft peaks form (about 5 minutes.)
Add sugar and vanilla, and beat until stiff peaks form.
Assembly:
Place cake on serving plate.
Top with cherry sauce, and dollop whipped cream on top of cherries,
Sprinkle with shaved chocolate.
Enjoy!
0
leave a comment your way - using facebook or disqus: