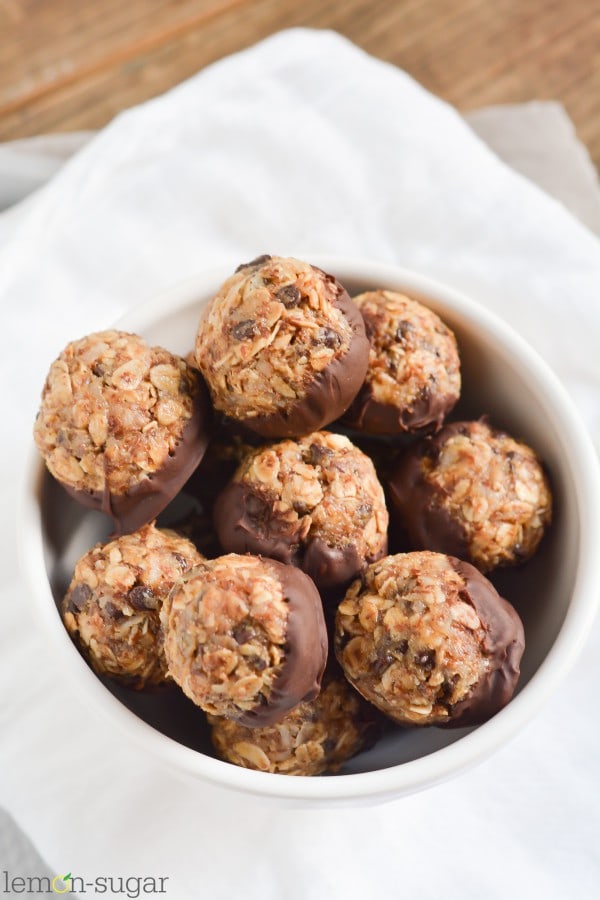 It happens occasionally, that I'm going about my day, maybe enjoying a little energy bite out of my refrigerator when I'm like,  WAIT!  Why haven't I shared these with you guys yet? I guess I get tunnel vision sometimes, always dreaming up the latest and greatest dessert idea that I guess I just overlook my everyday favorites.
This is totally an everyday favorite.
I've been making these energy bites for a couple of years now.  I've adapted the original recipe just a teensy-bit, but recently decided that I'd dip them in chocolate.  Good decision.
These are the perfect, "I want something sweet but I don't want to eat that whole tray of brownies," fix.  They're sweet, relatively healthy and will always help you through your biggest sweet-tooth attacks.
I'm always hesitant to call something healthy these days, because the naysayers are out there.  Yes, spinach is healthier than these.  But these are healthier than a tray of brownies, so on the healthy meter, these hold their own.
(That's what you call dessert blogger logic.)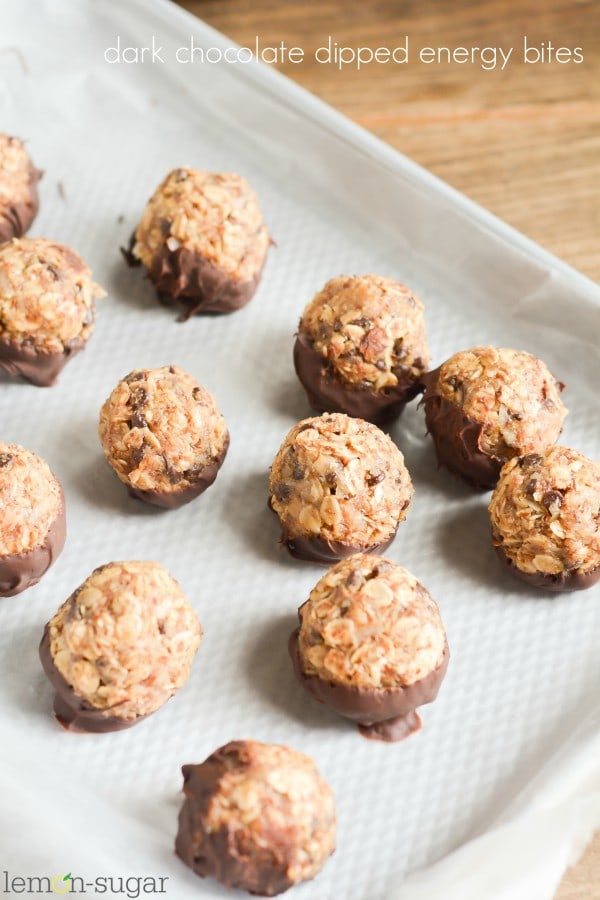 In my world, healthy means that these are full of real, natural ingredients.  Organic, old-fashioned oats.  Unsweetened peanut butter.  Flax seed.  Unsweetened coconut flakes.  Raw agave syrup.  Dark chocolate.  I'm A-ok with every single one of those ingredients, and I'm especially ok with my kids BEGGING me for an energy bite out of the fridge.
You can TOTALLY customize these bites to add or remove ingredients per your tastebuds.  I've tried a million variations and these are by far my favorite, so these are always the recipe I come back to.  I just LOVE how the chocolate half-shell kind of crackles when you take a bite, and how they're just big enough to satisfy your sweet cravings, but not so big that you're ruining your diet for the day.
(That might be the first time ever the word "diet" has appeared on this blog.  Let's just pretend that never happened. K?  K.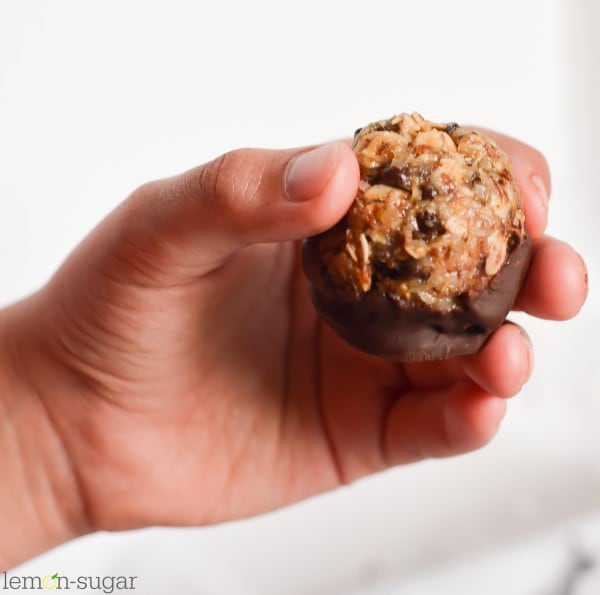 The recipe states that these take 90 minutes to make, but that's a bit deceiving.  They take exactly five minutes to mix together, but they have to spend some time in the refrigerator.  Hands-on time is about 15 minutes.  I roll mine into approximately 1.25″ balls, so the size of yours will determine how many you get out of this recipe.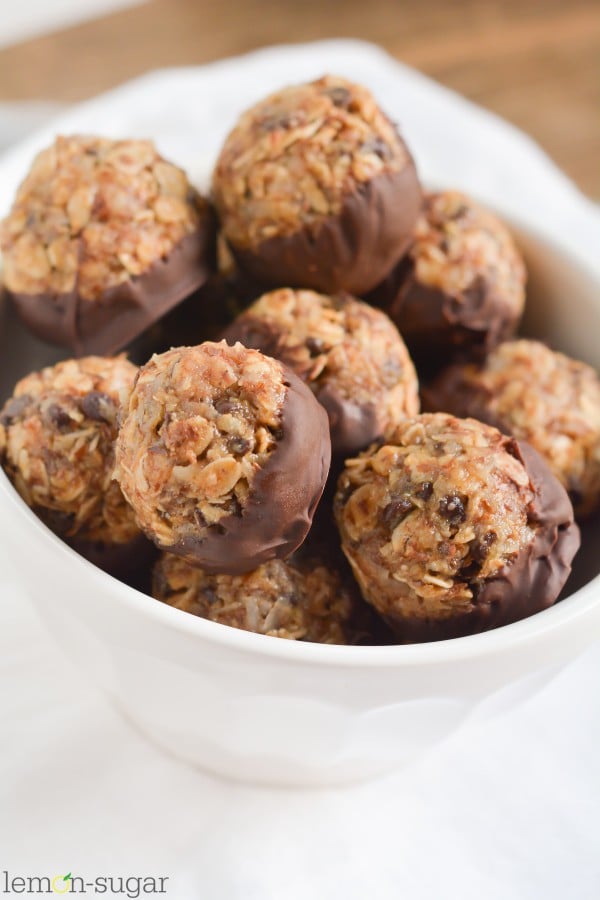 Hope you love these.  They've been a family-favorite in my home for quite a while!
Enjoy!

Dark Chocolate Dipped Energy Bites
A favorite "healthy treat" around my house, this easy no-bake energy bite is simple, delicious and uses wholesome ingredients you can feel good about feeding your family! Recipe source: Slightly adapted from
Gimme Some Oven
Ingredients
1 cup old-fashioned rolled oats, organic if possible
½ cup ground flax seed
½ cup dark chocolate chips
⅔ cup coconut flakes
½ cup natural peanut butter, unsweetened
⅓ cup raw blue agave syrup (or sub raw honey)
1 teaspoon vanilla extract
4 ounces dark chocolate (for dipping)
Instructions
In a large bowl, combine oats, flax seed, coconut and chocolate chips, and stir to combine.
Add peanut butter, agave syrup and vanilla extract.
Use a sturdy spoon to stir and completely combine the mixture.
Refrigerate for 30-60 minutes.
Using a small cookie scoop, scoop 1-inch balls of the mixture and roll with your hands into a round ball. Place the balls on a small cookie sheet lined with wax paper.
Return to refrigerator for 15 minutes.
Add the 4 ounces of dark chocolate to a small bowl.
Microwave in 15 second bursts until melted, and stir until smooth. Don't overheat the chocolate, it will burn and be ruined!
Once the chocolate is smooth, dip each ball halfway into the chocolate, and return to wax paper.
Refrigerate for an additional 15 minutes to harden chocolate.
Store in an airtight container in the refrigerator for up to a week.
Enjoy!
link
3
leave a comment your way - using facebook or disqus: