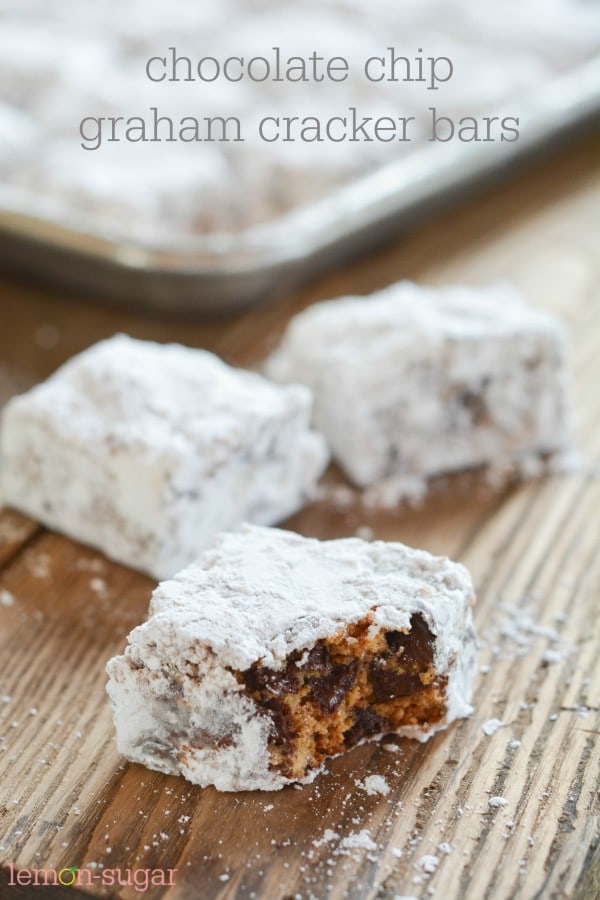 You can actually SEE how delicious these are.  You can see the powdery sugar stuck to the gooey, chocolaty graham cracker cookie.  You can SEE it, can't you? And yup – they taste just as good as they look.  Maybe better.
I broke all of the July-in-Kansas rules today and turned my oven on.  Yes, I turned my oven on even though it was exactly 900 degrees outside today.  And with the heat-index, it felt like 950 degrees.  But I just had to make these cookie bars…so I actually turned my air conditioner down a few degrees to offset the oven being on.
Who does that?
That's not just a food-blogger thing, is it?  I mean, you have to think about these things.   Is it actually worth increasing my electric bill to make these cookies?
Answer:  TOTALLY.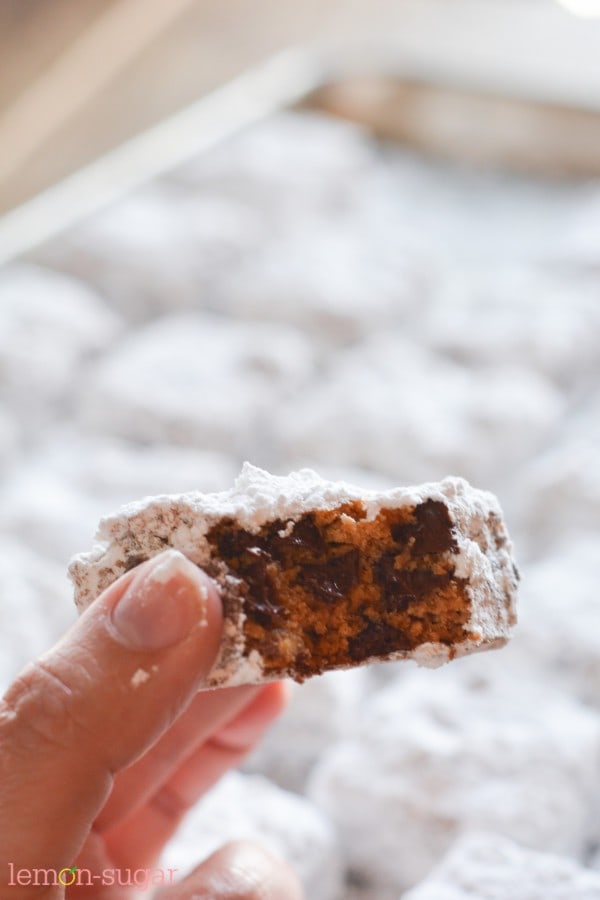 I found this recipe on over at South Your Mouth.  Mandy has the best recipes – definitely check out her site if you haven't yet.  I didn't change anything except that I bought pre-crushed graham cracker crumbs and one box worked perfectly.  (Yay for laziness!)
This recipe is very, very quick and easy.  All of the ingredients go into one bowl, the batter is pressed into a cake pan, and 25 minutes later they are done.  Cut and roll in sugar, and boom.  Yumness.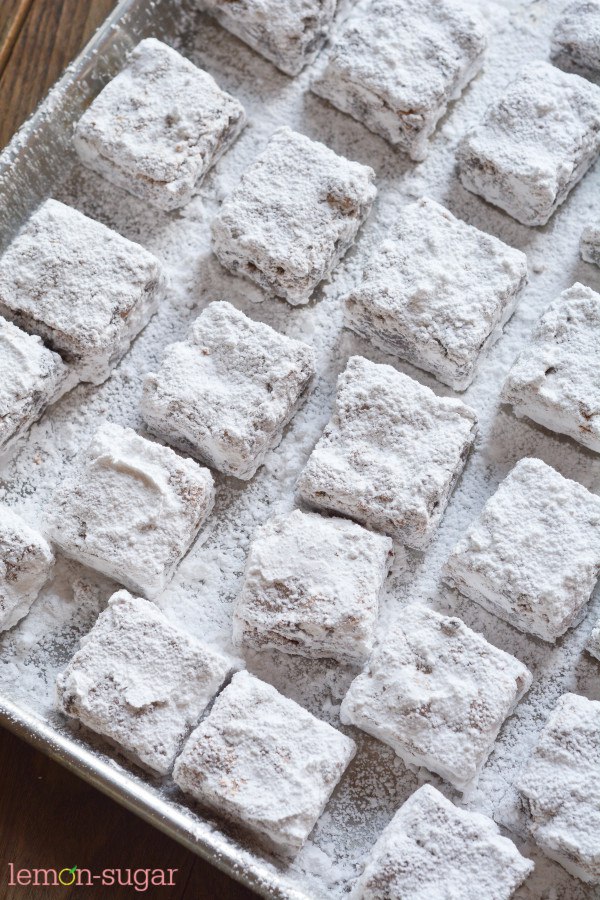 I know these look super-sweet, but they really aren't.  Even being rolled in powdered sugar (I KNOW) they just aren't terribly sweet.  The graham cracker taste is prominent, and beyond that, they're just soft and chocolaty. So good.
Just don't inhale the powdered sugar.  Not fun to have a coughing fit when you have a delicious cookie waiting to be eaten.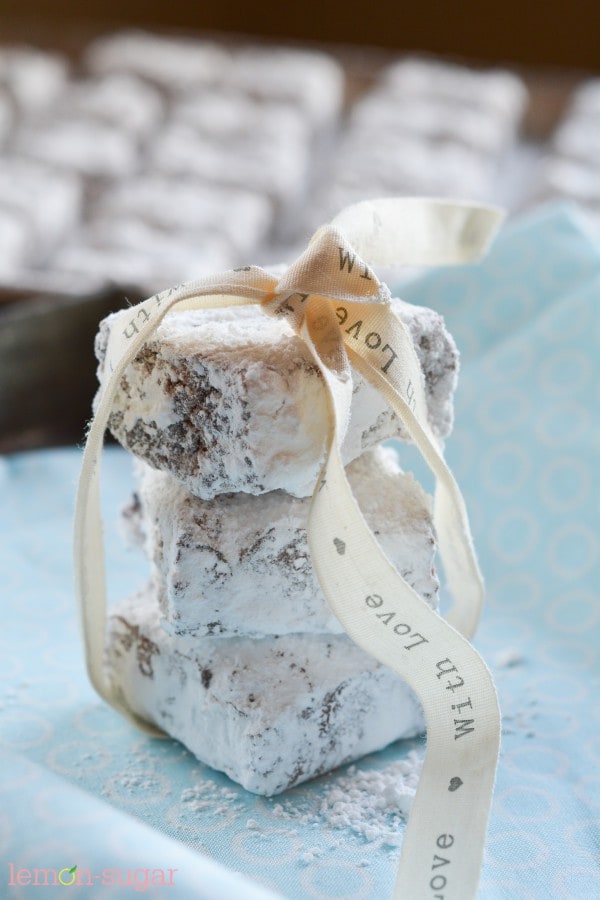 Once you've coated the bars in sugar, you can store them in an air-tight container for a few days.  They'll stay soft that way, and I actually like them better on the second day anyway, if you can make them last that long.  The flavors really come together when they are completely cool.
They kind of taste like a big, chewy chocolate chip cookie, rolled in sugar.
If you don't want the nuts, just skip them.  But I totally think the nuts are an important part of the texture, so personally I like them in there. I used pecans and they were perfect.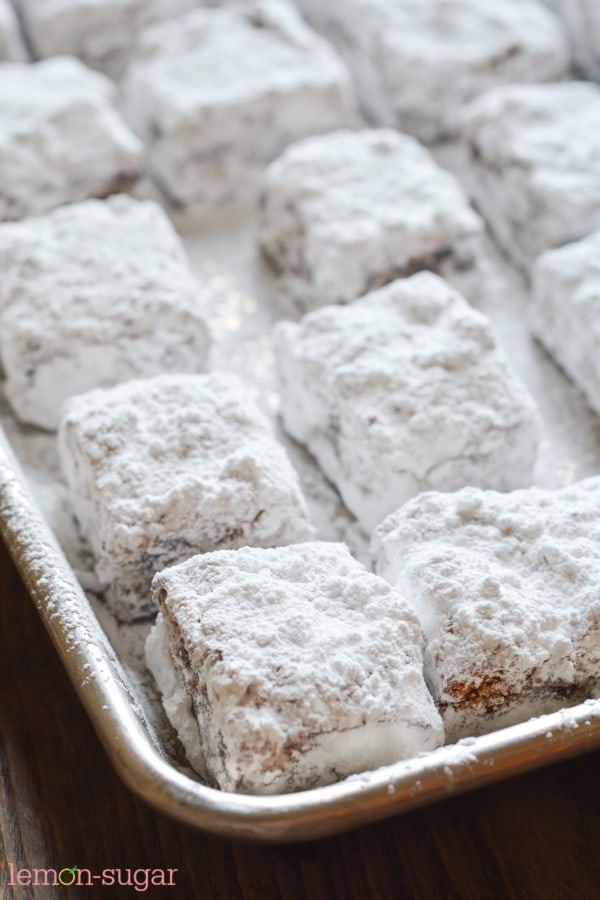 Hope you love these as much as we did.  They would make a great bake sale cookie – and they're sturdy enough for lunch box treats, too.
Enjoy!
Chocolate Chip Graham Cracker Bars
These delicious bars are soft and dotted with chocolate and nuts. Rolled in powdered sugar, the graham cracker treats are just the right amount of sweet. Enjoy! Recipe slightly adapted from [South Your Mouth|http://www.southyourmouth.com/2015/06/man-bars.html]
Ingredients
2 cups graham cracker crumbs (buy them pre-crushed, or pulse 3 sleeves (1 box) of crackers in your food processor.)
1 bag (11 or 12 ounces) semi-sweet chocolate chips
1 cup chopped walnuts or pecans
2 cans (14 oz each) sweetened condensed milk
2 teaspoons vanilla extract
½ teaspoon kosher salt
2-3 cups powdered sugar, for dusting
Instructions
Preheat oven to 350 degrees (F).
Prepare a 9x13 pan by coating it with aluminum foil and cooking spray. Leave the foil draped over the sides to help remove the bars from the pan.
Combine graham cracker crumbs, chocolate chips, nuts, sweetened condensed milk, vanilla and salt in a large bowl.
Use a heavy, sturdy spoon to completely combine. Don/t forget the dry crumbs at the bottom of the bowl.
Pour the mixture into the baking pan.
Spray your fingers with cooking spray, and use your hands to press the batter into an even layer.
Bake for 25-30 minutes or until set.
Allow to cool completely in the pan.
Use the flaps of the foil to remove the cooled bars from the pan.
Cut into squares.
Pour powdered sugar into a large bowl.
Toss each cookie into the sugar and toss to coat completely.
Store in an airtight container for up to three days.
Enjoy!
1
leave a comment your way - using facebook or disqus: