This is a sponsored post written by me on behalf of Sonoma-Cutrer Vineyards. All opinions are 100% mine.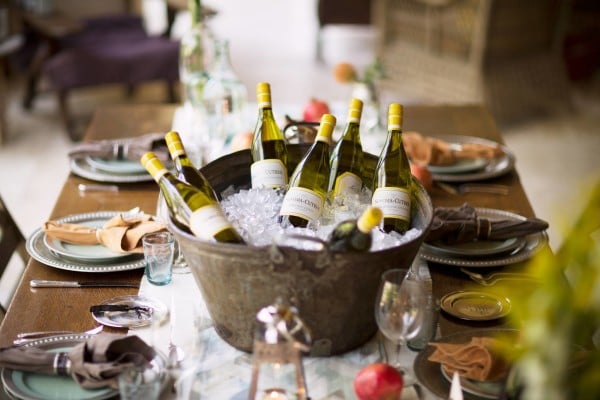 A few weeks ago, I posted about planning a wine tasting party.  Did you miss it?  You can read more about it here.  The party went off without a hitch, and we had a great time.  The wine was delicious, the appetizers were tasty, and it was a fun night with my friends.
The wine on our tasting menu consisted of: 2013 Sonoma-Cutrer Russian River Ranches Chardonnay, 2013 Sonoma-Cutrer Russian River Valley Pinot Nor, and 2014 Winemaker's Release Sonoma-Cutrer Sauvignon Blanc.  Appetizers included Chicken Shashlik, a Garden Tomato Tart, and a Spinach and Gruyere Quiche.  All of the recipes can be found on the previous post, as well.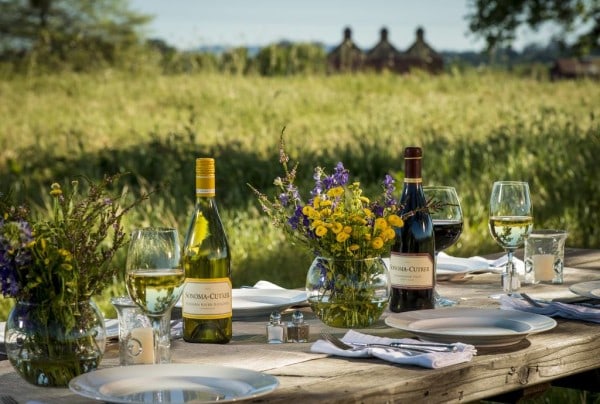 I have to say, I am usually a Pinot Noir girl, but I really enjoyed all three varieties of wine from the party.  The Chardonnay was smooth and crisp, and paired just perfectly with the richness of the spinach and gruyere quiche.  I like to pair rich wines with rich foods – which sounds like overkill, but really they are very complementary and bring out the best in each other.
The Pinot Noir was lovely and worked nicely with the garden tomato tart.  But I have to say that I was a big fan of the Sauvignon Blanc.  Maybe it's because it was hot outside, and the chicken kabobs were perfectly seasoned and grilled, but the clean, vibrant flavors of the white wine was refreshing and delicious.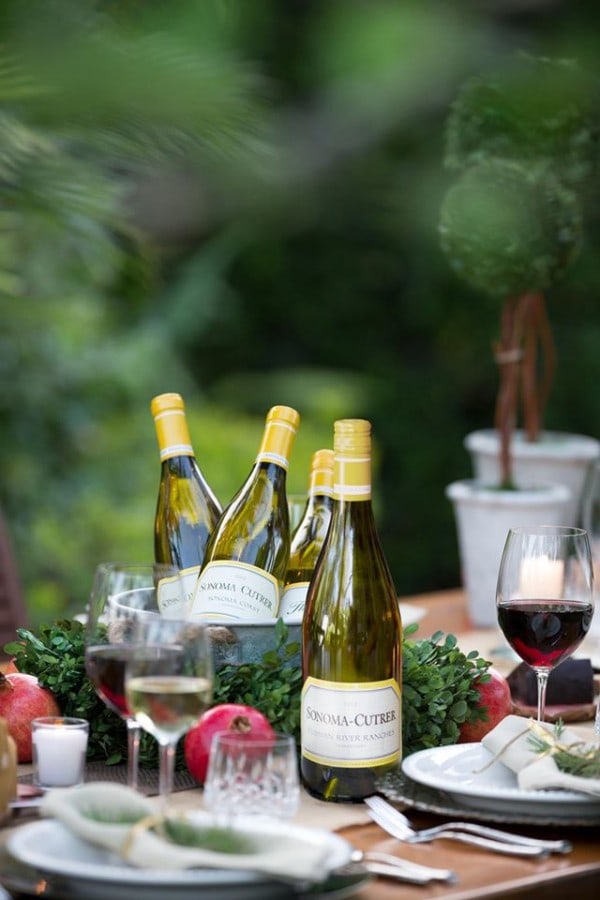 After putting the party together, I've put together a quick list of ideas and suggestions if you are planning a party of your own:
Plan to serve foods that are quick and easy to prepare, or that you can prepare in advance.  You want to take part in your party, not be stuck in the kitchen.
Keep the food light and don't over-do it.  To keep the focus on the wine, pick three of four appetizer dishes and serve them in small, bite-sized portions.
In addition to your main appetizer dishes, be sure to include an assortment of cheese, fruits and olives, and crackers.  Palate cleansers are always appreciated.
Keep your wine at the proper temperature.  Keep white on ice, if necessary.
Use wine charms to identify glassware and help your guests keep track of their glass.
Come prepared with just a bit of knowledge about each wine you're serving  Have fun!  Invite your guests to bring their favorite wine and share with your guests.  Everyone loves to discover new, delicious wine!
We had a great time at our wine-tasting girls night.  It was relaxing, and full of good food and amazing wine.  I'd highly recommend the Sonoma-Cutrer wine list for your next party.   I think our favorite pairing from the evening was the Sauvignon Blanc and the Chicken Shashlik, although with each new wine we sampled, it automatically became our new favorite.
They're that good.
Have you hosted a wine-tasting before?  Do you have any particular favorite pairings?  I'd love to hear about them in the comments below.
Want more from Sonoma-Cutrer?
Check out their website, here:Sauvignon Blanc
Find them on Twitter: @SonomaCutrer
Read more about their winery and tours, here:  Winery Tour
Keep up with them on Facebook: Sonoma-Cutrer Facebook
And, on Instagram: Sonoma-Cutrer Instagram
Sonoma-Cutrer InstagramSauvignon Blanc @SonomaCutrerWinery TourSonoma-Cutrer Facebook
1
leave a comment your way - using facebook or disqus: