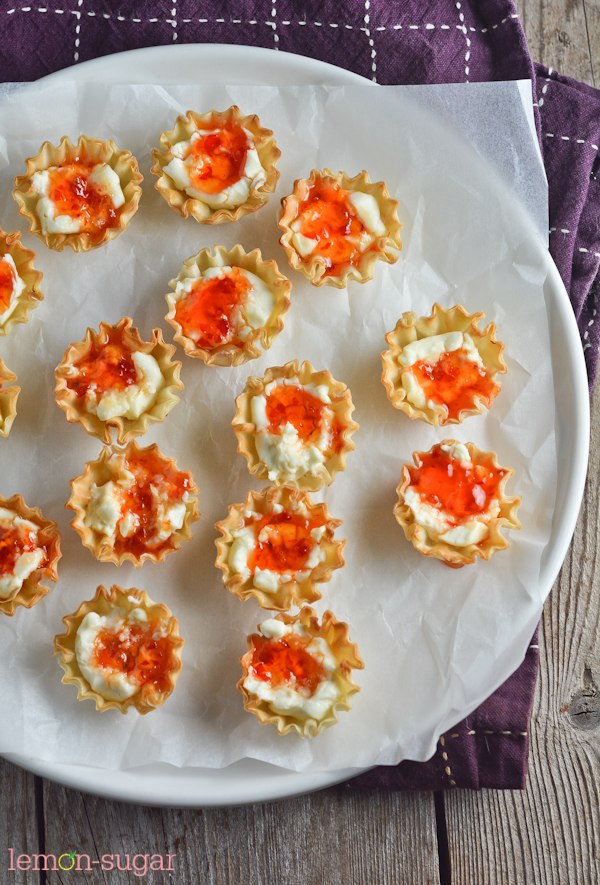 So, how many social events have YOU been to this month?  Weddings, showers, graduations, anniversary parties, end of school year parties – holy cow, it's a busy time of year!  We've hosted a few events at our home lately, and since we've been pulled a million different directions, it's nice to have some quick and easy appetizer options at my fingertips.
These little Fillo cups from my friends at Athens are amazing, and have saved me in an entertaining-pinch many, many times.  Fillo (or Phyllo or Filo, all are correct) means "leaf" in Greek – and is made from tissue-paper thin sheets of dough.  The shells are light and crispy, and the perfect match for both sweet desserts and savory bites.
I have many AMAZING recipes using Athens Mini Fillo Shells, so stay tuned and I'll share more soon.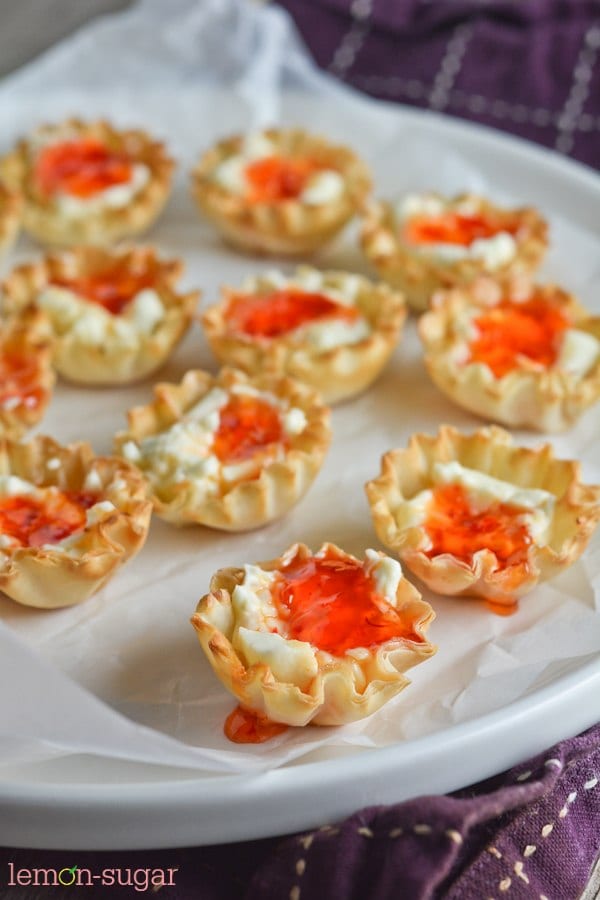 This particular recipe is a take on the old standby appetizer recipe that seems to appear at every party – you know, the block of cream cheese with a jar of pepper jelly spilled over the top?  And a bowl of crackers?
Don't get me wrong, it's tasty – but let's be honest – it's not the prettiest appetizer I've ever seen.  Someone always manages to break a cracker off into the cheese and well, it's just not appetizing.  Replicating the same idea into the Athens Mini Fillo Shells makes the recipe pretty AND delicious – addicting, actually.  They can be served warm or at room temperature, and you can even make them ahead of time!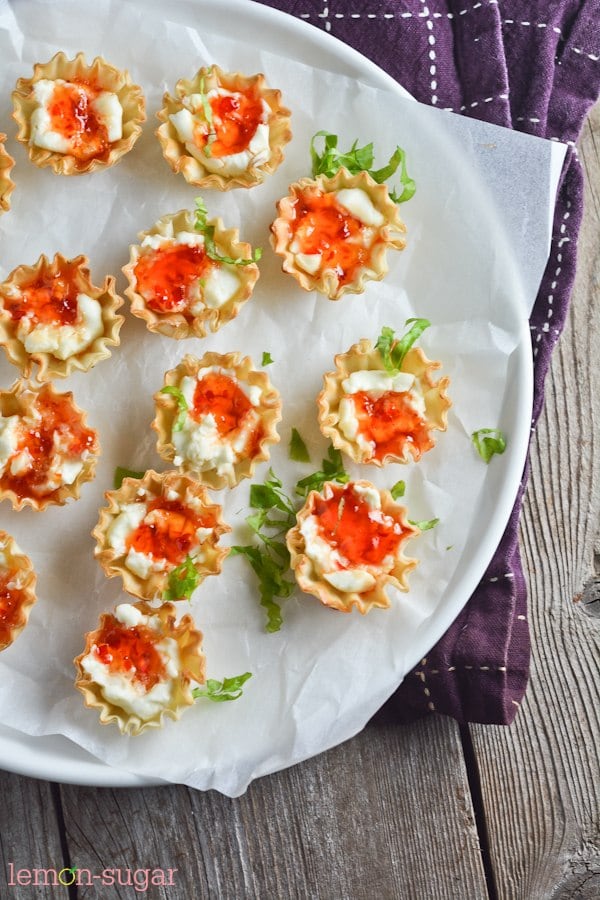 I love the contrast of the red pepper jelly and the white cream cheese – and to add another burst of color I often sprinkle some arugula or basil on top.  So cute.
These only have to bake for about 10 minutes – just long enough to heat the shells and the cheese, and you're done.  And if you don't like the red pepper jelly, you can go with any variety of pepper jelly you like – jalapeno and green pepper are two other popular choices that are pretty easy to find in your grocery store.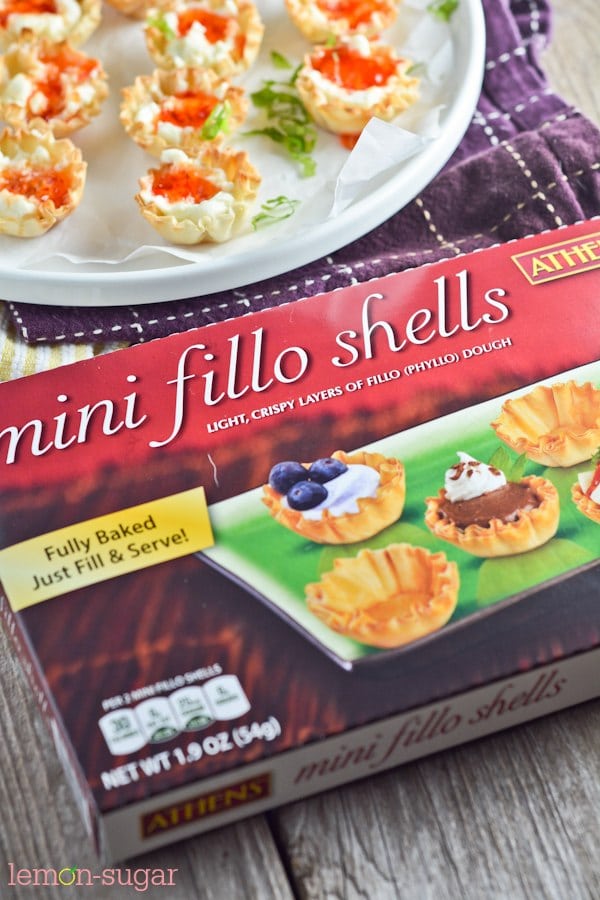 Be sure to check out Athens Foods or Phyllo.com for more recipe ideas.  You can find these mini shells in the freezer section at your grocery store – I'd recommend buying extra and keeping them in your freezer for an unexpected party.  They really are lifesavers!
Have you tried Fillo Shells before?  What is your favorite way to serve them?  Let me know, I'm always looking for new ideas!
Enjoy!

Cream Cheese and Pepper Jelly Phyllo Cups
Super quick and easy, this recipe dresses up the old standby. You can even prep the fillo shells and cream cheese in advance, and just pop them in the oven when your guests arrive. Enjoy!
Ingredients
2 boxes Athens Mini Fillo Shells (30 shells)
8 ounces cream cheese
1 small jar red pepper jelly
Instructions
Put cream cheese in freezer for 30-60 minutes for easy cutting. (Not required, but helpful.)
Preheat oven to 350 degrees (F).
Line a large baking sheet with parchment paper.
Place fillo cups on baking sheet.
Use a knife to cut the bar of cream cheese into 30 cubes. I did this by cutting the bar into 4 large pieces, and then cut each smaller piece into 8 cubes.
Place a cube of cream cheese into each cup.
Bake for 8 minutes.
Remove from oven, and use a spoon to carefully flatten and spread the cream cheese inside each cup.
Top with a small spoonful of jelly, and then bake for another 2-4 minutes.
Remove from oven and allow to cool for a couple of minutes.
Enjoy!
This post was sponsored by my friends at
Athens Foods
.  All opinions are 100% mine.
24
leave a comment your way - using facebook or disqus: