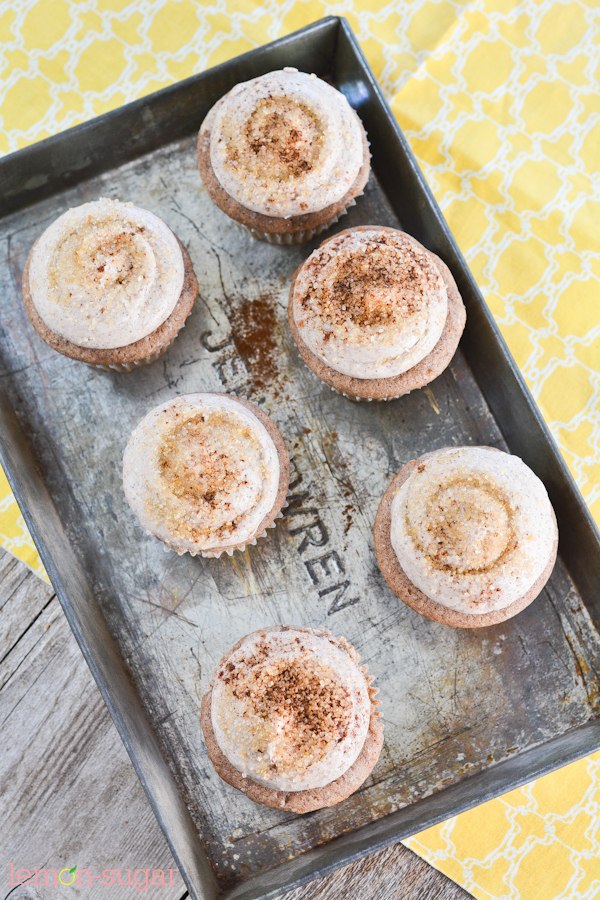 Hey, ya'll!  It's been a little bit since we talked last, no?  So much has happened in the last month.  I've been sick, twice.  Like, fever-bronchitis sick.  We got a puppy.  The girls had two weeks of double dance classes, followed by recital.  Weekends have been full of family gatherings and weekdays have been full of yard-work, work-work, and lots of coughing.
Life.
I feel like I'm always writing about how busy we are, but I don't mean to.  Everyone is busy, and my busy is no different than yours.  I'm just missing my free time, I guess – but I'm mostly missing blogging and baking!  When life picks up the pace a bit and we're feeling over-scheduled – unfortunately the blog has to give a bit.  But you guys are great, you keep coming back and commenting – asking questions and looking up recipes from the archives.  THANKS for being awesome.
So, lets talk about these cuppies, okay?  Okay.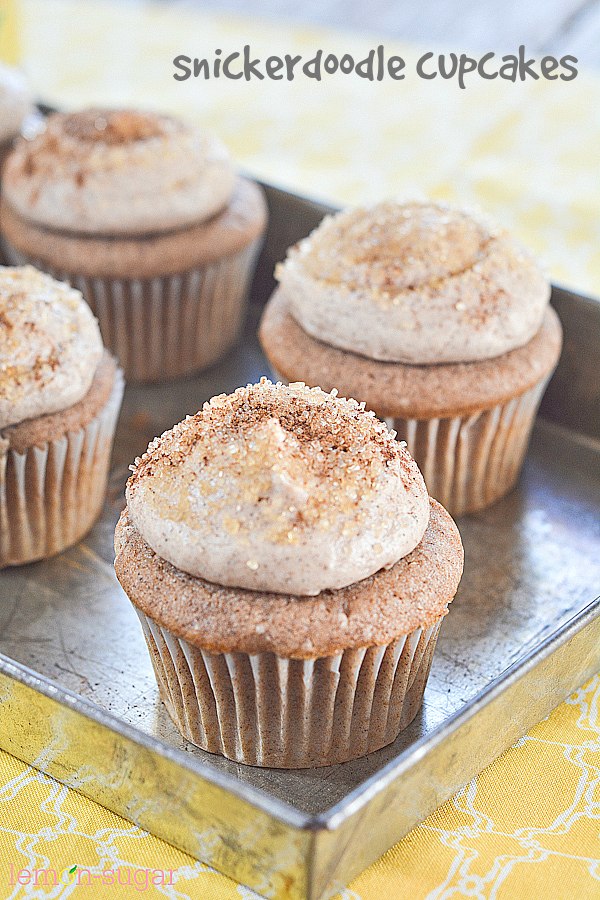 Snickerdoodle cookies are one of my all-time faves.  I love the soft, pillowy sugar cookie infused with warm, spicy cinnamon.  Looove it.  This cupcake is just more of what makes a Snickerdoodle awesome.  The frosting is a standard vanilla buttercream with a healthy dose of cinnamon mixed in – which makes these even more appealing.  They're easy.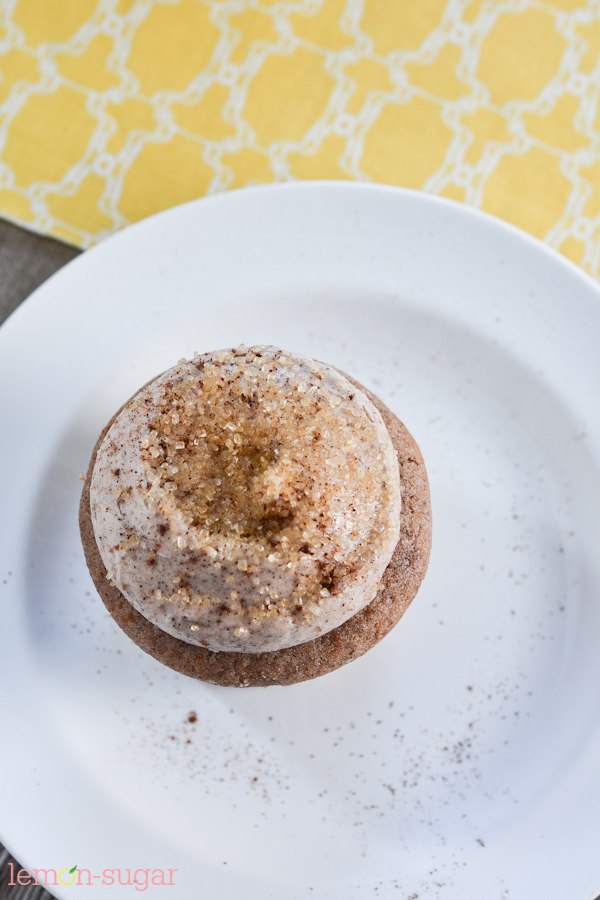 I love to top the frosting with an extra sprinkle of cinnamon and then a generous dash of turbinado sugar – it makes the cupcakes shimmer a bit and makes them a bit fancy.
Fancy cupcakes just taste better, don't they?
Well – maybe I should re-phrase.  Fancy HOMEMADE cupcakes just taste better.
Really, the only thing I would change about these cupcakes would be the addition of some color – probably just a different color cupcake liner would solve the problem, but as you can see, they are a bit beige.  Which is totally cool for a Snickerdoodle, but still.
These would also be pretty (and fancy!) with a cinnamon stick as garnish.  Or, oooh- maybe a cinnamon stick with a little washi flag on top?  A colorful washi flag?  Yup.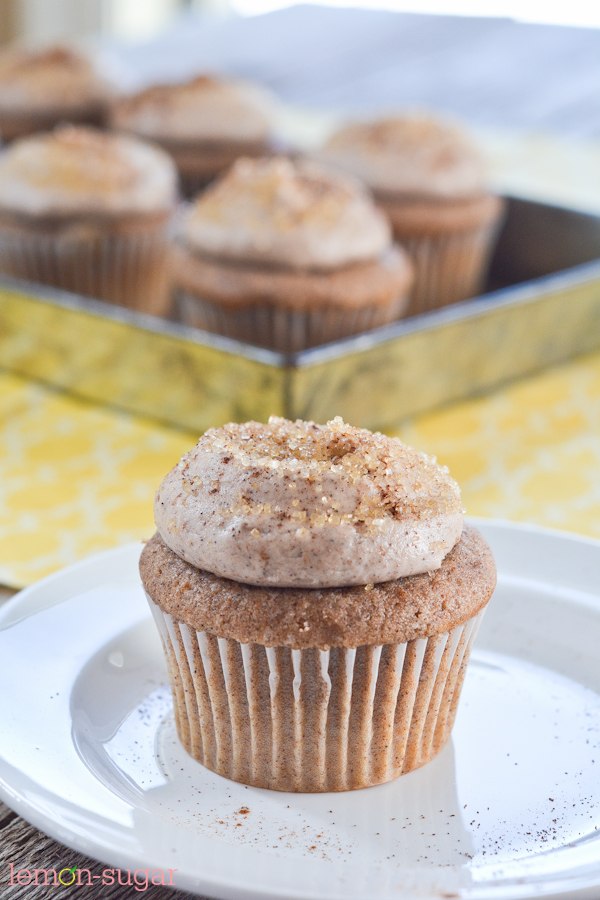 I hope you love this recipe – it's super easy!  You don't even need much free time to whip them up – so they're a GREAT busy-week cupcake!
Enjoy!

Snickerdoodle Cupcakes
These cupcakes will remind you of your favorite Snickerdoodle cookie. Quick and easy, these cupcakes will be done and ready to eat in less than an hour!
Ingredients
Cupcakes:
1 white boxed cake mix
1 cup milk
½ cup unsalted butter, melted
3 large eggs at room temperature
1 teaspoon vanilla extract
2 teaspoons ground cinnamon
Cinnamon Buttercream:
2 cups (4 sticks) unsalted butter at cool room temperature
1 teaspoon salt
2 lbs powdered sugar (about 7 cups)
¼ cup milk or heavy cream
2 teaspoons vanilla extract
2 teaspoons ground cinnamon
Instructions
Preheat the oven to 350 degrees (F).
Prepare cupcake pans with cupcake liners. Set aside.
In a large bowl, mix together boxed cake mix, milk, butter, eggs, vanilla, and cinnamon for 2-3 minutes or until completely combined.
Fill cupcake liners ½ full with batter.
Bake 14-17 minutes or until cake tester comes out clean.
Cool completely on wire racks before frosting.
Frosting:
In the bowl of a stand mixer using the paddle attachment, beat butter until smooth and creamy.
Add powdered sugar, milk/cream and vanilla. Beat on low until just combined.
Add cinnamon and salt, and beat on medium speed until light and fluffy.
Scrape the bowl at least once.
Frost cupcakes as desired.
Enjoy!
2
leave a comment your way - using facebook or disqus: