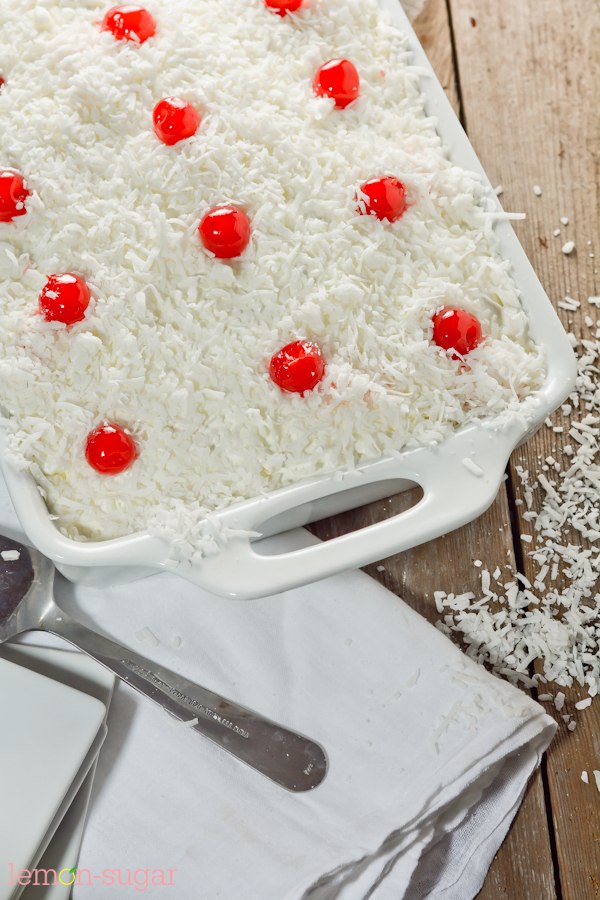 Before we jump into this Pina Colada Poke Cake, I just want to take a quick second to say Happy Memorial Day!  I hope you've all had a lovely long weekend full of family and friends.  And while I love that Memorial day signifies the first weekend of summer for many of us, the true meaning of the day isn't lost on me, and my thoughts are will all of you who have lost a loved one while serving our country.
My weekend was spent celebrating my dear, dear cousin Emily's wedding, so after the blur of the rehearsal dinner, making cupcakes for her wedding, and then her actual wedding, we were already worn out before the weekend really even started.  If you follow my Instagram account, you probably saw a few pictures from the occasion.  It was a beautiful wedding, and chock full of celebration, family and lots of love.  Great way to kick off summer, for sure.  Congratulations again, my Emmy-Poo!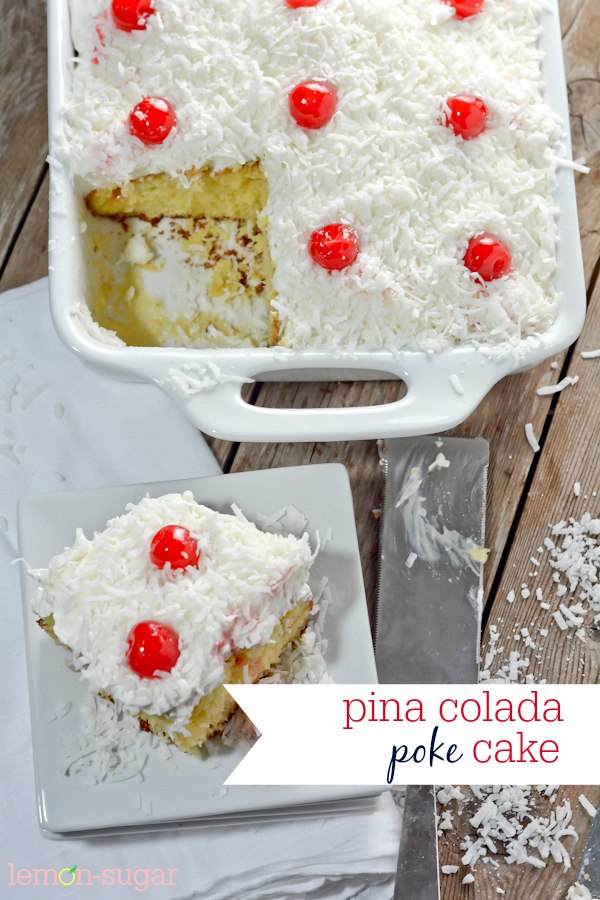 Since it's been such a busy weekend, I thought I'd share this quick and easy recipe with you – because if you are like me, you are cooking/baking/grilling/cleaning-up-the-kitchen AGAIN'd out.  Sometimes life calls for an easy dessert, and this is it.
I make a lot of poke cakes, which is a bit strange because they start with cake mixes and I'm usually very anti-cake mix, but again – sometimes life calls for it.  I have made the cakes from scratch before, and honestly, you can't really tell the difference much in a poke cake.  When the cake is infused with the filling mixture and chilled, it kind of takes on an entirely different texture anyway – so might as well save some time and go with the box mix.  (Did I actually just say that?!?)
If you've never had a poke cake, they are just what they sound like – a cake with holes poked into it, which is then smothered with a filling – usually a sweetened condensed milk mixture – and then topped with a whipped topping.  They're kind of magical, in a poke-cake kind of way…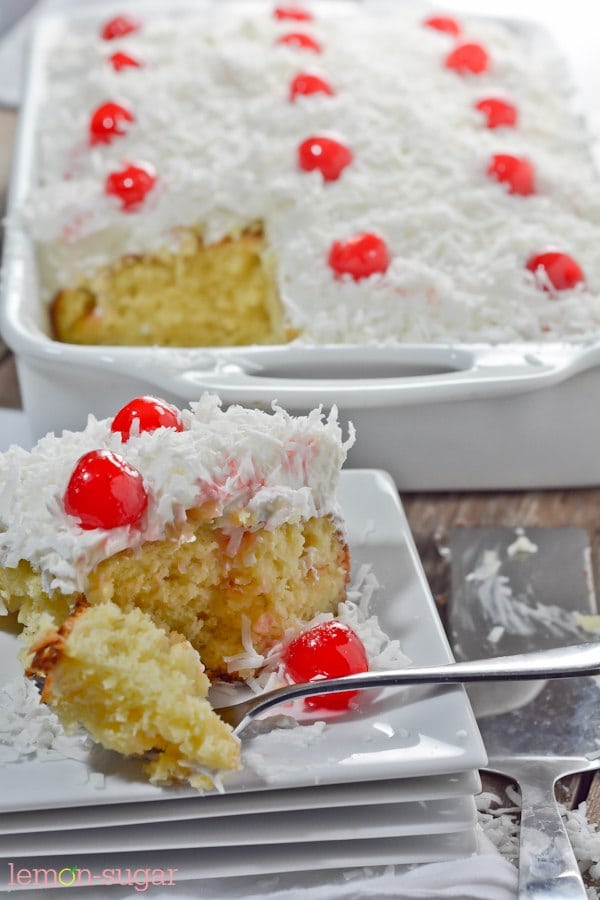 This one is very, very easy.  You will need to find cream of coconut, but it's easily found in the drink-mix aisle at the grocery store.  Coconut extract is sold at my grocery store, but I usually buy it at my baking store instead because that's when I think about it.  A little goes a long way, so don't be concerned about the small bottle.
I hope you love this one.  Have you had a Poke Cake before?  What's your favorite kind?  Leave me a comment below and let me know.
Enjoy!

Pina Colada Poke Cake
This chilled icebox cake is full of summer flavors and makes any summer gathering delicious. And, it's super easy!
Ingredients
Cake:
1 box butter or yellow cake mix, plus ingredients to make cake (usually 3 eggs, butter or oil and water)
14 ounce can sweetened condensed milk
15 ounce can cream of coconut (can be found by drink mixes in grocery store)
15 ounce can crushed pineapple, drained. (but save the juice)
Topping:
2 cups heavy whipping cream
½ cup powdered/confectioners sugar
1 teaspoon coconut extract
Coconut and maraschino cherries for garnish
Instructions
Cake directions:
Preheat oven and make cake as directed on box. Do not over bake.
Drain the pineapple. Reserve the juice and the drained pineapple.
Mix together sweetened condensed milk, pineapple juice and cream of coconut. Whisk until completely combined, and set aside.
Remove from oven and allow to cool for five minutes.
Using the end of a wooden spoon, poke holes all over the top of the cake, about an inch apart.
Pour the coconut mixture over the top of the cake, and spread around to fill holes.
Then, spread the drained pineapple over the top of the cake.
Refrigerate cake until completely chilled, about two hours.
Topping:
In a clean glass bowl, beat the whipping cream with a hand mixer until soft peaks form.
Add powdered sugar and coconut extract, and beat until stiff peaks form.
Smooth whipped cream over the top of the cake.
Garnish with coconut and maraschino cherries.
Chill until ready to serve.
Store, covered and chilled for up to three days.
Enjoy!
1
leave a comment your way - using facebook or disqus: