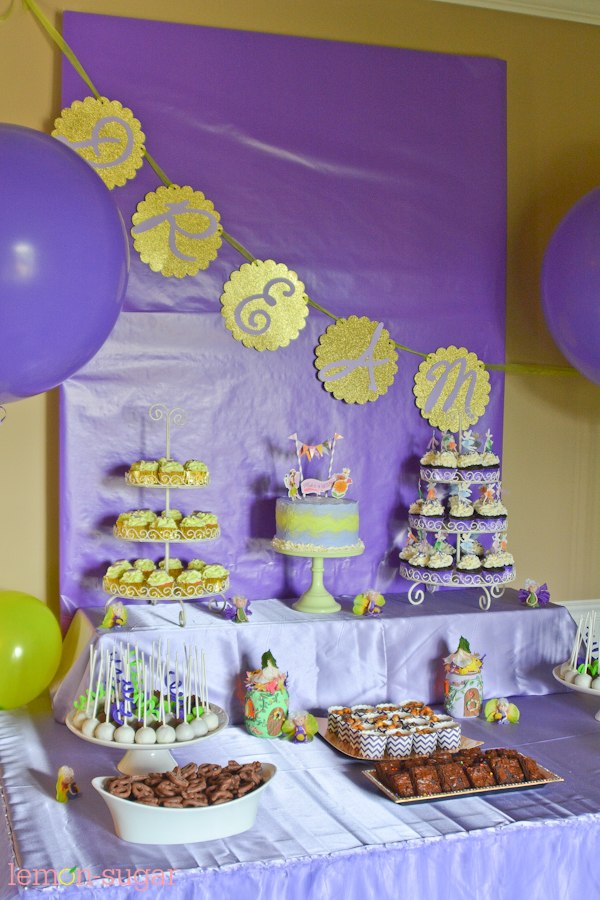 Ready for a photo-heavy post?  'Cause that's what you're gonna get.  It's Fairy Party time!
Last weekend, my daughter Mia turned six years old.  For those of you who have been Lemon Sugar readers for a while, you know that my daughter and my niece were born just 17 hours apart, so my sister and I always combine their family party.  I look forward to planning this party every year, and we've had some fun themes in years past.  This year we went with a fairy-inspired theme, and it was super cute.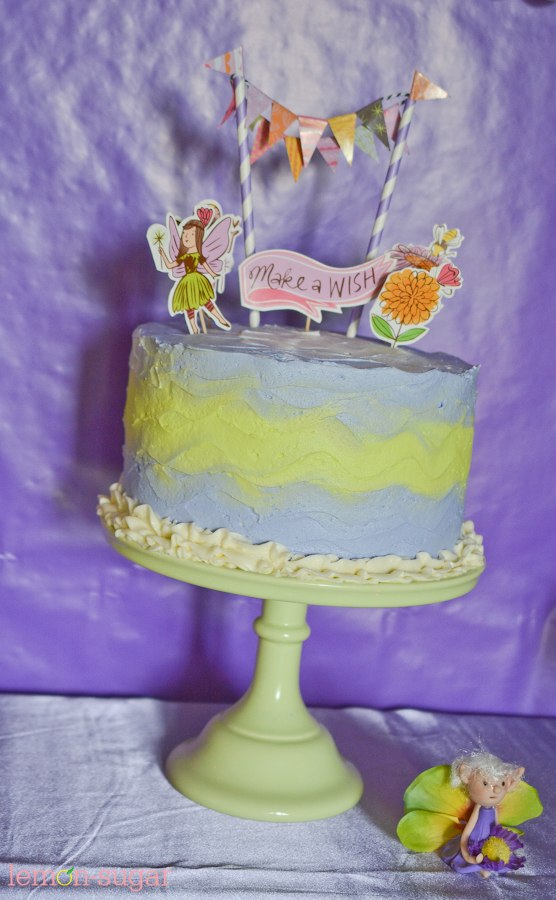 The color scheme was (obviously) lime green and lavender, with touches of gold.  The  cake was a fun-fetti version of my five-layer celebration cake.  I tinted the vanilla buttercream with Americolor gel in leaf green and violet, and used the same frosting technique.  I wish I had a better picture of the top of the cake, because it was a really pretty white and purple swirled effect.
The cake toppers came from my favorite store, Sweet! Baking Supply.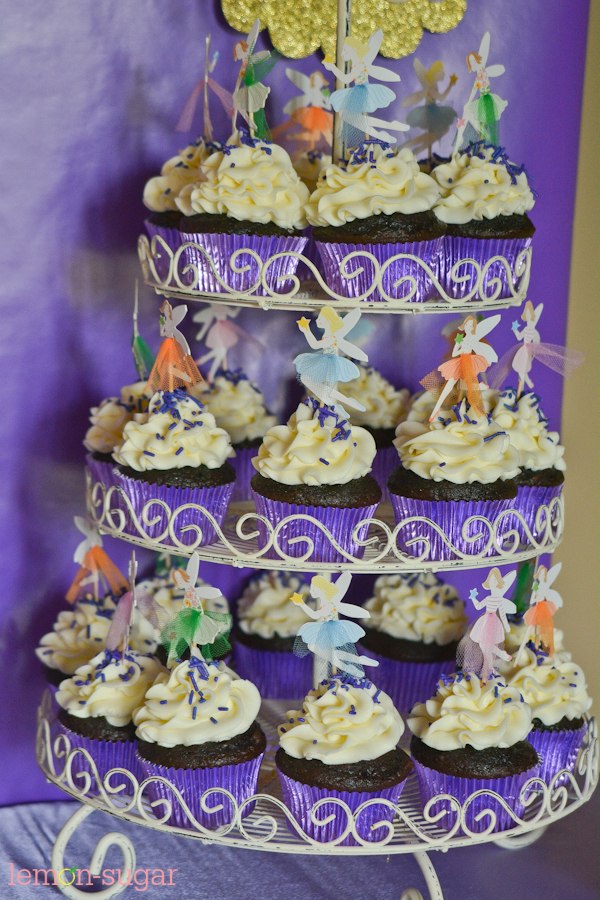 The chocolate cupcakes were so pretty in the aluminum, lavender colored liners.  The contrast of the purple, chocolate and white was fun – I used a 2D tip with a draped swirl method to get the cloud effect for the frosting.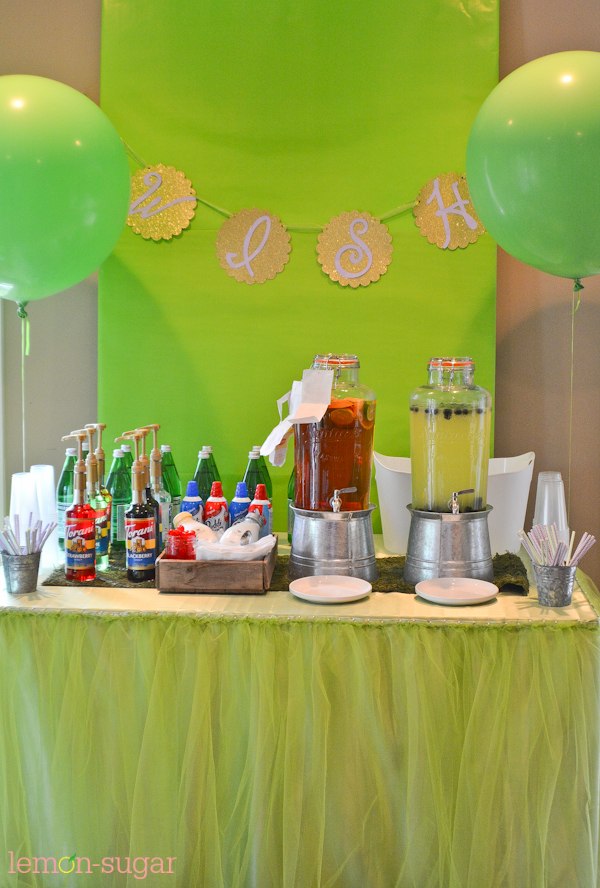 The beverage table was fun this year, too.  I went with an Italian Soda bar, complete with Torani syrups, sparkling water, heavy cream or half & half, whipped topping and maraschino cherries.  So fun, and my guests always love it.  Stay tuned for a recipe post on these in the next few days.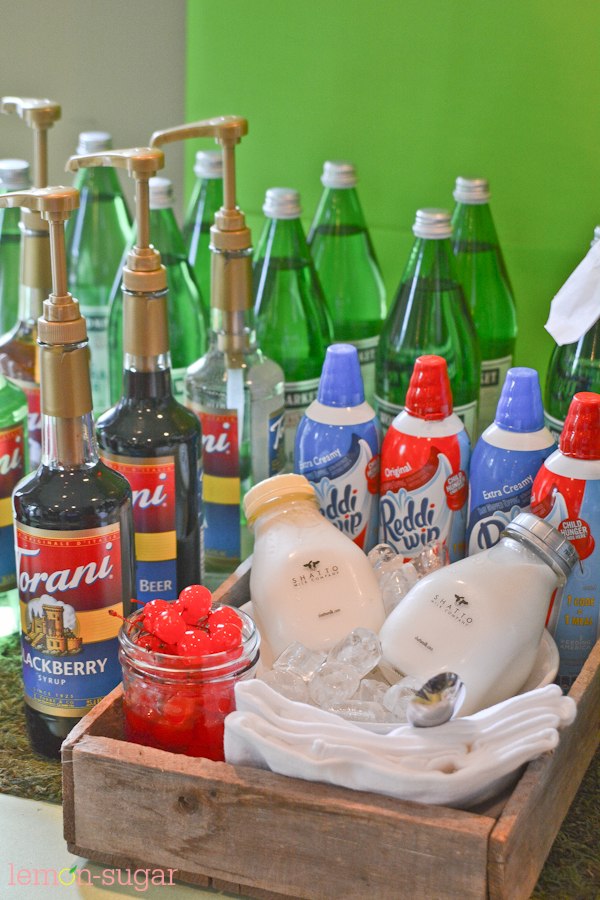 Presentation is always the most challenging part for me when presenting an Italian Soda bar, because there are a lot of components to put together.  This year, I purchased heavy cream and half and half in glass pint jars, and kept them on ice.  A larger ice bucket was accessible at the back of the table, and I put the cherries in a cute little mason jar for a prettier presentation.  I also provided plenty of towels to help with spills and drips.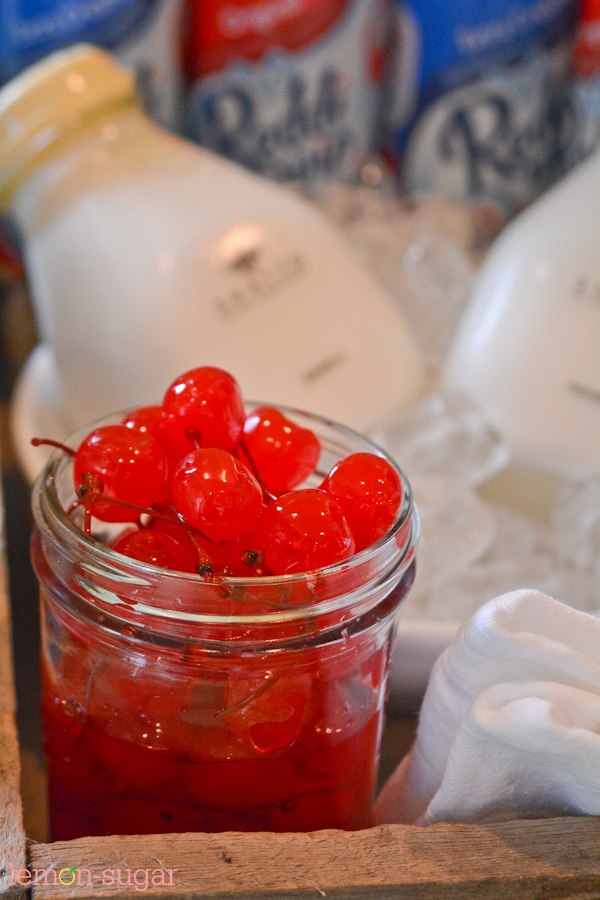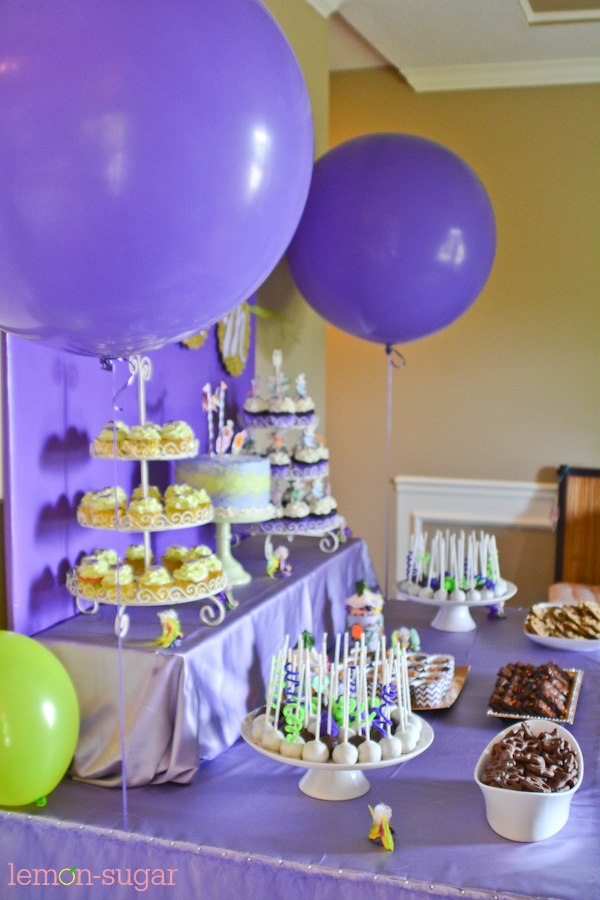 For the dessert menu, I went with strawberry limeade cupcakes, chocolate cupcakes with vanilla buttercream, red velvet cake balls, chocolate cake balls, cosmic brownies, my Mom's chocolate chip cookies, and an assortment of candies and goodies from my friends over at Weaver Nut Sweets & Snacks.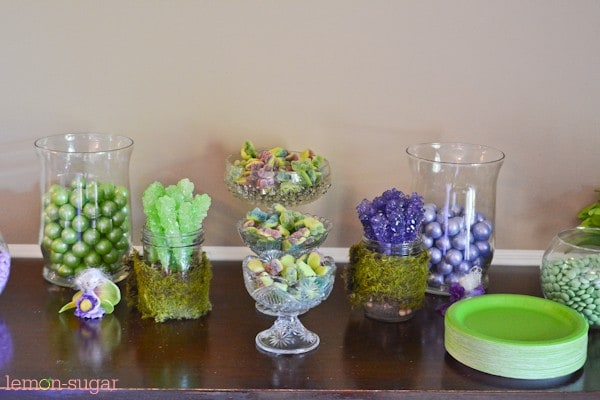 Weaver Nuts Sweets & Snacks has just about everything you could ever want for a party, and it's not just nuts.  They have baking supplies, chocolates, coffee and tea, and more – but I think my favorite thing about them is that you can buy candy by color.  PERFECT for candy tables, weddings, graduations – and fairy parties!
For our part, they provided adorable gumballs in green and purple, rock candy suckers, purple and green chocolate pieces (like M&M's) and green and purple sour gummy bears.  They also sent these awesome chocolate-covered pretzel grahams, and a delicious trail mix.  Thanks to Weaver Nuts Sweets & Snacks for a great addition to my party!!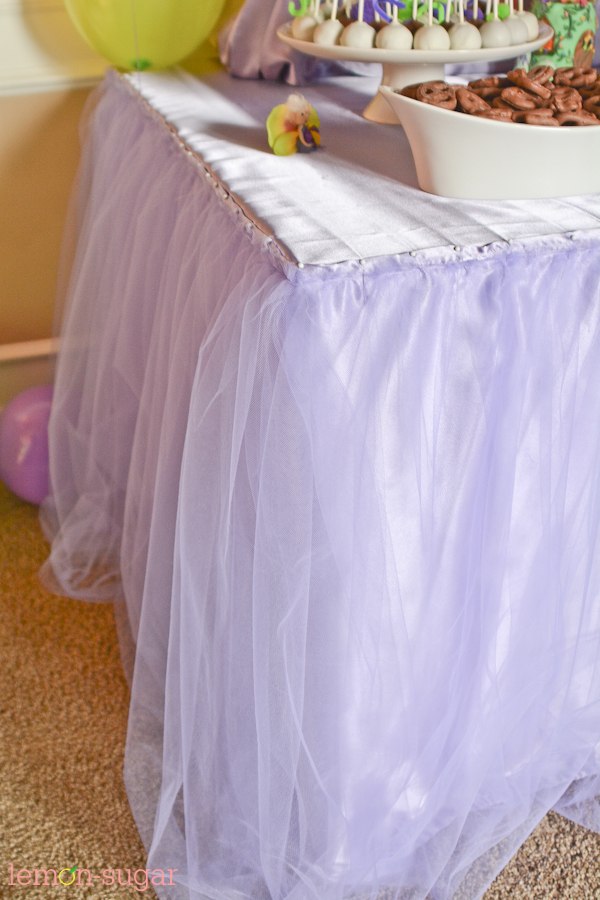 I also have to send a HUGE shout-out to my very creative and crafty aunts, Kaye and Mary.  They were responsible for many of the decorative touches for the party – they made the incredible table cloths, but they didnt' stop there.  They crafted fairies out of clay, they made wreaths with fairies and flowers attached, they made adorable fairy houses out of mason jars, and even made signs to line my driveway.  They thought of everything (they always do) and I can't thank them enough.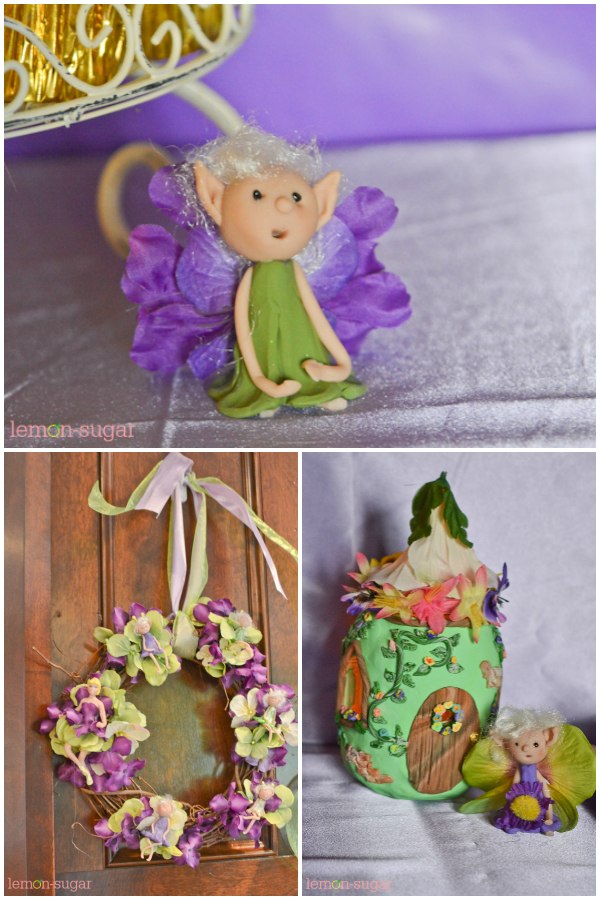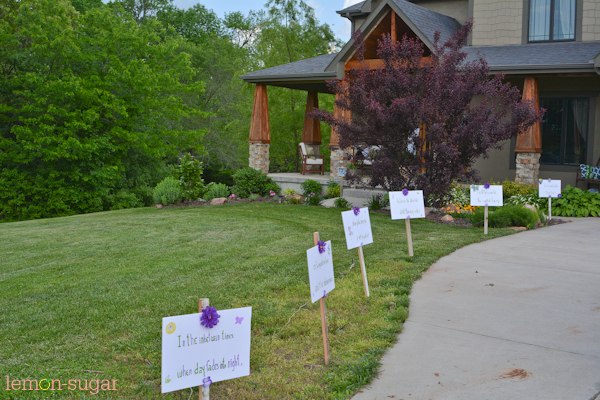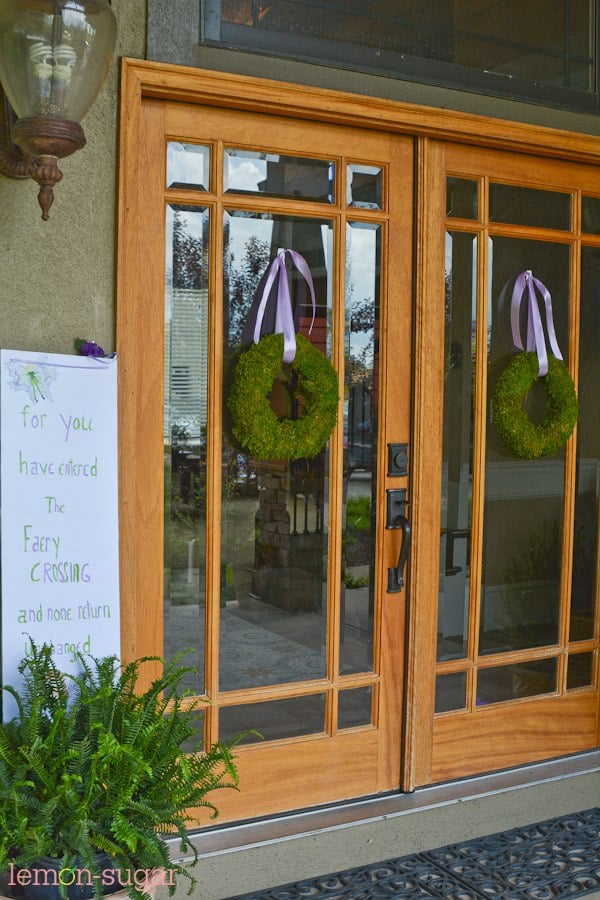 The aunts also made fairy wings for all of the kids, complete with wands, ribbon headbands and a dragon hat for my nephew.  The girls loved them, and they all got to take them home as a party favor.  Adorable.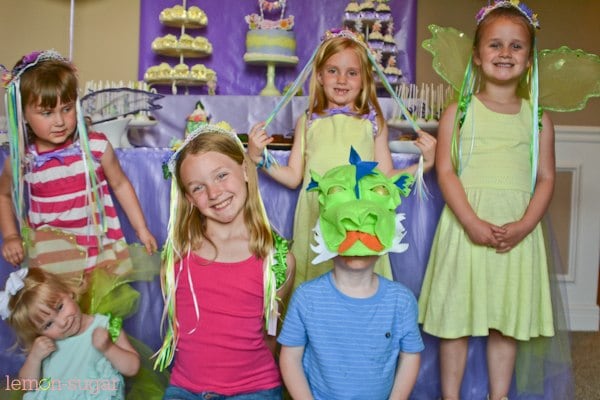 There were presents.  My family was generous and the girls just loved all of the thoughtful gifts.  My family is amazing, and I am always so thankful that they make time for yet another crazy party, and make the girls feel so special.  Thanks, fam!  ♥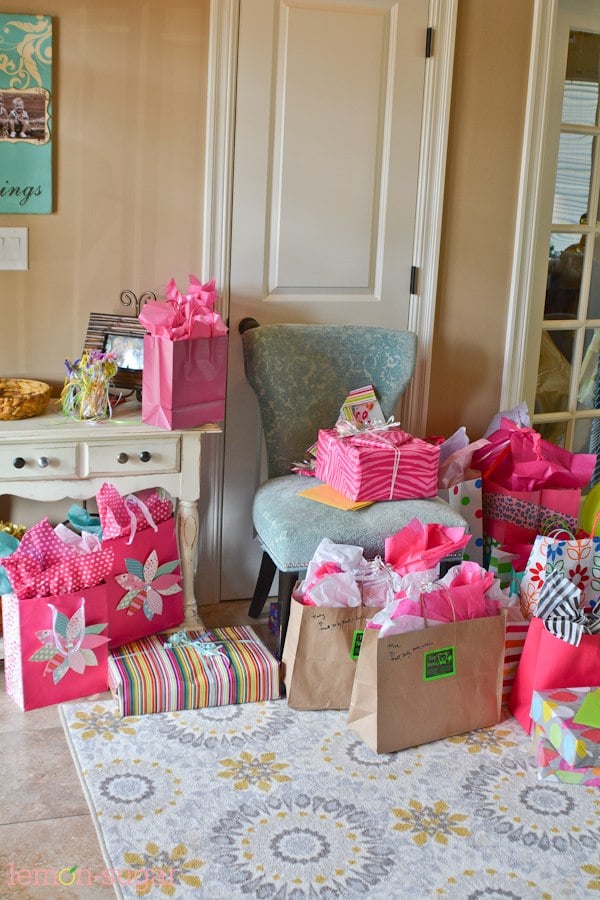 The weather here has been unseasonably cool and wet, so we had to abandon our original water slide plans for a dragon bouncy house instead.  The kids always love these, and it makes the party extra special.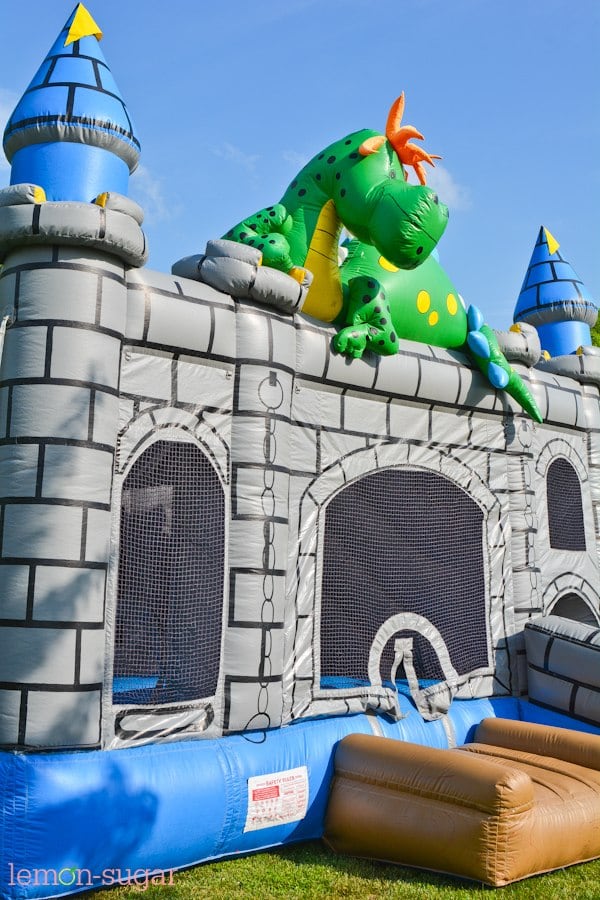 My aunts also brought this beautiful bouquet of Irises and Peonies, and I think it was my favorite thing about the whole party.  It's been on my counter since the party, and I'm still enjoying it, so I had to share it with all of you.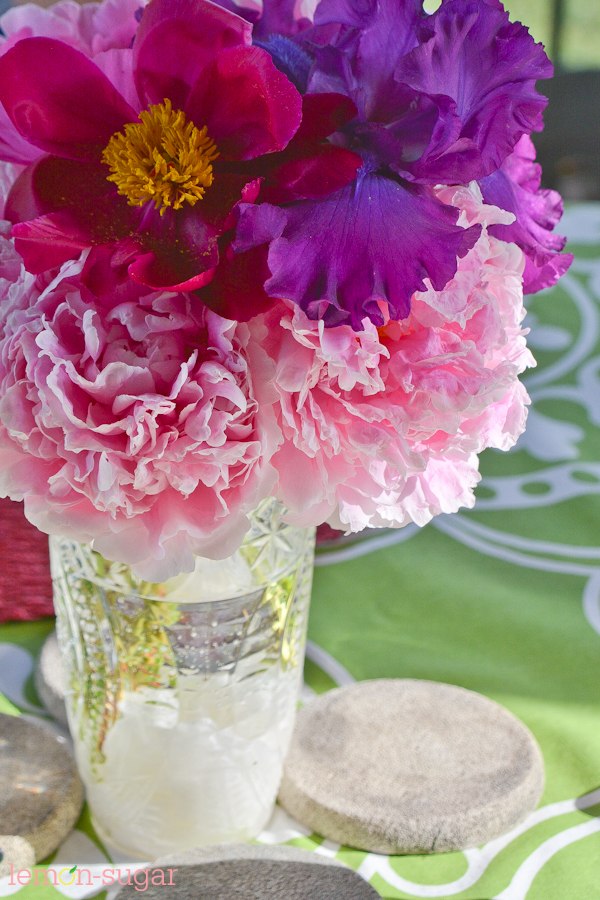 Mia and Ruby say thank you for reading about their fairy party.  Happy Birthday to my very favorite six-year-olds, and here's to many more!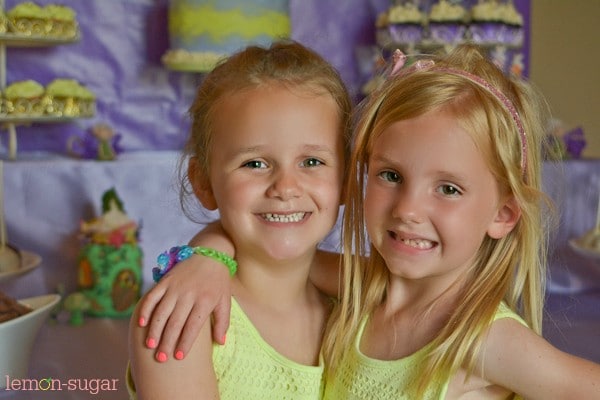 1
leave a comment your way - using facebook or disqus: